About half of Ireland was uninhabited when St. Patrick returned to that country in the 5th century. The population was small and dispersed. Christianity was starting to get a foothold in Ireland, so in 431 Pope St. Celestine sent Palladius to help convert the Irish. Palladius was not terribly successful and Ireland stood out as a place that resisted Christianity. Two years later, the Pope selected Patrick to convert the Irish. Loaded down with a bunch of important religious relics, Patrick returned to the land where, according to most stories, he had once been a slave.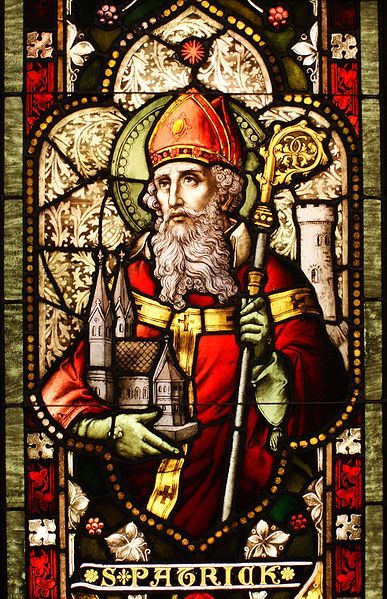 While the stories about St. Patrick and his adventures in Ireland are not only legendary, but also stretch the bounds of realism for most non-Christians as well as many Christians, most people agree that he actually existed. He seems to have been born about 389 CE in Wales. He was probably born into a somewhat wealthy family. According to the legends, he was kidnapped and sold into slavery in Ireland. There are, however, alternative accounts that claim he was not a slave, but a slaver.
There had been Christian missionaries in Ireland prior to Patrick and they had had moderate success, but for the most part the Irish really preferred the old ways of the Druids rather than the alien religion from Rome. As a missionary, Patrick had a couple of advantages. First, and perhaps most important, he spoke the language. Being from Wales, he probably grew up speaking Welsh, a Celtic language related to Irish. Since he had spent time in Ireland, he probably spoke the Irish language more fluently than the earlier missionaries.
There are alternative accounts of Patrick's life which claim that he was born in what is now France to a Celtic-speaking tribe known as the Brittani who were felt to be related to the Welsh.
Second, Patrick wasn't starting from scratch: there was already a small group of Irish Christians to support him and his missionary efforts. Palladius, for example, had made some converts in Leinster.
Patrick also appeared to be humble and unmotivated by greed. Thus, he did not appear to be a threat to the various Irish kings who were warring with each other.
Patrick also realized the importance of top down conversion. In other words, convince the kings first and have them impose the religion on their subjects. While Patrick is generally credited with bringing Christianity to Ireland, that isn't totally true. He did not convert a number of people, including some kings. He really started the process rather than completing it.
Patrick was also able to show the Irish that he was a really important person in the Catholic Church since he had brought with him some sacred relics taken from the bodies of St. Peter and St. Paul. While I'm skeptical about the utility of these relics in converting a pagan, they did help reinforce his position in the small Irish Christian community. For pagans, Christian relics would have no symbolic or spiritual meaning.
While Patrick is generally credited with driving the snakes out of Ireland, there is a major problem with the story: Ireland has never had any snakes. While there are fundamentalists who take this story to be the literal truth, it is evident that it was probably originally created as a metaphor. Since snakes are generally seen as evil among Christians, the story of driving the snakes out of Ireland is a metaphor for driving the pagans and pagan beliefs out of Ireland. It should be kept in mind that living in a land with no snakes means that the mythology of the pagan Irish would have no stories about snakes. The snake story was meant to speak to Christians, not pagans.
About the year 445, Patrick entered the Kingdom of Munster, where he met with King Aengus at Cashel. Aengus already had some knowledge of Christianity and was willing to be baptized. Patrick carried in his hand the Bachall Isu, a crozier which had a sharp iron spike at one end. This spike enabled Patrick to plant it firmly in the ground next to him as he was preaching and carrying out ceremonies. On this occasion, he struck the crozier down on the king's foot. Blood flowed freely, but the king, thinking this form of torture was a part of the ceremony, neither moved or complained.
It is generally said that St. Patrick died on March 17, 492, at an age in excess of 100. The truth of that is debatable, but it did result in a major holiday among those of Irish heritage around the world. This has resulted in a number of sayings about St. Patrick and his day:

"Anyone acquainted with Ireland knows that the morning of St. Patrick's Day consists of the night of the seventeenth of March flavoured strongly with the morning of the eighteenth."

"Saint Patrick was a gentleman, who through strategy and stealth drove all the snakes from Ireland, here's a drink to his health! But not too many drinks lest we lose ourselves and then forget the good Saint Patrick, and see them snakes again."
St. Patrick's grave in Downpatrick is shown above.