Today would have been my Mom's 73rd birthday. The holiday season is and always will be tied up in memories of her. Grab a glass of white wine if you're so inspired, and let me share a bit of her with you tonight... follow me below the dingledoodle squigglie dKosagnocchi dividerthingie fold after a word from our sponsor...

Here at Top Comments we strive to nourish community by rounding up some of the site's best, funniest, most mojo'd & most informative commentary, and we depend on your help!! If you see a comment by another Kossack that deserves wider recognition, please send it either to topcomments at gmail or to the Top Comments group dKosemailbox by 9:30pm Eastern. Please please please include a few words about why you sent it in as well as your user name (even if you think we know it already :-)), so we can credit you with the find!
My Mom was born on December 22nd, 1939 in Manhasset, NY, on Long Island. She was an only child. Here's a picture of her as a baby, with my grandmother, who passed away when I was 8:
Mom and her parents moved to Kingston, NY, about 90 miles north of NYC, when she was in early elementary school, and this area is where she remained her entire life. I'm not sure when this was taken; Mom looks pre-adolescent to me. It's one of the very few pictures I have of Mom with her parents: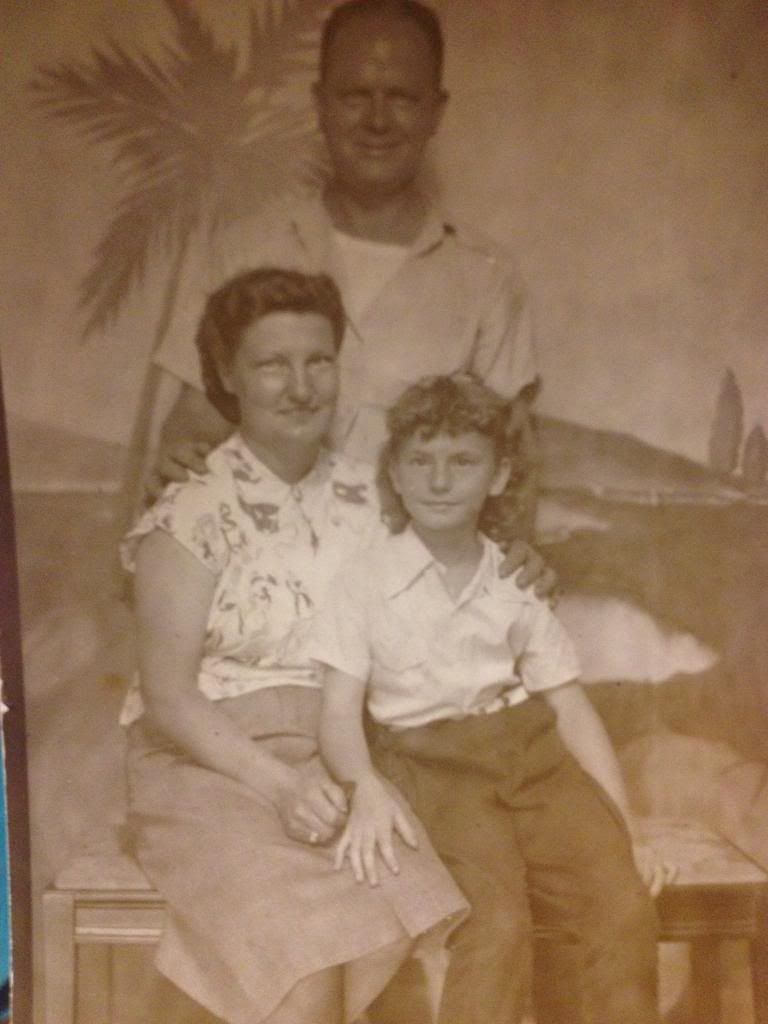 Mom's childhood was in many ways typical of so many families then, and perhaps now... school, best friends (her childhood best friend remained so until they died within a year of each other), visits to family and vacations. She also grew up in a household hiding a secret; her father was an alcoholic who was abusive when he drank. I remember her telling me as an adult that her father lost a number of jobs due to his drinking, and that she learned very early on to keep the peace and not make waves, in order not to attract his ire. Her father died when Mom was just out of high school, of carbon monoxide poisoning in their garage. She told me it was suicide, and this family history is one reason I NEVER drink when upset, and take any and all suicidal comments seriously.
Mom graduated in 1957 from an integrated high school. She told me she was one of the few white kids who shared a locker with a black child, and I was always proud of her for believing that civil rights belonged to everyone. I have no doubt at all she'd have loved and spoiled rotten her Ethiopian grandson :). She was very smart, and often said she wished she'd gone to college. Her father, however, said that girls didn't go to college, they went out and worked until they got married. So Mom went to work at the local bank.
She married my father in 1961 or '62 (not quite sure and can't find my geneology information in time before deadline):
I was born in 1964, a surprise to my parents as my Mom thought that due to a serious illness in her teens, she was unable to have children. Seven years later my sister was born, making Mom at 36 the oldest parent at the first day of kindergarten! Our house was filled with kids playing. Back then playdates and afterschool activities weren't scheduled; we'd all wander from house to house until parents started calling loudly that it was dinnertime.
K1 walked by and said "there are no pictures of your mom with you", so here's one of us at the playground:
(What, you were expecting a high school picture of me?! I'm not giving you the ammunition of pictures of me in the 80's!!!)

In 1972 my self-employed Dad was in a car accident, hit by a drunk driver, and spent 3 months in the hospital sans insurance (then called "hospitalization" by just about everyone). Tragically, her mother died of stomach cancer 10 days later. Our family's finances were in terrible shape, and Mom applied for welfare and food stamps to get us through those hard times until she could go back to work to support us. While my Dad survived and went back to work as well, family finances never improved and they filed for bankruptcy when I was a teenager - I vividly remember as a young teen splitting a meal at fast food restaurants with Mom, in on the Adult Conspiracy so that my little sister could have her own kids' meal. That epitomized Mom - she ALWAYS thought of others before herself, giving when she had little so that others would have something.
She eventually began working for our school district in the Central Administration Offices. She knew everyone at the high school, and I learned early on that if I had an, ahem, good weekend that I needed to tell her before Monday afternoon. She'd come home and say "so I talked to M, the librarian, and she said..." and I'd hear exactly what I'd done because kids talk in the library, and librarians hear all. She also drive half of my neighborhood to school when they missed the bus! My school distract was geographically huge, with the high school being a 20 minute drive from my house. Anyone who missed the school bus knew that Mom left 15' later, and if you called her she'd pick you up and get you to school. When Mom died, I heard from so many people at her funeral just how important she'd been in their lives.
She was a Democrat in spirit if not in party affiliation her entire life. In my first bit of citizen activism, I accompanied her to hold signs one Election Day asking people to vote YES on the school budget, because she knew that voting it down would have terrible repercussions for the students. That was the year I also learned every vote counts; the budget went down in defeat by three votes. Yes, three.
Mom and Dad divorced when I was 17, a move that I firmly believed was necessary for them both. She eventually remarried to a man who was friends with my Dad, and when he was dying of skin cancer in 1990, they invited him to live with them until he went to the hospital for the last time. I don't know of many people with the strength and heart to do that, but Mom never thought twice about it - she did what was right.
Mom loved to shop and was the best bargain hunter I've ever known. Her big secret clothing wise was to buy at the end of one season and wear it the following year. We didn't live in a region of the country where fashion changed dramatically year to year, so she always had "new" clothes and no one knew she'd gotten them at 90% off the previous year. She loved shoes, a passion I to her dismay didn't inherit. I think that's because she could wear ANY shoe in her size, where I have picky feet and need them to fit my arch precisely.
She wasn't perfect, she had her vices. While she vehemently denied any suggestion that she had a drinking problem, I remember days when she'd come home from work, get a glass of wine, and take off her coat... in that order. When Mr. Brillig and I were pregnant with K1, we spent Thanksgiving at her house but hadn't told anyone we were pregnant yet. Trying to concoct reasons that I WASN'T DRINKING at dinner was entertaining... I believe I had a 'touch of the flu' or something :).
Mom's other vice was smoking. Like so many women of her time, she took up smoking to fit in around the office at the bank. She tried numerous times to quit, but was unable to sustain it until she was diagnosed with lung cancer in 2000. Even while battling cancer, she thought of others, kept working, and never gave up hope.
She loved the holidays, decorating the house and wearing festive clothes for as long as the season permitted. She spoiled her children, grandchildren, coworkers and friends with generosity of spirit if not pocketbook. She never complained for the many years that I, in childish naivete, gave her HALF of her present for her birthday and the other half for Christmas. As soon as I was old enough, I made sure to get unrelated presents and always, ALWAYS wrapped the birthday presents in distinctly NON-holiday wrap.
I should wrap this up now, I did inherit my Mom's gift of chat and there are Tops to get to. Thank you for indulging me in a bit of reminiscence. I'll leave you how I will always think of my Mom... smiling, happy, and outside on our porch talking to a friend or relative, in this case my Aunt from England (Mom's on the left), where my grandmother was originally from:
Happy Birthday, Mom. You are loved, and missed.
---
Brillig's ObDisclaimer:
The decision to publish each nomination lies with the evening's Diarist and/or Comment Formatter. My evenings at the helm, I try reeeeallllyy hard to publish everything
without
regard to content. I really do, even when I disagree personally with any given nomination. "TopCommentness" lies in the eyes of the nominator and of you, the reader - I leave the decision to you. I do
not
publish self-nominations (ie your own comments) and if I ruled the world, we'd all build community, supporting and uplifting instead of tearing our fellow Kossacks down.
From gizmo59:

In Grizzard's recommended post Wayne LaPierre's Grave Miscalculation, Mother Mags points out that banks have removed armed guards in favor of technological strategies. The same sort of strategies ought to be applied to gun culture.
From Yours Truly, brillig:

OK, so now I've been forced to hire an armed guard to protect me from my armed guard by Jeff Lieber wins the Internets today, as does this thread contained herein, begun by dance you monster and aided (abetted?) by kyril and madhaus

Joes Steven wanted to nominate jck's comment, from kos hate mail-a-palooza, so here it is!

Vote4Obamain2012 wanted to nominate Just Bob's comment from his diary Fiscal Cliff: Discuss, so here it is!
---
Top Mojo for yesterday, December 21st, first comments and tip jars excluded. Thank you
mik
for the mojo magic!
1) Thanks by LoreleiHI — 156
2) This is such complete bullshit I cannot believe it by voracious — 153
3) Well done. by Bindle — 146
4) Empire State Building shooting by JML9999 — 136
5) What crap. by Colorado is the Shiznit — 136
6) The NRA's Position by JekyllnHyde — 133
7) Words fail. n/t by commonmass — 125
8) Few people see this as the answer: by 4CasandChlo — 124
9) We're in a war. Time to move forward. by TomP — 119
10) this is beyond astonishing by Laurence Lewis — 116
11) I think you're doing the right thing, by Melanie in IA — 112
12) Sales pitch for selling guns to public schools. by inclusiveheart — 109
13) This is so familiar... by beautifullybroken — 106
14) They said by stevej — 105
15) Lakewood, WA police shooting by Calouste — 100
16) Fuckety-fuck-fuck-fuck. by dance you monster — 99
17) And, in point of fact, by Chacounne — 93
18) Id call it by Lady Libertine — 91
19) You said exactly what I'm thinking. Thanks. by Liberal Granny — 89
20) this story just makes me cry. Its horrifying and by real world chick — 84
21) in other news by papa monzano — 84
22) WOW by Silvia Nightshade — 84
23) I went through this with my mother, sisters and by boophus — 80
24) CO-SIGNED. by doesnotworkorplaywellwithothers — 78
25) The President is speaking at 5pm. by brooklynbadboy — 78
26) Today reminded me by Dallasdoc — 78
27) Poltroon by jfromga — 78
28) ((LoreleiHI)) by SwedishJewfish — 77
29) Happy Solstice! by nomandates — 74
30) BTW by Silvia Nightshade — 73
---
Top Pictures for yesterday, December 21st. Click any image to be taken to the full comment. Thank you
jotter
for the image magic!