Ojibwa and his very beautiful wife state of confusion.
On Wednesday, December 26, 2012, Sara and Ann once again opened their home to Daily Kos Koscadians to welcome Ojibwa and state of confusion for several Native American ceremonies, including the Blessing of llbears quilt and a Pipe Ceremony.
The actual ceremonies themselves were not photographed. Here is llbears beautiful quilt:

Update: ta da! navajo to the rescue!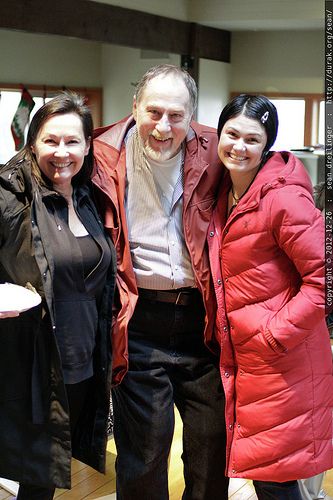 Some very specail people: navajo, llbear and Miss Love. (navajo's photo)
More over the squiggle.
Ojibwa gives his approval! It really is a beautiful quilt with warm rich colors. (I think it is one of my favorites.)
During the Blessing Ceremony Ojibwa sung his Bear Song and played a drum. It was beautiful.
Outside on the street in front of Sara and Ann's home, people could hear Ojibwa singing and playing the drum. They stopped and listened. It was a beautiful ceremony; I'm getting goosebumps just writing about it.
Let's see if I can name the kossacks: Sara in the back holding up the quilt, Horace beside her, the beautiful Miss Love, Miss Fairy kneeling to pull out the quilt for inspection, navajo with her super-duper camera, Ojibwa, back to the front Horace's gorgeous daughter, I call her Miss Beautiful (cause she is), state of confusion with her long, beautiful hair.
I could not get everyone together for a group photo so Oregon Gal assisted me..... ;D

Oregon Gal with one of our hostesses, Sara. (Ann left for work.)
Oregon Gal and Ojibwa.
Oregon Gal and Miss Fairy.
Oregon Gal and Miss Beautiful modeling Miss Beautiful's Christmas gift from Horace. It is an alpaca coat with beautiful stitching and an attached scarf. We all wanted it.
Oregon Gal and Loggersbrat cutting the rug!

Horace and Oregon Gal.
Horace always makes everyone feel welcome and loved. In addition, Horace adds fun and laughter everytime we get together.❤

Exhausted from teh fun! That's our story and we're sticking to it. ;D
Navajo, Mis Love and llbear left a bit early. I managed to photograph everyone but llbear. I hope navajo got a picture or two of him. Navajo and Miss Love added to the special ocassion by blessing us with their presence. You know you can tell if a person is kind and loving by their children. Miss Love is as charming and intelligent as she is beautiful. Just like her mom. ❤
Miss Love and loggersbrat.
Ojibwa and Miss Love discussing Ojibwa's books, he is a published author, and so much more.
This was hilarious! I was not expecting this.
As we posed for photos I said there one thing I had to . As I put bunny ears up behind Ojibwa head, HE Kissed Me. I swear! Swoon!
Laughter filled the house as state of confusion shouted, "That's it. After 41 years, our marriage is over!"
state of confusion is so gracious, generous and loving, I want to move to back to Montana.
It was a very special day for all of us to come together to participate in ceremonies for a special kossack (llbear) to wish him good health. To meet Ojibwa and his very beautiful wife, state of confusion. They are more than husband and wife. They are a team. It was wonderful to watch them together.
For me personally it was an opportunity to meet my Street Prophets and Daily Kos American Indian Elder. I was taught to honor my elders, for they are the wise. Meeting Ojibwa was on my list of things to do, after relocating to the West Koast, along with meeting Markos.
Now I just have to meet the rest of you!
BlueJessamine's List:

1. Meet you❤
Seriuosly, my list is long and you are on it.