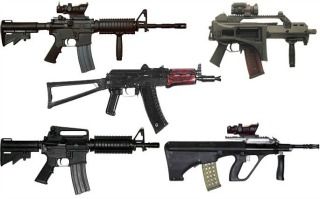 Gun and ammunition sales are surging after the Sandy Hook Elementary School massacre, in Newtown, CT, and President Obama's promise to do something about it. Among the most sought after guns are the assault rifles, such as the Bushmaster AR-15, used at Sandy Hook, which are sold out in many locations.
Justin Jouvenal, of the Washington Post, writes Gun sales surge in Virginia after Newtown,

Gun sales have surged in the region and across the nation in the wake of the Sandy Hook Elementary School massacre as enthusiasts rush to buy firearms they fear will be outlawed by a fresh push for gun control.

Gun dealers requested nearly 5,150 background checks on purchasers in Virginia eight days after the Dec. 14 shootings in Newtown, Conn. — the largest number ever in a single day, Virginia State Police said. And in the days since, the daily number of background checks has regularly doubled corresponding totals from the previous year.

In Maryland, state police pro­ject that they will receive 8,200 gun permit applications in December, more than in any other month this year and double the number received in June.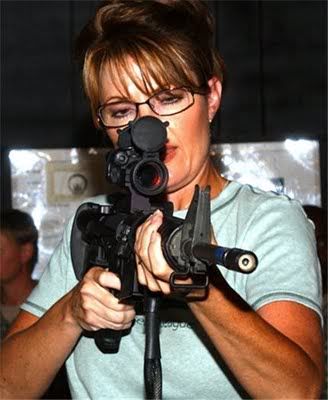 Joseph Pisani, of Huffington Post writes Gun Sales Surge In Wake Of Newtown Shooting As Panicked Enthusiasts Rush To Stock Up,
The phones at gun shops across the country are ringing off the hook. Demand for firearms, ammunition and bulletproof gear has surged since the Dec. 14 massacre in Newtown, Conn., that took the lives of 20 schoolchildren and six teachers and administrators. The shooting sparked calls for tighter gun control measures, especially for military-style assault weapons like the ones used in Newtown and in the Aurora, Colo., movie theater shooting earlier this year. The prospect of a possible weapons ban has sent gun enthusiasts into a panic and sparked a frenzy of buying at stores and gun dealers nationwide.

Assault rifles are sold out across the country. Rounds of .223 bullets, like those used in the AR-15 type Bushmaster rifle used in Newtown, are scarce. Stores are struggling to restock their shelves. Gun and ammunition makers are telling retailers they will have to wait months to get more. ...

Franklin Armory, a firearm maker in Morgan Hill, Calif., is telling dealers that it will take six months to fulfill their orders. The company plans to hire more workers and buy more machines to catch up, says Franklin Armory's President Jay Jacobson. ... "Assault rifles were selling like crazy," says Kotis, who is president and CEO of Kotis Holdings, a real estate development company based in Greensboro. "People are stockpiling."

The owner of SelwayArmory.com says "I've done more sales in the week after the 19th than I have the whole year."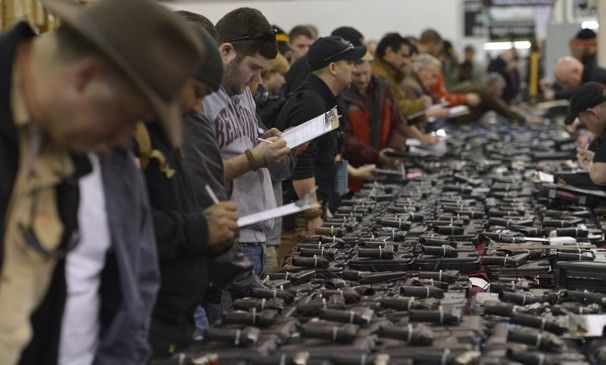 And, Bonnie Shelton reports a Wausau gun shop owner saying his sales have doubled since the massacre at Sandy Hook, in

A Wausau gun shop owner says sales have doubled since the Sandy Hook massacre, including demand for assault rifles. Wausau's police chief says those numbers are alarming.

Employees at Central Wisconsin Firearms on the city's east side told Newsline 9 they're having trouble keeping assault rifles in stock. That includes the Bushmaster AR-15, the same weapon used in the Sandy Hook massacre. ...

He said it's a popular sport rifle used in hunting. Overall, he said gun sales have doubled in the last two weeks because customers tell him they're worried their second amendment rights will be taken away.

"We usually sell about 50-60 per month. Since the shooting in Connecticut, we've sold over 225," he said.
But, guns and ammunition are not the only items seeing a surge in demand.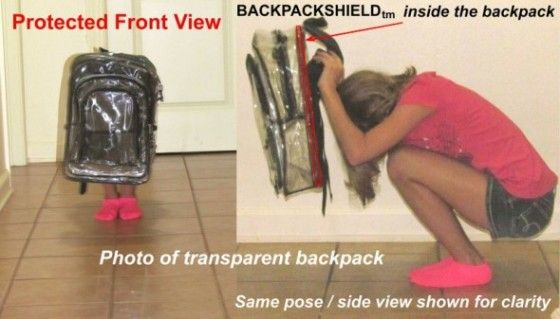 Elmar Uy, a vice president of Bullet Blocker, has seen an increase in sales of bullet proof children's backpacks, as well. Previously, they were selling 10 to 15 children's bullet proof backpacks per week, at $200 each. Now it sales are up to 50 to 100. Bullet Blocker also sells bullet proof vests and briefcases.
I expect we will soon see an expansion of product lines to include bullet proof strollers, umbrellas, shawls, and top-coats. How long do you think it will be before we hear Republicans suggesting this is the best way to stimulate our economy?
But, no report mentioning the Sandy Hook massacre would be complete without once again, extending our sympathies to the families and loved ones of all who died. What a terrible tragedy. Our hearts go out to all the families and loved ones of all gun related injuries and deaths. We need a better solution than an explosion of sales of guns and ammunition. I'm looking forward to hearing the recommendations of the President's efforts.
12:47 PM PT: I've been troubled by this advertisement for the BackPackShield. Can someone familiar with the impact force of several rounds of an assault weapon from 30 feet estimate the probability that the little girl's somewhat tenuous grasp on her backpack is going to hold up?
From videos I've seen of soldier firing assault weapons the recoil impact on their heavily braced shoulders often seems explosive, making me wonder if a 50 pound little girl might be knocked over from a single round? Is it not also possible that a deranged gunmen in a crowd might see something like this as a defiance or challenge making it more likely to draw an attack?
I'm beginning to have doubts about the real protective value of parents spending vast amounts to protect their children in this way? But, can imagine the possibility that once the idea get out, it becomes almost a required school year purchase where children without them my become embarrassed or feel as if their parents do not care for them.