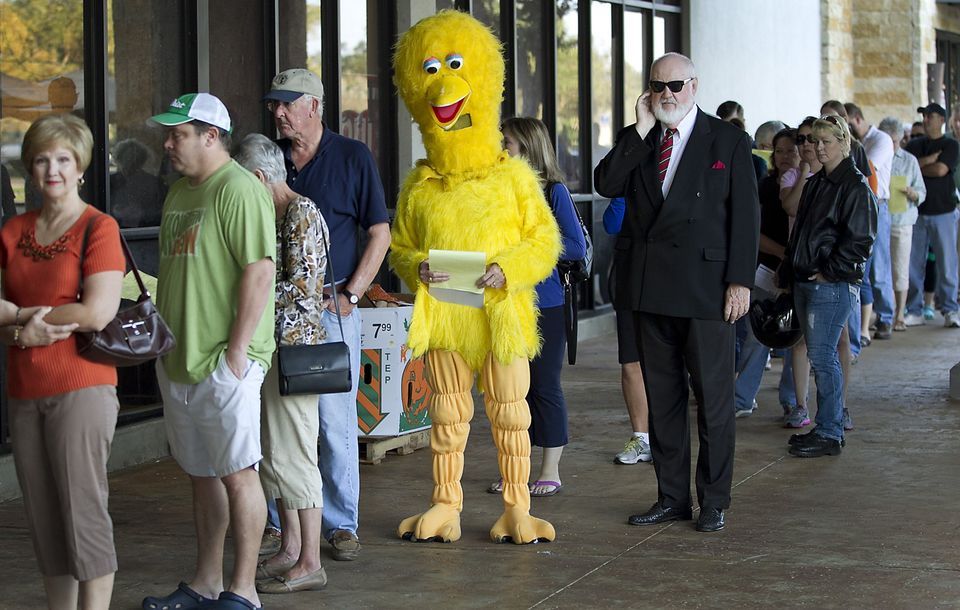 Theodore Allen, of Ohio State University, has analyzed data from Florida's 2012 election and concluded that at least 49,000 voters were deterred by long lines at voting places, and the majority of these, 30,000 were Democrats who would have voted for President Obama. Allen also found the lines were longest in areas with the highest proprotions of Hispanic and black voters. In Researcher: Long lines at polls caused 49,000 not to vote, The Orlando Sentinel reports:

Like Jordan, as many as 49,000 people across Central Florida were discouraged from voting because of long lines on Election Day, according to a researcher at Ohio State University who analyzed election data compiled by the Orlando Sentinel.

About 30,000 of those discouraged voters — most of them in Orange and Osceola counties — likely would have backed Democratic President Barack Obama, according to Theodore Allen, an associate professor of industrial engineering at OSU. ... About 19,000 voters would have likely backed Republican Mitt Romney, Allen said.

This study indicates that President Obama's margin in Florida would have been 11,000 votes higher than occurred just based on the Central Florida results alone.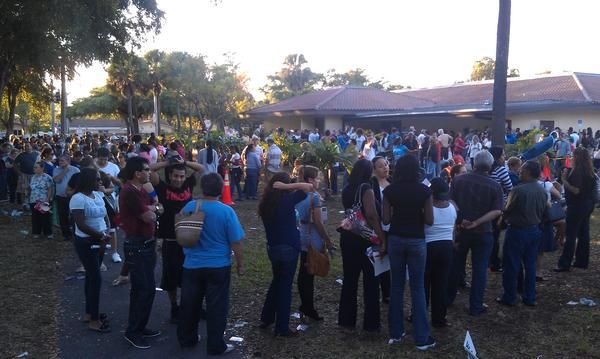 Allen said that his Ohio analyses found that both Hispanics and blacks were disproportionately more deterred because of the longer lines in their communities. However, few black Central Florida precincts stayed open late.

For many voters with child-care issues, who are elderly, weak, or sick, or who get paid only by the hours worked, standing in 4 - 6 hour lines is not an option.
The unusually high number of constitutional amendments, new laws with regard to address changes, changes in ballot layout, fewer early-voting days, in addition to an unusually high turnout have all been blamed.

Allen suggests that expanding early-voting and mail-in ballot options, putting more machines in communities expected to have long longs and "enabling people to preview ballots while they stand in line would save time in the voting booth."
But, these are exactly the opposite of what professional Republican lobbyists have been campaigning for since the last election. I remember reading several years ago, of a GOP voter suppression consultant suggesting that under allocation of voting machines to Democratic areas was a better strategy than trying to deter them at the voting place, where people are watching. The core of his strategic advice was aimed at ways to prevent Democratic voters from going to the polls in the first place, that sounded "reasonable enough' to pass, such as IDs, long-lines from inadequate allocation of voting machines, and intimidation.

And, after Governor Rick Scott (R) fought efforts to allow early voting days, and longer hours how galling is it now for him to be expressing such concern?

"Look, people are frustrated in our state," Gov. Rick Scott said recently on CNN. "Some of our counties, we have very long lines. You know, we've got to restore confidence in our election."

Yes, one of the best ways to restore confidence in elections in Florida is to vote this hypocritical scoundrel, Rick Scott, right out of office in 2014.
We need Congressional investigations, Blue Ribbon committees, and lots of grass roots investigative reporting to make sure this never happens again, and weasels like Governor Rick Scott (R), and the notorious Ohio Secretary of State Jon Husted (R), are held accountable for their disgraceful deliberate efforts to suppress voting -- something as un-American as one can get.