This is a story about my childhood best friend, David, and about putting a face on the AIDS epidemic. The story starts back in the Eisenhower years, a time of post-war optimism, laissez-faire parenting, and "duck-and-cover" drills. My folks had just moved back to New York City from St. Paul, Minnesota where I went to kindergarten. They bought an apartment in large co-op development called Southridge in eastern Jackson Heights near Corona. I was a five-and-half-year-old first grader at PS 149. We were some of the very first people to move into our building. One day, shortly after we moved in, my mom told me to "go outside and play." I went down to the playground, and I met David, then 4 years old, his mother, Rebecca, and his little brother, Phillip.
Even though David and I were an unlikely pair, we became best friends almost instantly, and the friendship lasted until his family moved to California in 1965. I was a girl and almost two years older than David was, but we got along fabulously. We did all the things that city kids did back in the 50s. We played street games--everything from Mother-My-I to Hide-and-Seek to Potsie to Jump-rope and ringalevio. In the long summers, we went to Astoria Pool and played in the sprinklers at PS 149. We lit (illegal in NYC) sparklers on the 4th of July. And we just hung out. This was decades before children's activities were programmed with things like soccer teams, music lessons, and swim teams.
This is a picture of my sister, David, and me back in 1958: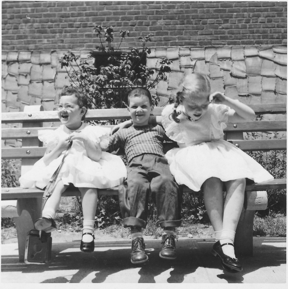 Please follow me below the fold.
We also did some things that our parents never knew about. We did play in traffic. Back in the early 60s there was a television public service announcement that showed a man jaywalking and ended with the warning that "more accidents occur that way." We thought that was a pretty good idea. We would stand on the sidewalk on 90th Street and wait for a car to come down the street. We would run out in front of the oncoming car and then quickly jump out of its way. After that we would yell "more accidents occur that way" at the tops of our lungs. We thought it was hysterically funny, but the drivers didn't.
David and I also had a posse made up of my younger sister and his younger sister and brother. We all received 15 cents a day for ice cream. We could do pretty much anything we wanted as long as we didn't get caught. Once we pooled out ice cream money and took the bus to LaGuardia Airport. My mother finally heard about this 40 years later.
David was raised as a Roman Catholic, and I was a Methodist. I remember David having to learn Latin before his First Communion (this was before Vatican II). As a Methodist, I was fascinated by the mysteries of the Catholic Church. After David's first communion, he had to go to confession on Saturdays. I would walk down to Blessed Sacrament church with him, and we would make up sins for him to confess on the walk down.
In the summer of 1965, David's dad was transferred to California. I remember telling his sister, Susan, that we might never see each other again. David wrote me a note on my typewriter that I have kept in my desk ever since:
A few months later my family moved out to Long Island. I went to high school in Port Jefferson and then on to college and grad school. I eventually married, got a job, and started a family. My mom kept in touch with Rebecca, David's mom for many, many years. I knew that David had joined the Air Force after high school. When I went home to Long Island for the holidays in 1989, my mom told me that David had died. I cried uncontrollably, in a way that I never cried for anyone else. I was told that he died of Lyme Disease. He was only 35 years old. I never really followed up because I was a young mom with two small kids and a tenure-track job.
That is not the end of the story. I have always been haunted by David's death, and in the past few years I have tried to locate his parents. I know that his dad is deceased. Last night I thought that I would try to find his brother and sister. I had had too much coffee, and in the 21st century Google is my friend. I googled David's full name and found him here. While Lyme disease may have been the proximate cause, he was one of the 14,544 men, women, and children who died of AIDS in this country in 1989.
Rest in peace, David. My childhood never would have been the same without you.