The Daily Bucket is a place where we post and exchange our observations about the natural happenings we see. Birds, blooms, bugs and more - each note is a record that we can refer to in the future as we try to understand the patterns that are quietly unwinding around us.
Most of us who wander shorelines of bodies of water - the sea, rivers, lakes - find treasures in the washed up bits of wood, with their curious patterns and eroded forms.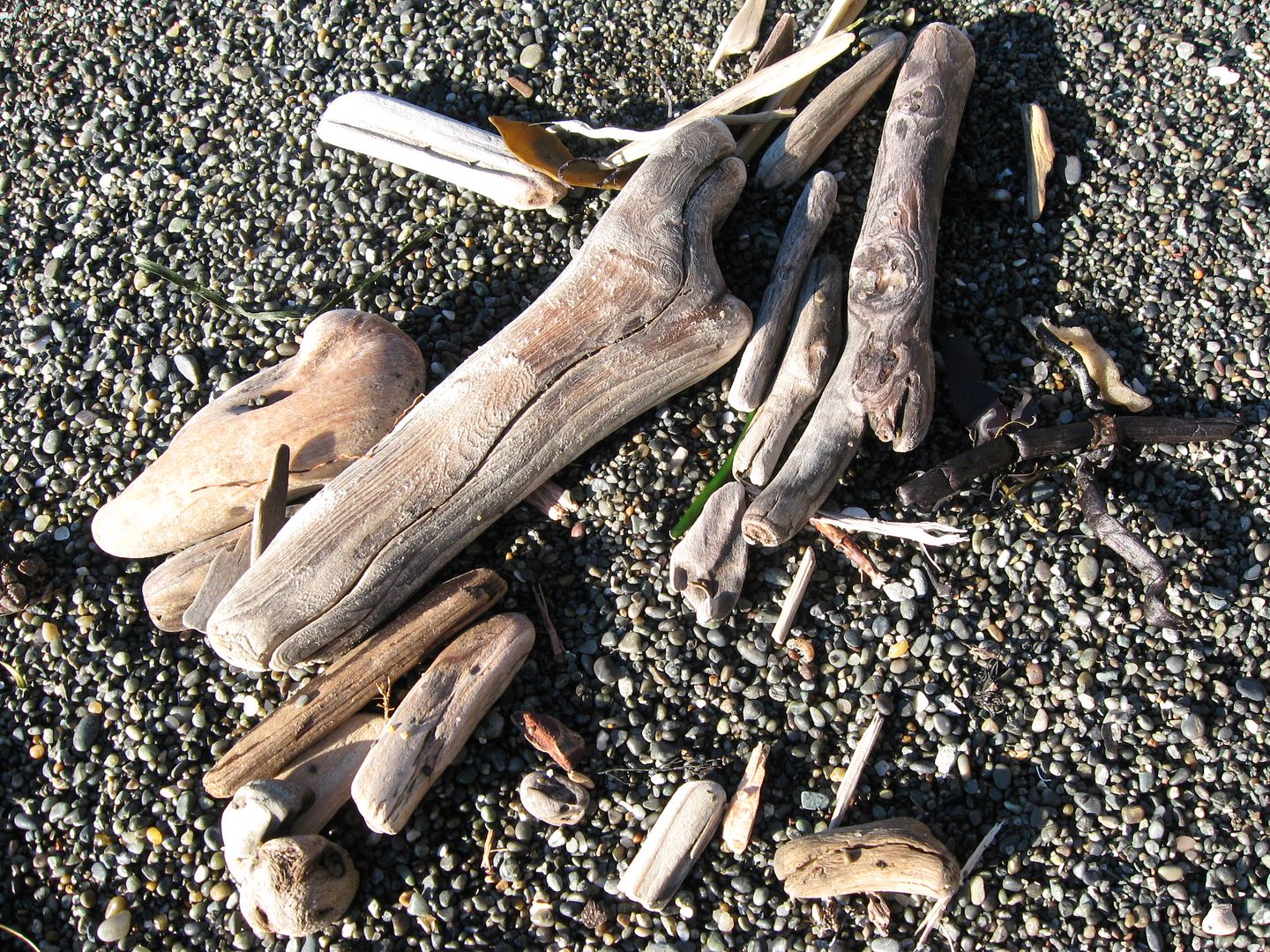 In the Pacific Northwest, especially upon the open ocean beaches, we have DRIFTWOOD! - lots of it, and many pieces so big they might more properly be described as driftlogs. Like this one, currently washed up on First Beach, near the tiny town of La Push, Washington on the Olympic peninsula's west coast.


How big? See that person standing near the rootwad end? She's 5'6".
Where does driftwood come from? What forces shape these hunks of wood? Why are they so different from one beach to another, and even within one jumble? And how does such a monster as the one above come to rest on that pleasant beach? Drift with me past the fold for some thoughts and photos....
Driftwood originates with trees of course, so - forests, to start with. I am not a forester, so my tree facts are kind of general (and I'd love to know more...comments?) but I was raised in the Northwest, and trees soak in. What makes our Northwest forests a particularly good wood source is they are mostly of conifers, which grow huge. Unlike tropical forests, we don't have many different kinds of trees (10s vs 100s in a comparable area), but the few species are abundant, tall, and many long-lived. On the peninsula our most common trees are Douglas fir, western hemlock, western redcedar and Sitka spruce. Deciduous red alder and cottonwood are also common, but don't live as long, so don't generate as much biomass.
Much of the peninsula's western coastline is protected, part of Olympic National Park (represented on this map as the dark green in the center and the gray strip along the coast)

It feels wild and elemental walking down the beach with crashing waves on one side and dense woods on the other.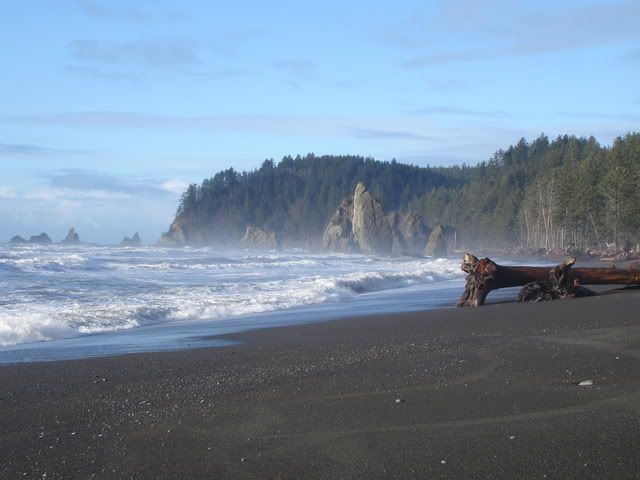 It might seem obvious that the driftwood on the beach came from the trees there. In fact, most of the driftwood logs come from much further away, typically inland. Trees fall over in storms, wash into streams and rivers, and get swept all the way down to the ocean.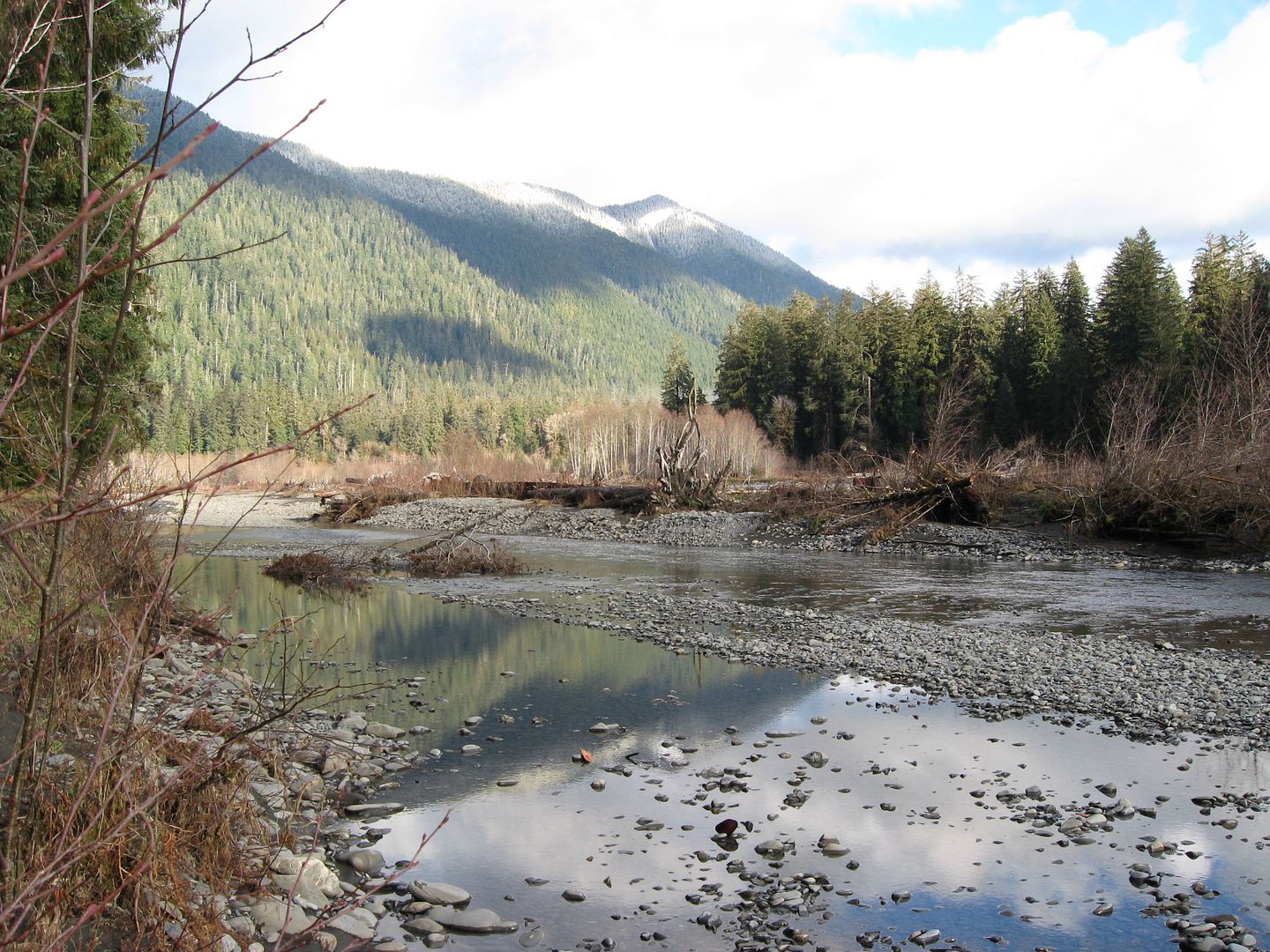 Hoh River, looking upriver toward the Olympics. The ocean is 40 miles downstream.
The Hoh looks very quiet in this photo, but this part of the state gets 12-14 feet of rain annually, and almost all between October and April. After a winter storm deluge, the river rises, draining many times the summer runoff volume. You can see the bars in the river bed with trees stranded there after the water level went down. The next storm could easily flood the valley, and those big uprooted trees will float down to the sea.
From there, nearshore currents carry them off. Generally, in summer, with light northerly winds, the prevailing California Current flows southward. In winter, strong southwesterly winds drive the Davidson countercurrent northward, which has the energy to move heavy sediment and driftwood with it. The mouth of Ellen Creek, which joins the Pacific midway along Rialto Beach north of La Push, shows this effect. In this photo we are looking north, and Ellen Creek has been diverted that way by the big berm of sand on the left. After a ways it turns west to empty into the ocean.

There's a lot more driftwood right here compared to the rest of the beach, which suggests it came down the creek in floods. This next view looks upstream. We can barely see the creek through all the driftwood.

Some trees come directly from the bank, after landslides and beach erosion, though they will likely be carried some distance anyway once uprooted. This section of Rialto beach appears to be actively eroding. Trees are undercut and soil is gone.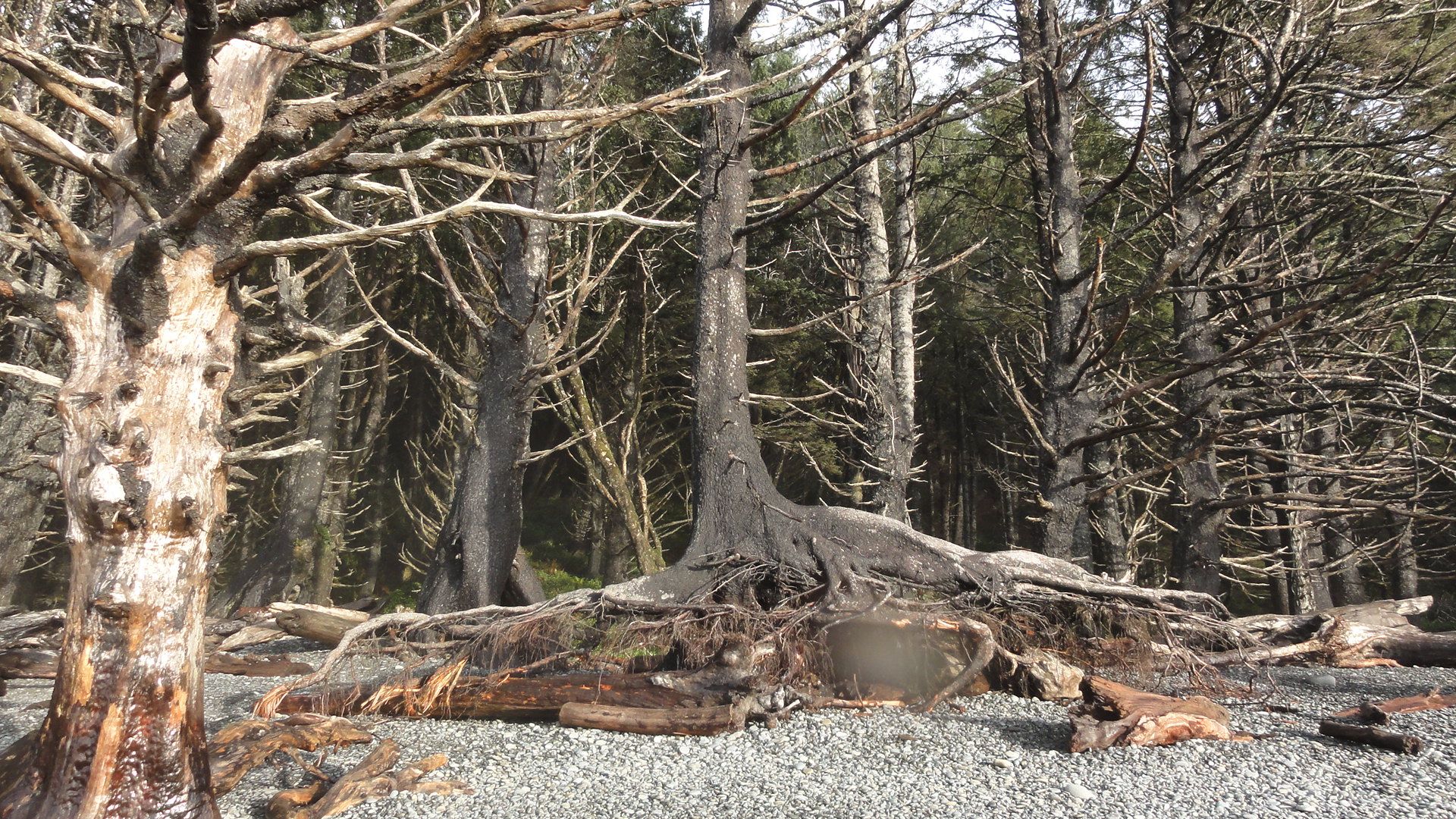 It's possible that the jetties constructed to channel the Quillayute River, which borders the town of La Push (half of the 1 mile square Quileute Indian Reservation), have disrupted the longshore current carrying sediment northward. The Quillayute is formed from two large rivers originating in the Olympic mountains, the Solduc and the Bogachiel, which join just four miles from the sea. Like most large rivers, the Quillayute's mouth shifted over time; in 1931 the Army Corps of Engineers constructed jetties to protect the Coast Guard Station and the marina where the tribe's fisherfolk are based. The Coast Guard's rescue boats are very welcome here where winter storms generate huge dangerous swells in hurricane force winds.
An aerial summertime view with Rialto Beach to the north and the La Push marina south of the river. You can see the white sticks of dead trees at the southern end of Rialto. The channel is dredged regularly to keep it navigable. Only skilled sailors can manage the entrance, and in winter it is sometimes impassable, with 20 foot swells and breaking waves.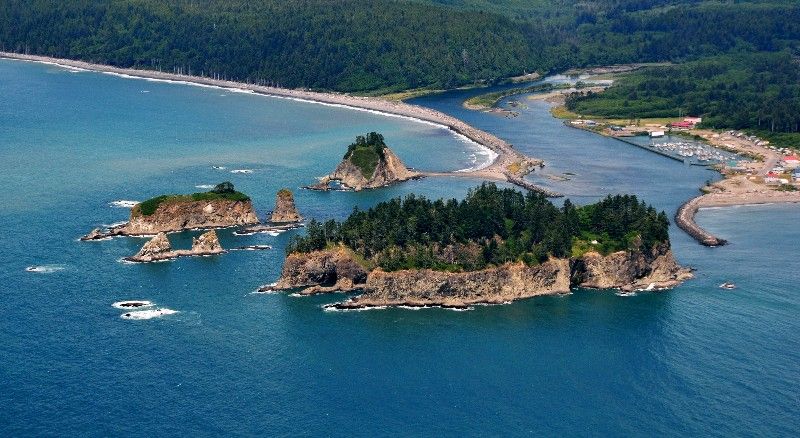 Just to give you some sense of the winter seas, here's a photo of a Coast Guard boat doing surf drill. These boats can turn entirely upside down, and do. The crew wear survival suits and are strapped in.

Looking downriver toward the sea,

and upstream from the same spot,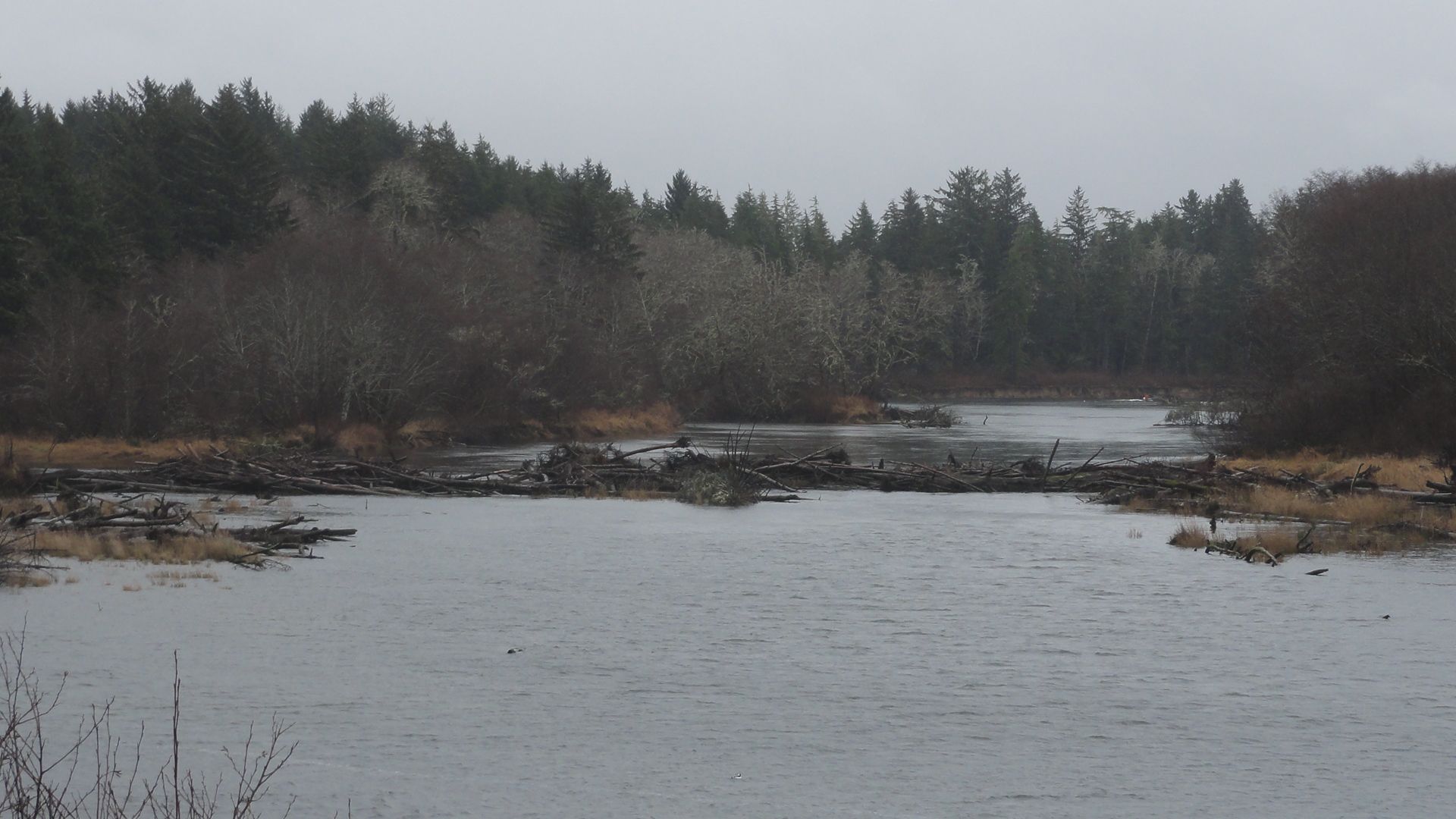 you can see the bars, uprooted trees and logjams from earlier floods. The winter river volume has been estimated at ten times the summer volume.
Since the trees that become driftwood come from near and far inland, and get carried unknown distances along the coast, it's a chaotic mix assembled on a beach, and quite temporary. Some are quite fresh, and still have their bark. Others have been tumbled and sanded to smoothness.

This one suffered from cankers, now beautifully curvaceous.

Patterns revealed in the wood

Flamboyant shapes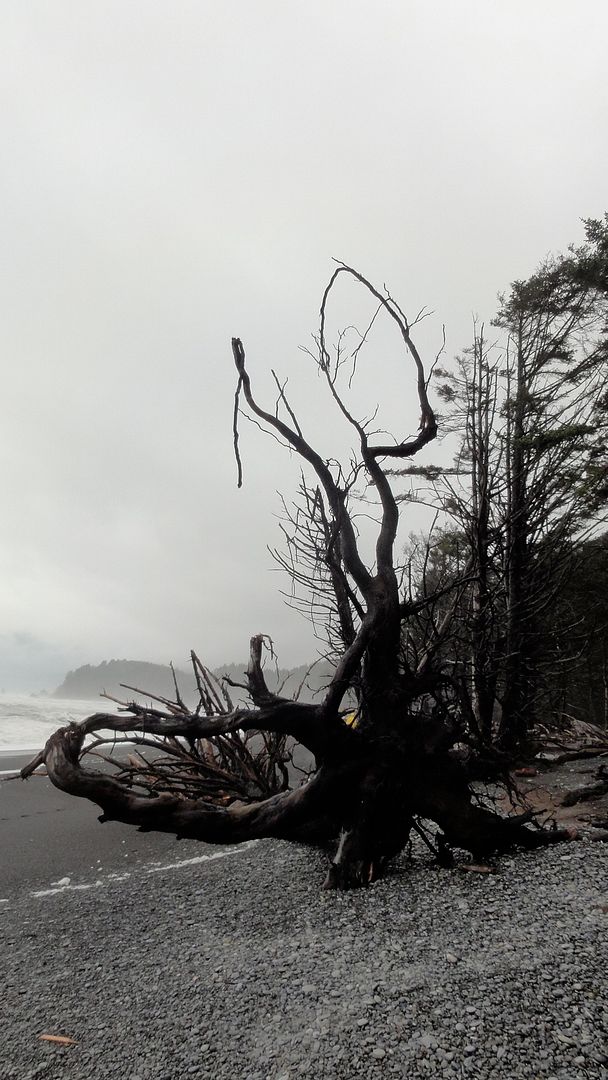 Here's a stump

which will soon be eroded to look like this.

Some driftwood has rootwads, having been uprooted. Others have flat sawn ends, from logging. This partially burned cut stump may have escaped a burn pile after a tree was cut down.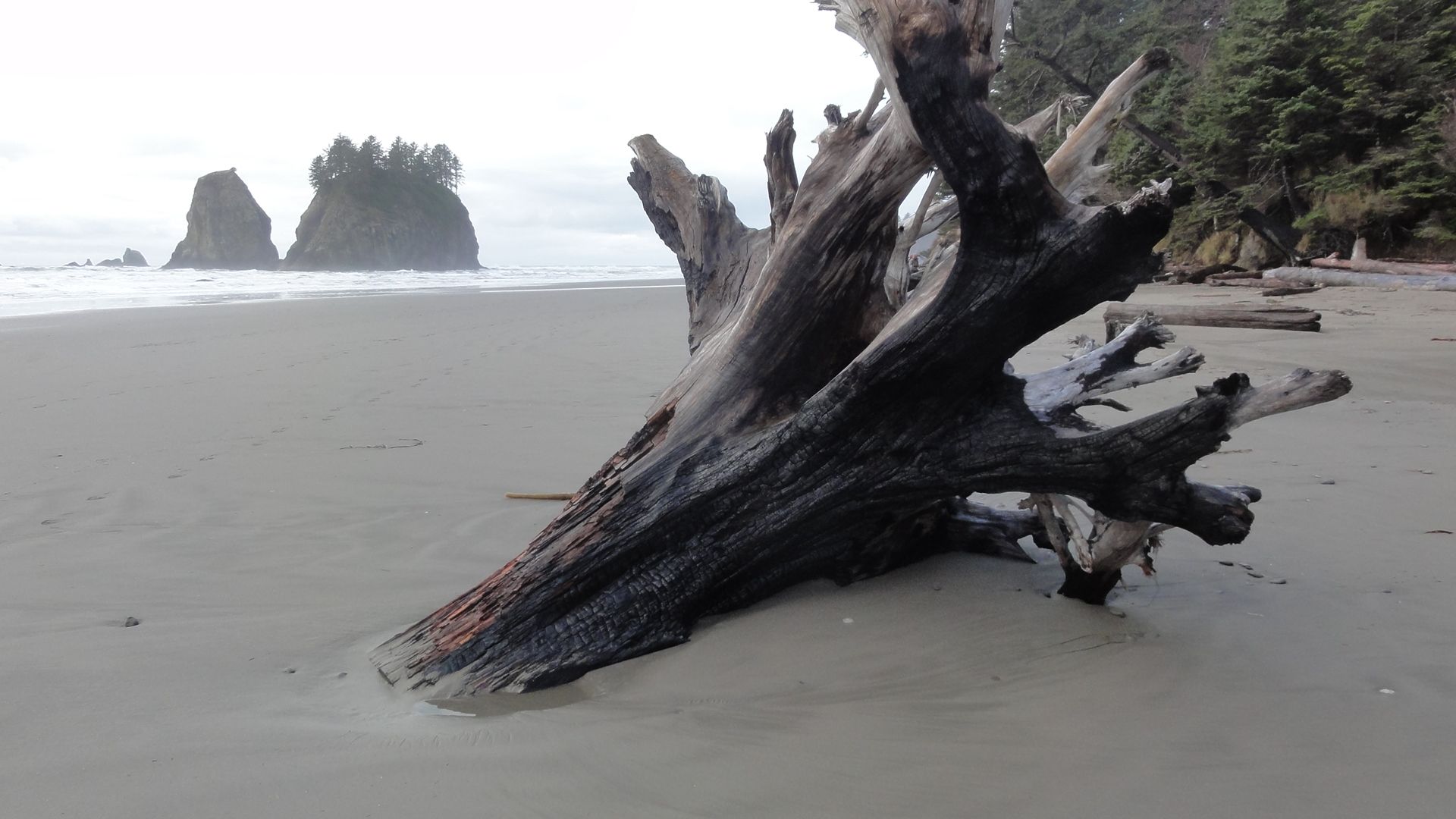 This piece is being sawed into for kindling. Could be cedar.

Anything lost to sea that floats can travel great distances. This refrigerator could well be tsunami debris from Japan, a year later, based on its wear and appearance (no label though, can't be sure).

Driftwood can be a boon, as it has always been to indigenous people in the Arctic, where there is otherwise no wood, carried there from Russian rivers. Native Hawaiians prized the occasional big Northwest conifer log that drifted thousands of miles to their shore. Small pieces of driftwood can be used to make fun stuff, like this llama at my neighbor's place.

But driftwood can also be a serious hazard when it moves. Watching big logs bob and roll in surf is incredibly dramatic - I always hope for high tides and storm for our annual winter trip. But I'm not casual anymore, or get too close, after getting thrown by one that rolled unexpectedly. It was 3 feet in diameter and seemed as fixed as a house. I was lucky to come away with just cracked ribs, rather than being crushed between logs (the 3/4 mile walk back to the car was humbling). For boaters, a barely visible floating "deadhead", with its tons of mass, can tear apart a prop or sink a boat traveling at speed. This is not infrequent in these waters.
Floating driftwood is free for the taking (in fact we used several to support our second story deck). The legal status of washed up driftlogs is murkier. 60% of beaches in Washington are privately owned. But licensed log dealers can scavenge wood, based on a 1952 law meant to help logging companies reclaim property lost from booms. Local jurisdictions have their own laws.
It's unclear who owns beached driftwood, but there's a better understanding lately about the value of it there. Driftwood provides great shelter and feeding habitat for mink, otters, birds and less visible animals. Great perching spot.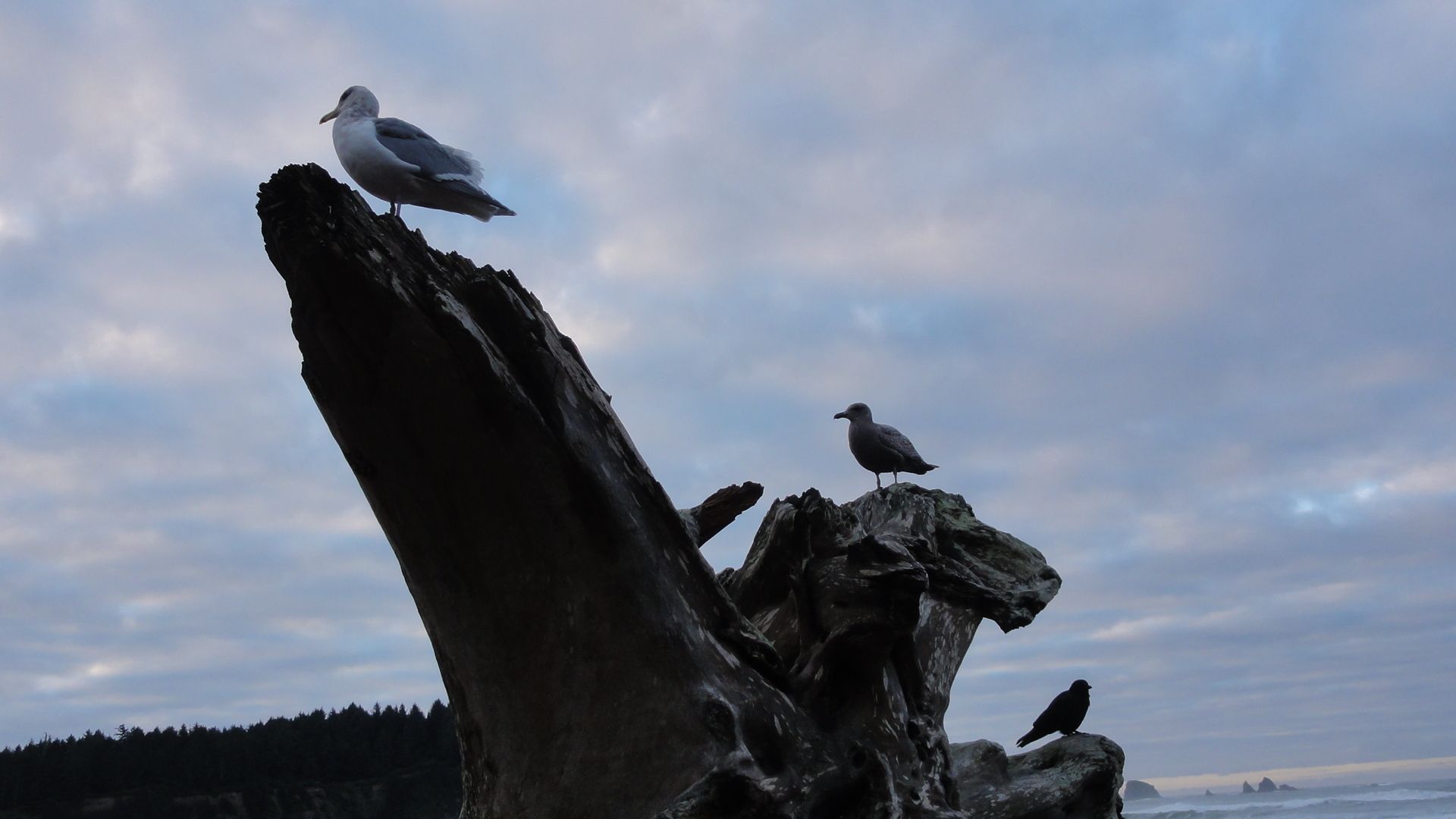 It also helps stabilize beaches, collecting and holding sand, and lessens erosion of unconsolidated shoreline banks by taking the brunt of waves bashing and nibbling. There seems to be less driftwood these days for that. I've been walking these ocean beaches for 50 years - some of my very earliest memories are of running full tilt along driftwood "highways" on these wilderness beaches. Though it varies from year to year, in general the piles are smaller. I have photos of some spots at different years and can document the change in those places anyway. There's less wood coming down the rivers. Could be due to the intensive logging on the peninsula in the last century. Pretty much all private and public land (except the national park) has been logged now, and though a lot of acreage has been replanted, it doesn't compare in biomass to the old growth forests of yore.
So what about the big one on First Beach? It first appeared there in early 2010, rootwad toward the north.
Later that spring, it had settled in its current position, but notice the space underneath
This winter I got a good look at it. There's still a small bit of bark left that looks like spruce.
This is a living spruce tree. What do you think?
What remains on the driftlog doesn't look like hemlock, cedar or Doug fir anyway.
Picea sitchensis , Sitka spruce, is very common all along the coastline down to northern California, but only fairly close to the ocean salt spray zone. Since driftwood usually floats northward in the winter storms, it could be from an Oregon river. But being mostly bark-free, it's been in the water a while. It's been seriously tumbled about.
Another sign it's been in the water a while: it's riddled with gribble and shipworm holes, from the (respectively) small arthropods and molluscs that live in driftwood while it floats in the sea.

It has settled into the beach now, trapping sand, embedding itself.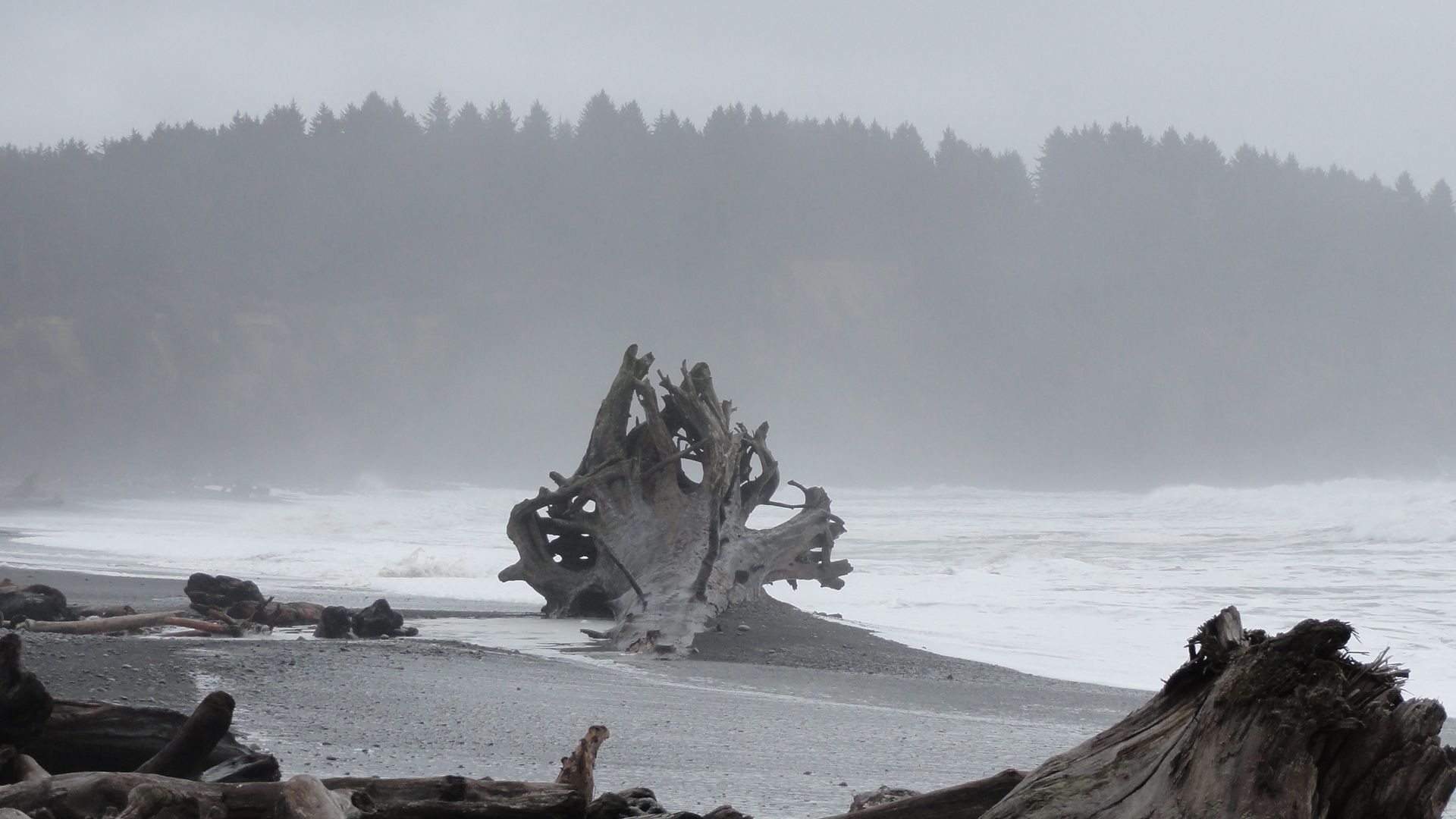 The high tides will have a harder and harder time budging it,


but I am certain it will. All driftwood is temporary. First thing I'll do on next winter's trip is check on this big boy.
The inside is hollow. It must have rotted in place in the forest, and then toppled over. The shallow roots aren't much of an anchor in a big wind. The rootwad tells us it was not cut down as timber. Sitka spruce can live 800 years, and while no one has cut into it to count rings, it's clearly much much older than I am. I wonder about its long life in the forest and the sea. So beautiful and awesome.
What's drifting or telling you a story in your neck of the woods? What shorelines do you wander?