Welcome to Sunday All Day Brunch. This is an open topic thread so help yourself to the goodies and sit a spell and let us know what is going on in your life. One of the most recognized symbols is the yin yang symbol.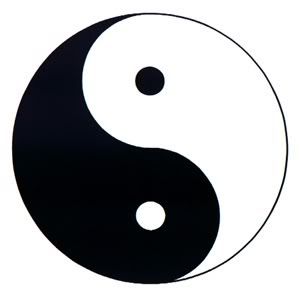 In Chinese philosophy Yin is a symbol of earth, femaleness, darkness, passivity, and absorption. It is present in even numbers, in valleys and streams, and is represented by the tiger, the color orange, and a broken line. Yang is conceived of as heaven, maleness, light, activity, and penetration. It is present in odd numbers, in mountains, and is represented by the dragon, the color azure, and an unbroken line.
The earliest form of the symbols for yin and yang have been found on oracle bones from 14 BC and follow the movement of the sun with sunlight during the day being yang and lack of sunlight at night being yin. The concept of yin yang is incorporated into many different aspects of life including traditional Chinese medicine, the I Ching, martial arts, Taoism, and feng shui.
Many Westerners mistake yin yang as good and evil. Yin and yang are actually complementary forces and make up the whole. The symbol is flowing not static. Things move constantly and the white and black halves flow into each other and constantly change. If you look at the symbol you see that each contains a part of the other in the form of the black dot in the white half of the sphere and the white dot in the black half of the sphere. Each is part of the other. Yin yang fosters harmony and balance.