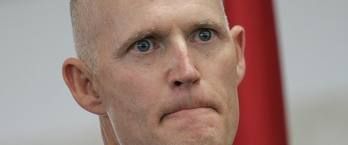 A Times/Bay News 9/AM 820 poll shows sagging approval ratings of only 23% for Republican Governor Rick Scott, and rating in the Tampa Bay area. Scott's approval is particularly bad in Pinellas and Hillsborough counties, where twice as many gave him poor ratings as positive ones, reports Michael Vav Sickler in Gov. Rick Scott faces sagging approval ratings in Tampa Bay area.

Almost twice as many adults in Pinellas and Hillsborough gave Scott a subpar rating than those who gave him a passing mark, according to a Tampa Bay Times/Bay News 9/AM 820 News poll.

Only 23 percent rated Scott's job performance as "good" or "excellent," while 42 percent said they rated him as doing a "poor" or "not so good" job. Those who rate him "average" made up 27 percent of the respondents. ...

Scott disappointed many in central Florida when he refused federal funds for a high speed real project, in a move that killed it of losing jobs and other economic benefits of linking central Florida;s economic areas for ideological reasons - a sad and pathetic vision substituting his extremist zealotry over the common good of the citizens of Florida.

The Times/Bay News 9/AM 820 News poll comes the same month that a Quinnipiac University poll of 1,261 registered voters showed Scott's overall approval rating at 36 percent. In that poll, Scott's low numbers persisted even when broken down by gender, race, income levels or education. Only 31 percent of those surveyed had a favorable opinion of Scott, while Crist drew a 47 percent favorable rating.

The article quotes an independent voter looking forward to the possibility that popular former Republican Governor Charlie Christ, now turned Democrat, might run giving us an excellent chance to move Florida's state political system strongly in a more Democrat direction. The 2014 elections are too important to wait to the last minute.
One goal I have in this post is to learn more information from our Florida Democrats to help improve my ability to help influence our best outcome there. I've been regularly reporting the many short-comings of Scott which we should solidify into a self-propagating mainstream convention wisdom, while the iron is hot, rather than wait for the usual campaign season where both parties will invest in negative ads while the voters have their guard up making them less effective. But, I don't know if pushing the Christie idea is premature, or at the cost of potentially more progressive candidate?
One thing is sure, this Governor Scott is an incompetent loser oddball, who has embarrassed Florida, not served Floridian's best interest, and disgraced our country, even in the eyes of international observers with his ugly and voter suppression tactics trying to limit early voting days and hours, especially in Democratic areas. All Americans should support holding the most egregious offenders such as Rick Scott and Ohio's Secretary of State Jon Husted accountable, throwing these bums out in 2014.
1:41 PM PT: FG has brought it to our attention that this poll of of the Tampa Bay area and not all of Florida where the Quinnipiac poll show his support down only to 36% so we still have some work to do. Thanks FG.