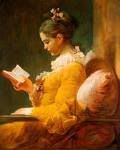 This is not a diary. It's an excuse. I had hoped to be able to have the last sub entry for fans of "Contemporary Fiction Views"; however, since that's not possible, I'll try for an installment of R&BLers next TUE at this time.
I'm making an uneven recovery from a respiratory infection and the old brain tissue feels exactly like that -- tissue. In short, my mentis isn't compos.
Please turn the page.
Next week, I hope to write about the much A-N-T-I-C-I-P-A-T-E-D books that will be published in 2013 that I'm looking forward to. So, please prepare yourselves and share with us what new titles you are looking forward to reading this year.
In the meantime, if one or more of you would like to take over editorship of "Contemporary Fiction Views," bookgirl's original series, and Brecht's adopted love child, please PM me. You don't have to do this alone -- this can be a many-contributors series. Otherwise, it will be retired.
Should you be a secret lurker whose New Year's Resolution is to become a Contributor, or perhaps even and Editor, then I hope you'll keep that resolution. As you realize, this little sub community of Daily Kos depends utterly on Follower input, comments, and Contributor diaries. R&BLers is only as good as its writers -- and they are very good and much loved by you all. Let me encourage you who have not yet joined the ranks of published R&BLers to jump in and feel the love!
Gawd knows, I can't pay you anything and I'm still astonished at how you keep giving and giving to make R&BLers the reading room on the Internet where so many come day after day. It's very gratifying to see one's "baby" stand on its own, go out into the world and succeed. R&BLers is absolute testimony to "it takes a village. . ." What a remarkable and wonderful village you are.
Thank you all, and to all a very Happy New Year and good night.