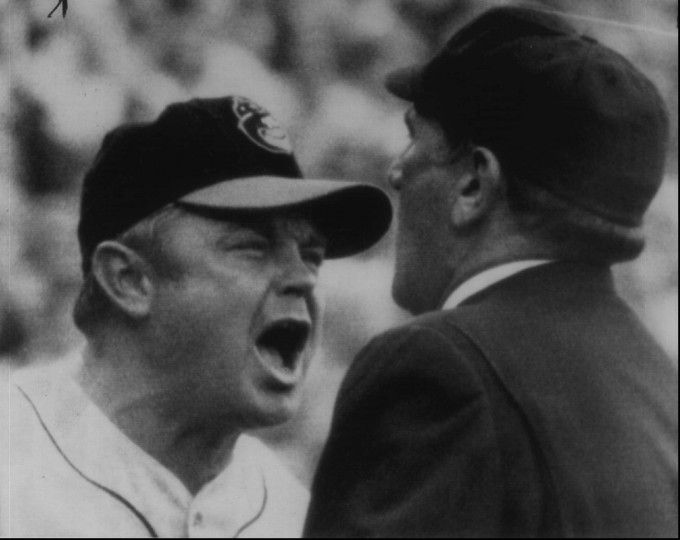 "The job of arguing with the umpire belongs to the manager, because it won't hurt the team if he gets thrown out of the game."

Earl Weaver
Manager
Baltimore Orioles
1968-1982, 1985-1986

The 1960's and 1970s represented an era in professional sports when commercialism hadn't crept in to the degree that it has in recent years, free agency was virtually non-existent, sports was more about civic pride, and players didn't move as easily from city to city in search of the next biggest paycheck. Loyalty to a team and city meant something and the fans reciprocated in every way possible. As the sports landscape changed in later decades and with lucrative, multimillion dollar endorsements available, both sports team owners and players started focusing more on the bottom line. In many respects today, professional sports has became indistinguishable from other big businesses.

Earl Sidney Weaver definitely belonged to that earlier era. He was an original and one of the more beloved "characters" in professional baseball. He chain-smoked in the dugout and once theorized that "every time I don't smoke between innings, the opposition scores." He grew tomatoes in the outfield at Baltimore's Memorial Stadium. He cursed with the best of them. He chewed out his players, even as they respected his baseball acumen. He once said about pitcher Jim Palmer when his pitching skills were declining that he gave him (Palmer) "more chances than my ex-wife." Palmer had feuded with Weaver for almost his entire career and, yet, was very aware of his skipper's desire to win.

He was also a brilliant innovator, creative baseball mind, and fabulous manager
Earl Weaver always was up for an argument, especially with an umpire.

At the slightest provocation, the Earl of Baltimore would spin his hat back, point his finger squarely at an ump's chest and then fire away. The Hall of Fame manager would even tangle with his own players, if necessary.

All this from a 5-foot-6 pepperpot who hated to be doubted.

Although reviled by some, Weaver was beloved in Baltimore and remained an Oriole to the end.

The notoriously feisty Hall of Fame manager died at age 82 on a Caribbean cruise associated with the Orioles.

---

"I don't agree." That seems to be the gist of what Orioles manager Earl Weaver is saying to home plate umpire Larry Napp in the top photograph as he disputes an obstruction call in a game during the 1969 World Series. Photograph Source: Baltimore Sun.
Earl Weaver played high school baseball in St. Louis, Missouri and was drafted by the hometown Cardinals as a second baseman. He floundered in the minor leagues for a few years but found his niche in managing and eventually made his way to the Baltimore Orioles.
He would revolutionize the sport of baseball. Unlike what teams did in the National League - one which doesn't have designated hitters - Weaver did not believe in "small ball" baseball. He despised hit-and-run plays, stolen bases and sacrifice bunts. His philosophy: get on base through walks or hits. Then, power your way home. He argued incessantly with umpires, having been ejected 97 time in his career - once in both games of a doubleheader!
Many baseball purists criticized him for such risky, non-traditional tactics, but his strong belief in team defense and pitching along with his stellar managerial record speaks for itself
Weaver was a little man - 5-foot-7 in spikes - with a big big league resumé that earned him a place in the Hall of Fame in 1996. His Orioles teams - he managed for no other club - produced a .583 winning percentage and 1,480 victories, the 22nd highest total in history, in 17 seasons. They won four American League pennants and the 1970 World Series in a sequence of 11 seasons that began in 1969. His teams won six AL East championships, 219 games from 1969-70 and at least 100 games five times.

"Earl Weaver was a brilliant baseball man, a true tactician in the dugout and one of the key figures in the rich history of the Baltimore Orioles, the club he led to four American League pennants and the 1970 World Series championship," Commissioner Bud Selig said in a statement released by MLB. "Having known Earl throughout my entire career in the game, I have many fond memories of the Orioles and the Brewers squaring off as American League East rivals. Earl's managerial style proved visionary, as many people in the game adopted his strategy and techniques years later.

"Earl was well known for being one of the game's most colorful characters with a memorable wit, but he was also amongst its most loyal. On behalf of Major League Baseball, I send my deepest condolences to his wife, Marianna, their family and all Orioles fans."

---

"Hall of Fame skipper Weaver passes away at 82" - Major League Baseball. In the above YouTube video, ESPN baseball analyst Tim Kurkjian reflects on covering Weaver and what he meant to the world of baseball.
Job security in professional sports is a precarious thing. With fickle fans and tempestuous owners offering unsolicited advice, it is remarkable how so many of the managers and coaches survive for any period of time. For many years, Weaver epitomized excellence. It was as if the man and the City of Baltimore had meshed together.
A true measure of a manager's brilliance is how his former players and colleagues remember him. Here are some of the quotes from earlier today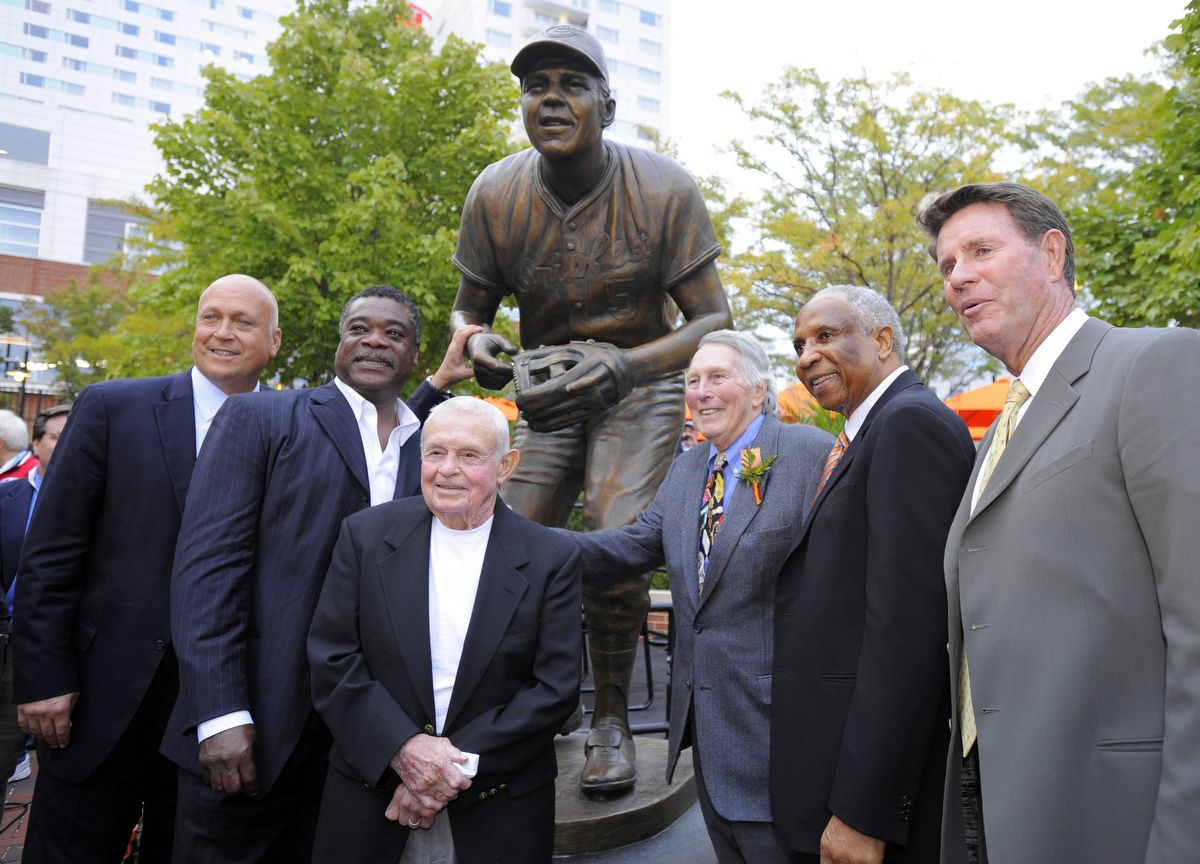 Jim Palmer, Hall of Fame Pitcher - "Earl was a black and white manager. He kind of told you what your job description was going to be and kind of basically told you if you wanted to play on the Orioles, this was what you needed to do. And if you couldn't do it, I'll get someone else. I know that's kind of tough love, but I don't think anyone other than Marianna, his wife, would describe Earl as a warm and fuzzy guy." link
Cal Ripken, Jr., Hall of Fame Shortstop/Third Baseman - "Earl was such a big part of Orioles baseball and personally he was a very important part of my life and career and a great friend to our family. His passion for the game and the fire with which he managed will always be remembered by baseball fans everywhere and certainly by all of us who had the great opportunity to play for him. Earl will be missed but he can't and won't be forgotten." link
Davey Johnson, Washington Nationals Manager and Former Orioles Second Baseman - "I grew up in the minor leagues with Earl Weaver and we proceeded to spend a significant portion of our lives together. He was as intense a competitor as I have ever met. No one managed a ballclub or a pitching staff better than Earl. He was decades ahead of his time. Not a game goes by that I don't draw on something Earl did or said. I will miss him every day."
---
From left, Orioles Hall of Famers Cal Ripken Jr., Eddie Murray, Earl Weaver, Brooks Robinson, Frank Robinson and Jim Palmer stand together outside Camden Yards as Brooks Robinson's sculpture is unveiled. Photograph Source: Baltimore Sun.
In professional sports, we love the underdog and cheer for him or her to succeed even as the odds are stacked against them. But we marvel at the abilities of those who stand head and shoulders above the rest of us - even if not physically. We want nothing more than to see them excel at what they do for, above all, we value achievement and excellence. We want them to soar high above us mere mortals for only they can go places the rest of us can simply dream of.
Earl Weaver did just that. And took millions who live in the Baltimore-Washington area for a thrilling ride that lasted almost two decades.
How would Weaver want us to remember him?

And now he is gone. The game has lost one of its best managers and a premier character. Weaver left this one request, expressed years ago: "On my tombstone just write, 'The sorest loser that ever lived.'" Perfect.

---

In the above photograph, Baltimore Orioles manager Earl Weaver, right, and outfielder Frank Robinson celebrate in the dressing room following their team's 11-2 win over the Minnesota Twins for the American League championship, in Minneapolis on Oct. 6, 1969. Photograph credit: Associated Press