In an earlier diary, "Bygone Days in a British Crown Colony," I told how my family came to live in Singapore for three years in the mid-1950s. If I'd recounted every memory I have of the place, the diary would have been huge; I therefore decided to set down further memories in this companion diary. Please follow me past the writhing orange cobras for more tales of the Singapore (from the Sanskrit words singa pura, meaning "lion city") I loved.
The very mention of cobras reminds me one of the hazards of life in those days. A friend who lived on Dunsfold Drive, one street away from us, informed us that his neighbor across the street, an irascible Dutchwoman, had killed 19 baby spitting cobras in her backyard.
"But how did she do it?" we asked, at once fascinated and horrified.
"She beat them to death with her broomstick, saying 'verdomde roltrap' (damned snakes) all the while," our friend reported.
Not long after that, when our amah turned back the area rug in "the lounge," as our living room was called, we discovered a family of tiny snakes beneath. They were so small and thin they must have been newly hatched. To this day I don't know what they were, but the kebun (Malay gardener) quickly disposed of them.
Just as the amahs, or housekeepers, were all Chinese, so the kebuns were Malays. (The chauffeurs, called syces, were Indian.) Then as now, the population of Singapore consisted of 70 percent overseas Chinese, 14 percent Malay, 7 percent Indian, and the rest international, including Europeans.
I attended a semiprivate English school called Dean's, run by Mrs. R. An Englishwoman who wore her flaming red hair in an Afro, with pale skin that didn't tan even in Singapore's fierce tropical heat, she lived in the other half of the school building. Mrs. R. was a cheerful soul who really liked children and was sympathetic to all their problems. Such sensibilities landed her in a very dicey situation once: it was known as The Day The Kebun Went Mad.
One day, Mrs. R. recounted, business was proceeding as usual on a quiet Saturday—which is to say nothing much was happening because school was not in session—when the kebun appeared at the bottom of the outside staircase to her private quarters, dressed in flowing robes. He wore a paper crown on his head and garlands of flowers round his neck. He beckoned her to come down, which—curious, by now—she did. He seized her by the arm and told her that he was the king of the world and she was to be his queen. He then festooned her with some of the garlands and led her around the school grounds. Mrs. R., by this time beside herself, managed to attract attention from bystanders who promptly called the police. The mad kebun was taken away, presumably to a mental facility.
Mrs. R., shaken but conscientious, resumed her duties as headmistress. There was to be a school excursion to the circus so as parents arrived to pick up their children at the end of the next school day, she wagged her forefinger in reassurance. "Circus all right! Circus all right!"
Impressed, my father repeated this line from time to time as the years went by, when he wanted to make known his approval of an imminent family outing.
In those days before TV became universal (indeed, we didn't even have TV in Singapore), strange things happened that would probably be immediately debunked or ignored nowadays. One such example was that of the mysterious Oily Man as reported in The Straits Times, one of Singapore's two daily newspapers. There would be sightings of him all over the city, reported by agitated witnesses; sometimes he appeared nude, sometimes dressed, but always covered with oil. On one occasion he danced the hula. He seemed to capture the imagination of certain people because in 1956 a film, "The Curse of the Oily Man" was made. Apparently he replaced "the bogeyman" in parents' dealings with their small children.
Real life could be much more frightening than the mythical misdeeds of the elusive Oily Man. Once some friends of ours, whom I'll call Fred and Jane Smith, traveled across the straits between Singapore and Malaya to Johore, to visit the Sultan's zoo in Johore Bahru. Traveling was always a bit dicey because of the Communist guerrillas who sometimes seized cars full of Europeans and took them hostage. On the journey to Johore, the grownups in the car spoke in hushed voices about the most recent ambush. The Smiths' little girl, Gillian, picked up the fear in the grown-up voices around her, as children often do, and became obstreperous.
"What's an ambush, Mummy?"
"Never mind, darling, I'll tell you later."
"No! I want to know now! What's an ambush, Mummy, what's an ambush?"
Gillian's voice was rising, the car windows were open (there was no air conditioning in cars in those days), and the occupants were in serious danger of attracting unwanted attention. Jane Smith decided to put a stop to this.
"Look, darling," she said, putting her arm round Gillian and directing her attention to the scene outside. "See that bush there, with the pinky flowers? That's an ambush."
The sangfroid of the British in dangerous situations has always aroused my admiration, as does their irreverent habit of making their feelings known through nicknames: for example, they referred to the national dish of Malaya, nasi goreng, as "nasty going." Although I never ate any of it, it was probably similar to the Indonesian rijjstafel and must have been quite delicious.
Our amah occasionally cooked for us; once she made a fish soup called ikan bubu that tasted to me like soap. Conservative little creature that I was, I preferred my mother's cooking. Mother made wonderful cakes, pies, and breads. Her birthday cakes, which she baked, iced, and decorated for my sister and me, were wonderful to behold and even more wonderful to taste.
It happened that our kitchen had a wide window at shoulder height, the shutters of which opened to the carport. Naturally, there was no wire screen—they'd have rotted in Singapore's damp climate. As Mother's reputation as a baker grew so did attention from the neighbors. Every night, as my mother worked in the kitchen, the face of Pudema, the teenaged daughter of the Pakistani family who lived across the street, appeared in the window as she asked: "Baking cakes, Mrs. Martin?" Only in her accented English, it sounded more like "Bekking keks, Mrs. Martin?"
Mother was soon to put her baking skills to further use. Two events happened: one was that she heard through the Singapore grapevine about Canon Adams, the headmaster of St. Andrew's School. After the Japanese Army invaded and occupied Malaya during World War II, Canon Adams was frequently in trouble with the authorities. Whenever he heard the Japanese were looking for him, he'd hide in Singapore's leper colony—the one place he knew the Japanese would not enter in pursuit of him. After the war he continued to take an interest in the plight of the lepers, who were shunned by almost everyone except the nursing sisters whose mission it was to look after them. Mother heard that the lepers, many of whom had missing limbs because of the disease, suffered terribly during the damp and comparative chill of the monsoon season.
The other event was that I taught my mother how to knit. We girls learned how to do this on Tuesday afternoons at Dean's school, Tuesday being our "long day." Once Mother learned to knit she never looked back: she immediately founded the Knit Wits, a group that met at our house every other week to knit shawls and cardigans for the lepers. All sorts of women, English, Dutch, and Danes—whoever knew how to knit—joined the club. Mother would bake delicious homemade cinnamon rolls and other breads, which she served with tea and coffee.
Although we didn't have TV, we had what our British friends referred to as "the wireless." It broadcast only a few hours a day, and even then very few programs were in English. "I can't wait to get back to the States, where I can listen to radio programs in English all day long," my mother wrote to one of her sisters.
There were two English language newspapers that served the English-speaking community on the island, The Straits Times and The Tiger Standard. I was too young to take much interest in newspapers but I do remember some of the headlines: "Stalin Dead," blared one banner headline, and "Ike Holds the Axe" read another.
Here is a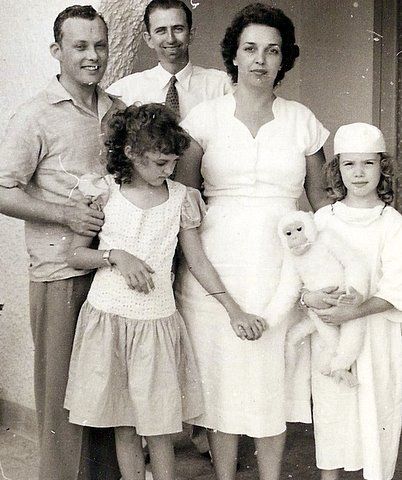 photo of my family, taken at Christmas in 1953. We're standing in the archway that led to the terrace of the stucco house we rented from Mr. Chiderambaram, our landlord. My father is standing behind me, his hands on my shoulders; I'm looking down (I was a contrary little thing); a family friend is standing behind; then there's my mother, standing next to my younger sister. Younger Sis had just decided she wanted to be a doctor when she grew up, so Mother made her a "doctor costume," which Younger Sis put on immediately that Christmas morning. She's holding Alpha the White Monkey, her favorite toy at the time.
You can see a photo of our little house, which looked exactly like all the other houses in Braddell Heights in those days,
here.
We left Singapore for good in December 1954. During our last year there, knowing he'd be posted to an Army installation somewhere in the States, my father began collecting the literary works he loved most in three huge volumes he called Landfalls. Patiently he typed his favorite poems, philosophical essays, critical discussions of art, and even passages from novels on 8½" x 11" sheets of paper and had them bound by the Malaya Publishing House. Somewhere in his papers was a short poem he wrote, of which I can remember only the first and last lines:
It has not all been worthless…
For I have seen rain and green conspiring in Singapore.

---
In March 2012 I went back to Singapore. Arriving exhausted at Changi Airport from Narita Airport in Tokyo, my husband and I took a taxi at 2:30 a.m. through the
warm tropical darkness to our hotel downtown. We awoke hours later to fresh papaya
for breakfast and the sight of paradise trees outside.
The first thing we did after breakfast was to hire an English-speaking taxi driver to take us to Braddell Heights. The Braddell Heights Expressway (new since my day) runs past the neighborhood now. In the taxi, driving past familiar roads with names that echoed through the long corridors of memory—Serangoon Road, Bukit Timah Road, Kallang—I felt I'd come home at last.
I showed the driver the address of our old house on a slip of paper. When he drew up in front of No. 8, we got out of the car, rendered speechless. The entire neighborhood had changed. Instead of the rather austere arrangement of houses and lawns that had existed before, our old house and the surrounding houses had been torn down and replaced with expensive-looking two-story houses. At one end of the street was a coconut palm, with coconuts hanging like pendulous breasts high up the tree under the fronds.
My husband, at 6'3" well able to see over a 5-feet-high wall, took a photo
of the front of the house. There was something resembling a lap pool where the carport used to be, with blue water shimmering inside it. There were Chinese characters painted in gold around both sides and the top of the front door. To the right, not far from the lap pool, was a statue of a caparisoned elephant.
The driver explained to us that these were "landed houses"—uncommon in Singapore, which, like Manhattan, is an island filled with high-rise apartments. He added that the houses would be priced anywhere from $1 million to $4 million.
Still dumbstruck, I asked the driver to tour a few more streets in the neighborhood. At No. 23, we did find a house that still looked like the houses of sixty years ago. You can see it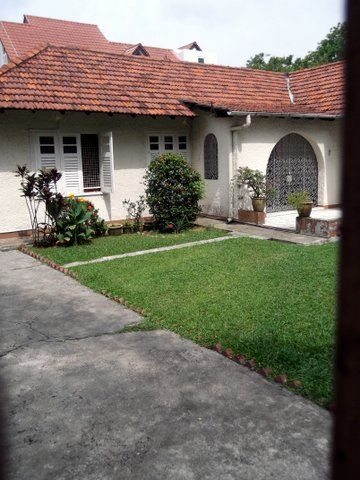 here.
We spent the rest of our stay in Singapore touring the city before we set off to visit relatives in Australia.
Like New Yorkers, most people in Singapore live in high-rise apartments and eat out a great deal. There are restaurants offering every cuisine you've ever heard of and a few you haven't.
Singapore is the only country in Southeast Asia where you can drink the water straight from the tap if you want to. In Beijing we had to carry bottled water into the bathroom to clean our teeth, but not in Singapore.
The Singapore I knew is mostly gone. Change Alley—that fascinating thoroughfare crammed with shops of every description, full of noisy vendors crying their wares in many languages—no longer exists. It's been replaced by gleaming, air-conditioned towers that house multilevel shopping malls. In the old days during the monsoon season the water would rise waist-high in the streets from the heavy rains. The Straits Times used to publish photos of people trying to bicycle through the water. Also, the pythons that lived on wharf rats would come slithering out of the shops (the shop owners kept pythons to keep the rats down) and cause horror among the city dwellers. No more. Lee Kwan Yew, that benevolent despot, decreed the building of new drainage systems, so now Singapore doesn't experience waist-high water during the monsoon.
Some things are still the same—Cold Storage is still a well-known grocery store chain, and we shopped there; Robinson's is still the big-name department store. But the Shop of a Thousand Saris is long gone.
Following is a photo of the Mer-Lion that sits on the Singapore River and guards Singapore: it symbolizes both the city's humble beginnings as a fishing village and its Sanskrit name, the Lion City.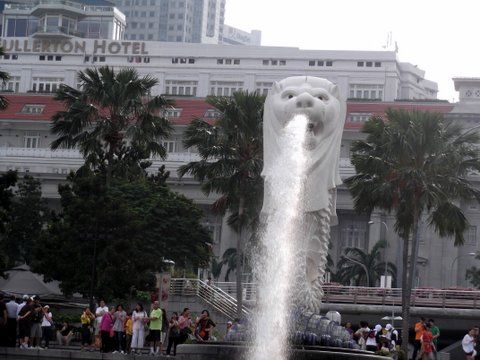 Singapore is still a magical city to me, the scene of my happy childhood. I felt so at home there that I long to visit it again one day. Who knows what life may hold in store for us?