Last week, I reprised - as a comment in a different diary - part of a Top Comments diary I had posted 3-1/2 years ago ... and the response was so great, I will flesh-out more of the Peter Norman story - which everyone should know about - after the jump ....
But first: Top Comments appears nightly, as a round-up of the best comments on Daily Kos. Surely you come across comments daily that are perceptive, apropos and .. well, perhaps even humorous. But they are more meaningful if they're well-known ... which is where you come in (especially in diaries/stories receiving little attention).

Send your nominations to TopComments at gmail dot com by 9:30 PM Eastern Time nightly, or by our KosMail message board. Please indicate (a) why you liked the comment, and (b) your Dkos user name (to properly credit you) as well as a link to the comment itself.
One of the most famous photographic images (and not only in the sports world) of the 20th Century was that of the medal ceremony of the men's 200-meters race at the 1968 Olympic Games in Mexico City.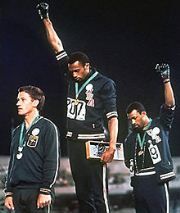 Tommie Smith & John Carlos - who won the gold and bronze medals, respectively - faced a whirlwind of scorn and rejection from much of America. They will be mentioned below, just not in detail: as their story has been chronicled in many places.
But it was only in 2006 - when I read about the death of the Australian runner Peter Norman at the age of 64 - that I learned of a fascinating aspect to the Smith-Carlos event that I did not know before.
Peter Norman was the silver medalist in the men's 200 meters race at the 1968 Olympics in Mexico City and - for a long time - I thought of him as the ultimate photography prop or the answer to the trivia question "Who was that white dude in the famous photo standing next to Tommie Smith and John Carlos with their Black Power salute?" ... almost as if Peter Norman just happened to stumble into the photo.
It turns out that he not only supported but was was quite involved in their plans to make a Black Power salute, which they told him about beforehand. Expanding upon my previous writings, let's have a more complete look at his life.
=================
Peter Norman was born in Melbourne, Australia in 1942 as part of a devout Salvation Army family. Originally an apprentice butcher, he eventually became a phys-ed teacher ... as his track and field successes grew. In 1966 he became Australia's national champion sprinter and was among the favorites to medal at the 200-meters when the 1968 Olympics got underway. Let us hear what happened in the final race from sportswriter Joe Posnanski ....

John Carlos and Tommie Smith hit the turn together in the lead. But then Smith pulled away -- he would set a world record with a time of 19.83. Carlos, in second place by quite a lot, looked to his left at Smith in the final 50 meters, perhaps felt frustrated, and then looked to his left again to be sure that nobody would catch him for silver. What Carlos had not seen coming -- what he could not have seen coming, based on history -- was that it was Peter Norman to his RIGHT who was actually making the charge.

Norman's closing 50 meters is one of the most extraordinary finishes in the history of the event; even on grainy old film, it does not seem possible that he could catch John Carlos. But he did. And by the time Carlos realized what was happening, Norman had edged him at the tape to win the silver medal.
Originally both Smith and Carlos were to have worn a pair of black gloves - and upon learning that John Carlos had left his behind at the Olympic Village, it was Peter Norman who suggested they share the one remaining pair: which is why Smith is raising his right fist while Carlos raised his left in the first photo below on the left.
In addition, Peter Norman wore an Olympic Project for Human Rights badge on the podium in support of them. This was the brainchild of the noted professor Harry Edwards of Berkeley, whose movement many African-Americans were involved in. It was said by Tommy Smith that while Peter Norman "may not have raised a fist on the podium .... he did lend a hand".
And while the firestorm that awaited Smith & Carlos (after being ordered to leave early) was immense - my father was among those who did not approve - Norman did not escape flak, either.
Unlike Smith and Carlos, Peter Norman was not booed in the stadium. Unlike Smith and Carlos, he was not forced to go home early. But he was reprimanded by his country's Olympic Committee and - after returning home - Peter Norman then went one-step-beyond.
And this is because he went on to explain that he joined their protest partly due to his support for human rights (for which he cited his position as a Salvation Army officer - strange as that may sound today) ... but also due in no-small-part due to his opposition to his own country's White Australia policy, which excluded aboriginal people from the national census. This proved to be even more inflammatory (and especially, as you can imagine, to the conservative citizens in Australia) and he was not chosen for the 1972 Olympic team even though he would have been among the favorites.
Peter Norman went on after his retirement from running to becoming active in athletics administration for the Australian state of Victoria, Olympic fund-raising and organizing major sporting events. He often suffered from poor health, nearly losing a leg in 1985 after a tendon injury turned to gangrene. And he had other problems as his nephew chronicled:

Matt Norman did a documentary called Salute about him, and did not hide his uncle's alcoholism, his addiction to painkillers or his depression. Though in America, there has been a softening of feelings about Carlos and Smith's gesture -- with many people believing that their statement was honorable and brave -- it was different for Peter Norman. He was largely ignored.

Matt Norman told The Age that his uncle did not regret how it all turned out. In fact, the one thing that saddened him in later years was that when he lost his driver's license, the local paper ran the iconic photo with the news story. Norman was sick to think that his own failures would reflect poorly on Carlos and Smith, two men he idolized and adored.
Incredibly, when the 2000 Olympics were held in Sydney, Australia - and he still held the Australian record in the 200 meters - Peter Norman was
not invited
to attend in any official capacity by the Australian Olympic Committee (not even the 200 meter finals).
Instead, he was invited by the U.S. team who flew him to Sydney and he was treated as an American guest. And some guest: the sprinter Michael Johnson- who went on to win four Olympic gold medals in his sterling career - told Norman, "You are my hero!"
Over the years, Peter Norman stayed in touch with Smith and Carlos and visited the US in September, 2005 when a statue of Smith & Carlos was unveiled at San Jose State University in California.
And so it should not be a surprise that when Peter Norman died of a heart attack in Melbourne, Australia in October, 2006 ... both Tommie Smith and John Carlos traveled there to be pallbearers at his funeral. It was only reading about this that I learned about Peter Norman. Death has a way of doing things like that, I suppose.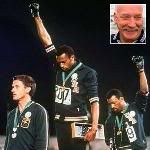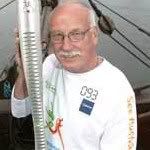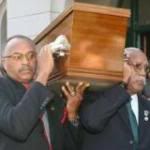 Just last October, the family of Peter Norman finally received a long overdue, posthumous apology in the Australian Parliament: read by the member of Parliament Andrew Leigh - who gave a short TV interview at this link about his planned address .... and as there were no dissenting voices, it was adopted. Mr. Leigh also marvelled in his address ...... why did it take a US invitation to ensure that Peter Norman had a prominent place at the 2000 Sydney Olympics?
Let's close with this talk by John Carlos given at Occupy Chicago in late 2011, where he was asked about Peter Norman ..... and did he ever fill-in the blanks.
Now, on to Top Comments:
-------------------------------------
From Dave in Northridge:
Cali Scribe explained what's really important here at the Great Orange Satan in my Top Comments diary last night.
From
Puddytat:
In the front-page story about the senior senator from Wisconsin - I was comparing our dumb bell Wisconsin Republicans to, well, a bag of hammers. The bag of hammers objected ... and then some. Enjoy it as much as I did.
And from
Ed Tracey
, your faithful correspondent this evening ........
From the same front-page story listed above ..... cpinva suggests that Ron Johnson has some intellectual shortcomings (not that his constituents mind a lot, you see) ... but he was apparently not so dumb enough to directly confront John Kerry, who had actual combat service.
TOP PHOTOS
January 23, 2013
Next - enjoy jotter's wonderful PictureQuilt™ below. Just click on the picture and it will magically take you to the comment that features that photo.



(NOTE: Any missing images in the Quilt were removed because (a) they were from an unapproved source that somehow snuck through in the comments, or (b) it was an image from the DailyKos Image Library which didn't have permissions set to allow others to use it.)
And lastly: yesterday's Top Mojo - mega-mojo to the intrepid mik ...... who rescued this feature from oblivion:

1) It is bitterly cruel. by commonmass — 303
2) It is so touching that you keep us updated by Dallasdoc — 275
3) oh, dear commonmass by homo neurotic — 267
4) Bill, by Melanie in IA — 234
5) Mon semblable, mon frere, my dear friend by Dave in Northridge — 224
6) A miracle did happen. by commonmass — 214
7) I will keep you both in my prayers. by blue jersey mom — 204
8) (((((commonmass))))) by politik — 198
9) None of us know by Dallasdoc — 190
10) So very, very sorry by AnnetteK — 188
11) You helped me more than you know. by commonmass — 187
12) We love all of YOU. by commonmass — 186
13) We watched that too by Land of Enchantment — 175
14) I'm 35k miles by gchaucer2 — 166
15) Our priest at the Cathedral said to me yesterday by commonmass — 166
16) I can't imagine how by AnnetteK — 164
17) McCain is a reverse ace, having crashed five by Wee Mama — 158
18) I'll bet it can. by Kaili Joy Gray — 154
19) I'm so glad I could help, then by Dave in Northridge — 143
20) Regardless of what happens, by commonmass — 143
21) He threw his integrity and any shred of "heroism" by blue in NC — 140
22) Agreed, thanks; he threw his first by a2nite — 140
23) sending my thoughts for you and your families by annieli — 139
24) I am so sorry to hear this -- I was hoping for by theKgirls — 137
25) There's no higher calling, commonmass... by itzik shpitzik — 136
26) My opinion of the Catholic Church can't sink by coquiero — 135
27) The true God of the Catholic Church: $$$$$ by anastasia p — 133
28) That interview was one of the last things by commonmass — 131
29) In our prayers... in our thoughts. Dear God, by nannyboz — 121
30) Where is that step? by Dallasdoc — 119
31) I'm sure this was as hard to write... by Richard Cranium — 119