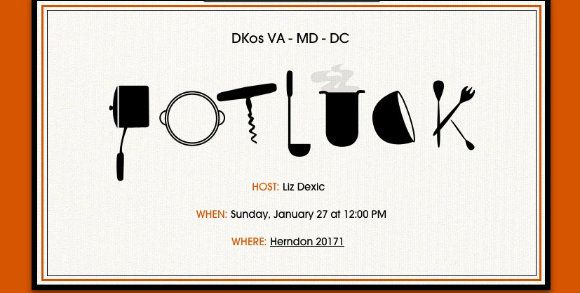 Just in case you haven't heard or just are learning about the event, we'd really like for you to come and share some comestibles and libations in a relaxed setting with some great conversation. Time is from Noon - 5 pm, and if we're still talking, fell free to just hang out for a while. More below the Fleur de Kos.
I have to admit the pooties and I could really use the opportunity to meet some friendly faces in the area. Prevailing upon JamieG from Md, who's already held two meet-ups this past fall, has given me the opportunity to bring like-minded folk together.
As mentioned in previous diaries, having you here is vastly more important, if you want to bring something, it's very welcome. A few of us in the various comments have mentioned our youth and the community, church, and family suppers of yore, and it seems that that type of occasion might be a missed, or as Gordon20024 calls it "more of a bring it if you can otherwise don't worry about it motif." Heck, we just wanna meet you! And so does, Max!
Directions may be obtained from sending a kosmail to JamieG form MD or me.
The location is accessible via Metro at West Falls Church then taking the 950 Weekend bus to the Monroe Park and Ride (which is a very short ride to the house). We're a stone's throw from Dulles International, just south of the Dulles Toll Road and west of the Fairfax County Parkway. Call that you're on the bus, and I'll be there to bring you back to the house.
I forgot to add, if you have any food sensitivities or dietary restrictions please drop me a message via kosmail, please.
So here's the latest update of Attendees and what they're bringing:
a gilas girl (via Metro)
barbwires caesar salad with anchovies, bottle of wine
Diana in NoVa tiny cheese pizzas
Gordon20024 (from Roanoke) picking up something from Amphora Diner in Herndon
Jamie G from Md (Ashburn) baked spaghetti
kevinole (Crystal City)
LeoDaLion veg/fruit trays
liz dexic (Herndon 20171) potato salad, pasta salad, relish tray (pickles/olives)
MNGlasnant a dessert
oortdust (from Arlington)
STI (Ashburn)
stevenwag bread and cheese or wine
VirginiaBlue (Mechanicsville)
Maybe:
teacherken
agrenadier
Sturunner and his wife
gmfbard
angelajean
Pademocrat
Virginia Victory
noweasels
On the Get Well and try to make it next time List:
louisev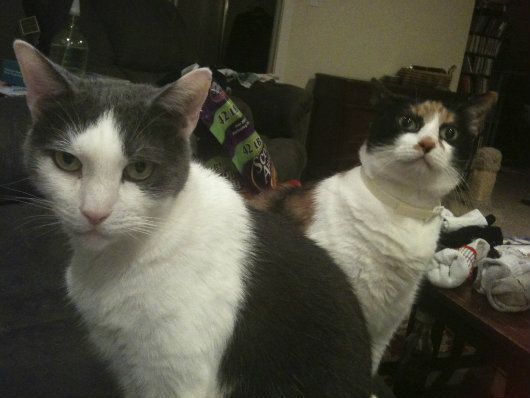 Troy (he's the serious one) and Essie are looking forward to the turn out!
Thanks to the New Day Team for all their support in getting out notice about our event. If you know of someone who might be interested in attending, please share.