So Saturday February 16 at Casey's downtown at 2PM again. This diary by navajo illustrates our last meeting.
IMHO our meetings should be social events AND learning experiences AND catalysts for action.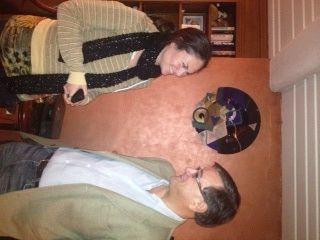 So this time we have a guest speaker; Dana Siegelman.
I met her last night at a Great Minds event. She was not the featured speaker but she was a special guest and she spoke a bit about her farther's case.
I had read OPOL's diaries about Alabama Governor Don Siegelman but what I read after meeting her has horrified me. He is essentially serving a 7 year sentence on trumped up charges and the guy that run the show behind the scenes was Karl Rove.
Dana speaking alone should motivate LA Kossacks to come. She is very eloquent as you can see in her TV interviews, posted below the orange croissant, and her father's case is pivotal in American justice and politics. She happens to live in Los Angeles now. I am hopping that some of you will perhaps be motivated to help her get her father out of jail.
But to make things more inetersting, I'm planning to establish a live teleconference with OPOL who knows Dana's father. So this will be the 1st live teleprescence meeting attempt with Kossacks in 2 states. (Skype video should do.)
So please get the word out and let me know (by comment or message) if you are coming.
In any case, please sign Dana's petition to free her father.

Watch the 60 Minutes on the case. Shocking!
Pages with video interviews of Dana;
http://live.huffingtonpost.com/...
Articles about Don Siegelman's case;
Diaries about the Don Siegelman case;