This may be the best idea the GOP has ever come up with, or at least since nominating Mitt Romney as their Presidential candidate to run against Barack Obama in 2012.
Massachusetts Republicans are desperately scrambling to find a strong Senate candidate to replace Scott Brown, with some even trying to persuade Mitt Romney's wife or son to jump into the race to avert another electoral disaster.
"I've had several people call me and ask about Ann Romney," Ron Kaufman, a longtime friend and aide to the former Massachusetts governor and 2012 presidential candidate nominee, told the Herald.
Despite being thrashed by Bronco Bama last November due in large part to their refusal to acknowledge reality-facts, the delusion continues:

Ann Romney's inspiring battle against multiple sclerosis and her star turn on the GOP convention stage turned her into a popular national figure, especially among women voters in Massachusetts.
Successfully battling disease is certainly the first criterion I look for in my legislator. (I may suggest Lance Armstrong next).
Oh Noes! She's not a sniping harridanesque reincarnation of Marie-Antoinette, a self-centered twit who refers to her subjects as 'you people', who achieved fame by marrying the male version of herself - the timing is bad!

But Kaufman said Mitt's charismatic wife, who has never run for office, would be unlikely to take the plunge. "The timing is not great, and I don't think she sees herself as a candidate," he said.
Hmmm, me neither. Plus, she might think it's too hard.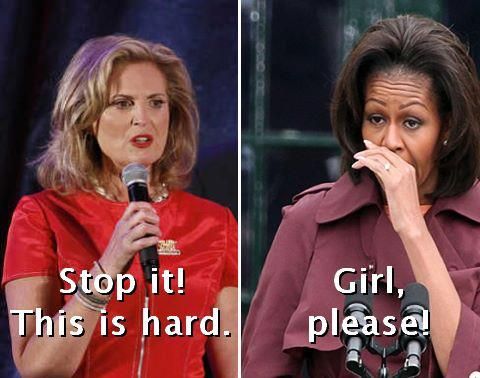 OK, how about another Romney? Being associated with a losing campaign is a well-trod path to success, right?

Other GOP leaders also raised the prospect of Mitt's eldest son, Tagg, launching a surprise Senate campaign. Tagg Romney was a close campaign adviser and surrogate for his father and is a successful businessman living in Belmont.

The push for a Brown substitute comes as frenzied Republicans are running out of time to find someone who could raise enough money and collect enough signatures to get on the ballot.
Okay, maybe not.
I know, how about this guy?
Showing that they're not totally out of touch with reality, (just mostly) they acknowledge:

"Our bench isn't too deep," added Rob Willington, a former Massachusetts Republican Party executive director who's worked with both the Brown and Romney campaigns.
C'mon, Romneys - do it! I'd vote for you (if I lived in MA - not that you do either but
'Bqhatevwr'
).
On second thought, stay here: