Whoa there, Nellie. . . I am getting a few or more requests about hiking 'the Subway,' thanks to the inviting pictures posted on today's Zion Canyon NP diary. Let me preface this brief diary how this 9-mile r/t hike along the left fork of North Creek ain't easy. It's strenuous! The way to this famed locale also does not follow a maintained trail. Ergo, lots of route finding is a recommended requisite for going. And there are many stream crossings, besides. Have a topo (a must), the right kind of footwear, and for cat's sake always check the weather before leaving, because flash floods do more than flash. . .they'll take the skin right off you if you get caught in such maelstroms coming on without warning. Of course, a hiking permit is always necessary. Don't leave home (or the trailhead) without it! Finally, The Subway is a day-use area only. Hence, you travel light, with a daypack, and forget the CD's, the cellphone (like, what coverage?), the iBook and all the rest of the cyber-world's addictive toys. Go feral! (But, yes, do, please, wear some clothes! The water's also chilly to cold, depending on how well your body's thermostat works.)
Here's the topo you'll need to procure and take with you: USGS The Guardian Angels, Trails Illustrated #214. That's the one I have, though it may be outdated. Call the NPS, at Zion, and confirm what's vogue now (for a map).
This diary is also hastily written so please excuse the typos and such. Just so you know.
Now. . .if you're still planning to do this hike some day, here's what you need to know.
(Continued after the fold.)
You will be headed into this sector of Zion. . .
Drive west from the Visitor Center (at Zion NP), there in Springdale. The drive will be about 14.5 miles from State route 9. Next, turn right (your 'other right' right?) in the town of Virgin and that turn will put you on Kolob Road (which should still be marked with the added assurance headed to Kolob Reservoir). Next, drive another 8.5 miles, or thereabouts, headed back into Zion NP. The trailhead (marked) and parking area are on the right. Your next phase of the adventure begins. . .
Get out stretch and hit the trail. It tends to wind across a forested terrace (see below) which is capped by lava. The pavement is also telltale given its mantled wind-blown appearance. After another half-mile or so you will be standing at the edge of the terrace. Now begins a steep and rather abrupt descent into Great West Canyon. here is where the left fork of North Creek is waiting for you, so to say. Mind you . . .this part of the trail is precipitous and can be scary-hairy. In other words, be cautious: life, limb and levity depends on it.
You will likely be doing this, as well. (Which is why some folks spend the money and go with a professional outfitter that offers these tours (for sale):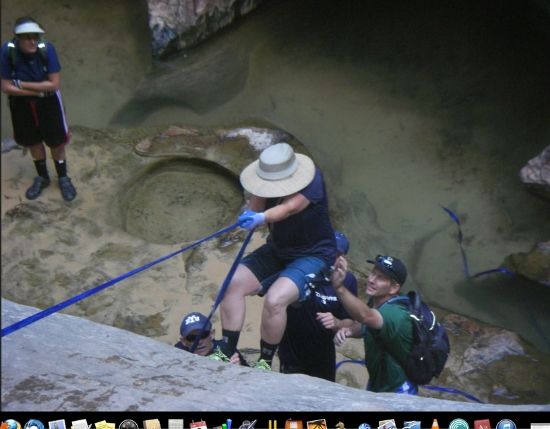 Ensuing, and I am purposely not getting into the wonder and amazing geologic features in this sector. . .somewhere around 1-mile from where you began this adventure you will be on the bottom and looking up and saying your prayers (because you hopefully didn't have any incidents getting here). Never hurts to pray, even to canyon gods. Look for a sign that says "Left Fork Trailhead.," for it marks the junction with the inner canyon trail. And take a good look around before you head off in this direction, because when you return you will want to know how to find your way back given how you got here. Ergo, check out the features in every detail and make a firm mental note to re-cognize the view upon your return.
Obviously, you should know there is no maintained trail in this sector, either. Then again, you should also know there are numerous pathways of a sort that cross the creek here and there. The trail also bypasses waterfalls, all idyllic, and now and again you will be forced to make your past giant boulders. Here is where you really have to be the past pathfinder by getting through this seeming confused terrain. Yet it only leads one way, so that should be a comfort. I mean, staying in or near North Creek's drainage. And if you find yourself getting stuck and/or thwarted, turn back and keep looking for another way. You will eventually find it. One can hope as can two (or more).
Lovely views along the way, by the way. . .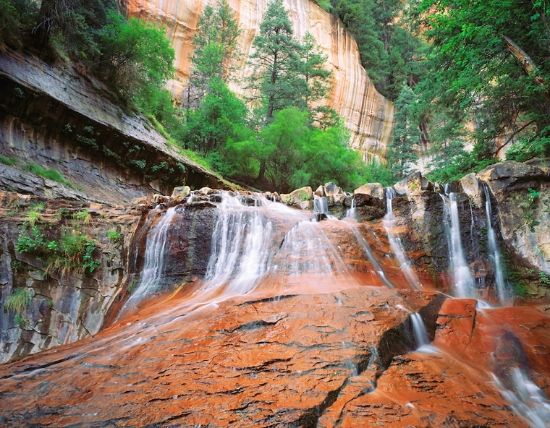 and get past places and obstacles like this: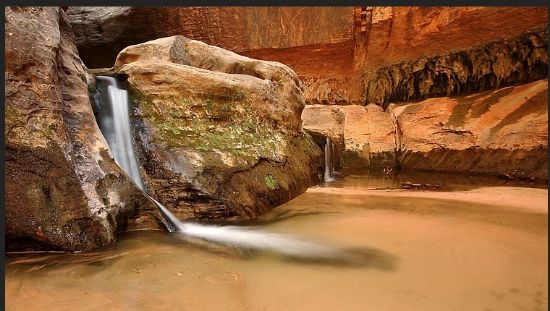 But hey, in for a penny, in for a pound, right? (Make that tons!)
As you make your way further upstream, which obviously you are going against the creek's direction of flow, you will soon find yourself at the 2-mile point (as measured from the trailhead). The clue is also obvious: look for a giant-sized boulder the size of modestly proportioned house (on the right side of the creek). If you want to take a wee break and assume a discoverer's penchant of interest, on the opposite side are two rather prominent and tilted slabs of sandstone (gray in color). Get closer and observe some dino tracks. In this case, typical 3-toed prints made by theropods some 200 million years ago. Like you, they were also bipedal. These so-called "beast-footed" creatures were carnivorous. Be glad you don't meet them in the raw! Here's a couple of 'em going at it. . .
"My oh my. . .did you brush your teeth today? (Retort: "No, but did you get your ass whopped today? You're about to. . .")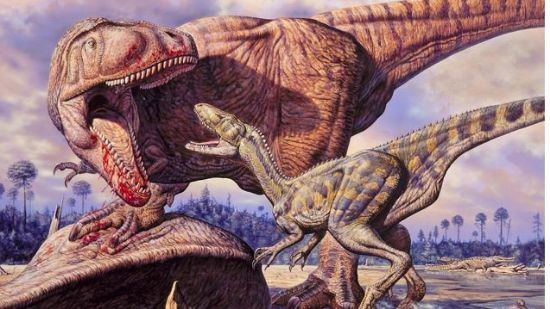 Resuming your trek in this lovely setting, behind the tracks the canyon walls begin to taper. And guess what? The trail is even less discernible than it was. Pay attention! Really! Now the trail begins to wander back and forth across the creek. That's because you, too, have to get around frequent boulder jams and small, tripping falls.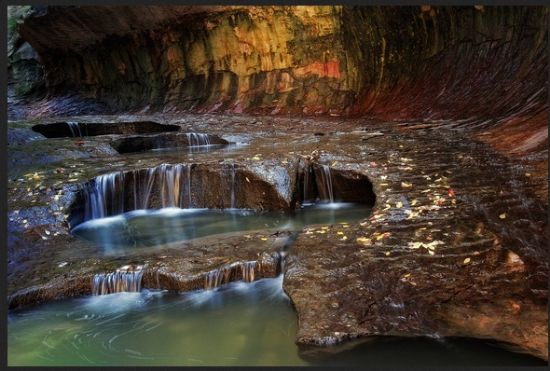 Thus you will be doing some climbing and so-called boulder hopping. And by now most hikers are beginning to wonder if they really are in the right place, which means, did they screw up and miss a turn? (But not as bad as the picture I showed earlier.)
Think the song, "Going Up Cripple Creek," only this is an entirely other and more lovely setting: North Creek!
To answer question. . .NO! Keep going, because the final approach to the Subway is plainly marked by a series of waterfalls, this time spilling over red rock steps. At this point, and for the next quarter mile or so, stay in the creek bed. After all, you do have the water water shoes for the hike, right?
Once you reach your destination the canyon walls narrow even more, and quickly. From there, it's a relatively easy jaunt to the first sharp bend in the subway's tunnel enclosure. This, of course, is a slot canyon. The potholes you previously came through at the other end are now waist-deep. You decide how much farther you want to go and how much logger you want to endure the refreshing chill of the stream.
Anyway, and cutting to the chase. . .it was all worth it, right? I mean, look what you get for a bit of exercise (well, more than a bit). . .
Remember: when you're in the Subway you are also in potential harm's way during flash flood season or any time when Nature rustles up a contingent storm and sends a cascade of fierce water through such sectors. Lovely to behold, but oh my, a peril to endure, and likely fatal.
I always mention this teasing part next: Did you remember to bring a camera or a video device, and make sure its protective casing was waterproofed?
If you do take on the Subway, good luck. I managed and no one gave me such a detailed report (though later such reports were relatively common). Then again, risk nothing, get nothing, right?
As always, thoughtful, intelligent commentary is welcomed!
Rich
http://www.nmstarg.com/...
A parting shot and can you put yourself into this picture?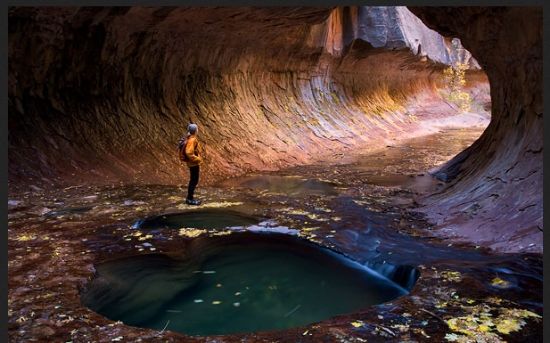 P. S. Kolob Terrace is part of Zion NP, but is a less traveled sector that heads north from the town of Virgin, Utah. That being said, it's possible to avoid the cold wading, swimming, and rappelling from the upper route (did I mention rappelling?), that is, if one wants the security of a rope to make descending or ascending a bit easier. To hike this optional route, take the Left Fork of North Creek FROM THE BOTTOM. Therefore you would already be inside the chasm and coming from another direction inside the park. From there, it's a little over 3 miles each way to the Subway. Nevertheless, the hike remains strenuous and there is work to be done getting around the obstacles previously mentioned.