Part of the problem with dealing with the loss of a loved one is the constant feeling of "if only I had." The feeling of guilt that there was something you should have done that would have changed everything and that person would still be alive.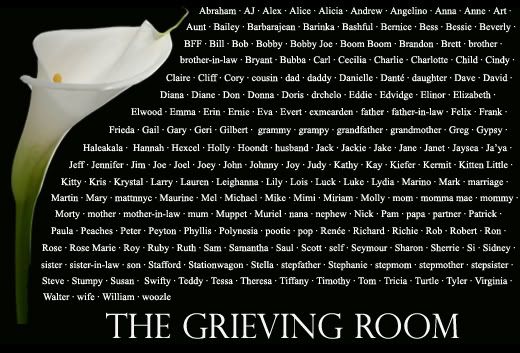 A special welcome to anyone who is new to The Grieving Room. We meet every Monday evening. Whether your loss is recent or many years ago, whether you have lost a person or a pet, or even if the person you are "mourning" is still alive ("pre-grief" can be a very lonely and confusing time) you can come to this diary and process your grieving in whatever way works for you. Share whatever you need to share. We can't solve each other's problems, but we can be a sounding board and a place of connection.
My mind keeps going over that I should have known something was wrong with my brother Mike. He had urged me to come down here to be near his daughter and grandchildren and he was going to join us here. I keep thinking I should have picked up on clues that something was wrong. That he needed me up there. The fact he kept postponing me coming back up should have told me something was wrong.
The reality is that I couldn't have known how bad things were. Mike was good at lying and keeping things from people. He would never admit that there was a problem and he needed help. I had no way of knowing he was drinking heavily because he hid it from the family. The people who knew him saw there was a problem but they were too busy bleeding him dry of money to let me know something was wrong. I would have come up and put a stop to it. I would have gotten him into the Veteran's healthcare system and AA.
My family and friends told me that I did everything I could. I was a good sister to him. My head knows I couldn't save him but my heart aches because he isn't here. There was an episode of one of my favorite shows Doctor Who where one of the characters said that "If" was the biggest word in the universe. If I had known I might have been able to do something. If Mike had told me that he needed me up there I could have come and stayed with him and gotten the house ready to sell and him down here. If. If only it didn't hurt so much.