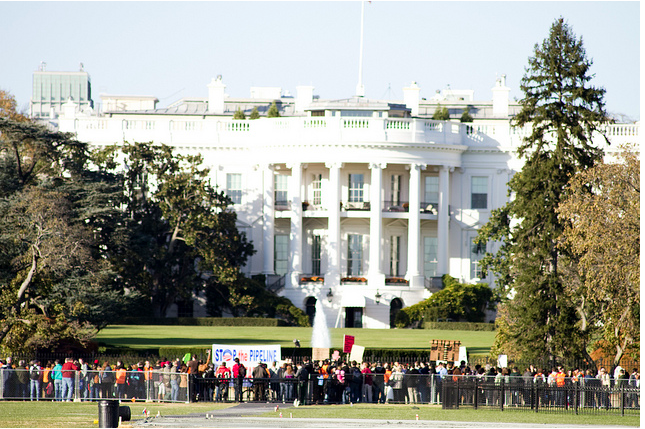 Bill McKibben of 350.org, Sierra Club and Hip Hop Caucus have organized a climate change demonstration at the White House on February 17th to urge President Obama to say no to the Keystone XL pipeline. So far, over 21,000 people have signed up to participate in this demonstration, which might be the largest climate rally in the history of this country.
President Obama has now listed climate change as one of the top five issues on his agenda. Legislative proposals and debate will happen in Congress. But, President Obama can take executive action to move Forward on Climate now: He can reject the toxic Keystone XL tar sands pipeline. A recent study in Canada has linked tar sands with cancer, something First Nations have reported for years: Their communities have suffered increased cancer rates and personally witnessed the deformed and contaminated wildlife, polluted waters and other harms. President Obama can also direct the EPA to set carbon standards for power plants.
Sandy survivors also recognize the importance of taking action to stop the XL pipeline:

A day before President Obama's State of the Union Address, survivors of Superstorm Sandy and climate activists will gather at the White House to deliver 280,000 signatures urging President Obama to lay out a plan to tackle climate change. The survivors will speak briefly about their experiences and read from an open letter to the president, calling on him to take bold action, starting with rejecting the Keystone XL pipeline permit.
Here is link for signing up to join this White House demonstration. Please share with your friends, family and if you twitter or Facebook, we thank you for spreading the word.
Our DK community organizers (citisven, boatsie, JekyllnHyde, rb137 and peregrine kate) coordinated this blogathon with Bill McKibben to help spread the word. If you can't go to DC, citisven and Glen the Plumber are posting diaries for us Monday about demonstrations in other cities.
We will have updates and chats in a mothership each morning at 8 a.m. Pacific Time. We will also be posting our calendar in diaries and threads this week so you won't miss any of our special guests or our fabulous DK bloggers participating this week.
We're very excited about our incredible guests, listed below the fold. We have additional guests not listed here because waiting for final confirmation next week.

Bill McKibben has been very busy! His Do the Math Tour and blogathon at DK joined forces for the objective of divestment of fossil fuels. Bill's 350.org divestment campaign has spread to 230 schools, with at least 20 institutions now in the process to review divestment options. Former Vice President Al Gore backs the divestment campaign too! Bill has also been very busy organizing, demonstrating and even spending some time in jail for his beliefs in the necessity to nix the XL. One thing some might not know is that our fellow kossack and dear friend was invited to speak to a joint session of the Vermont House and Senate on climate change!:

McKibben said even big steps taken now may not be enough to reverse the damage already done and avert catastrophe. Already, human beings have warmed the planet about 1 degree Celsius, and half the Arctic ice Neil Armstrong saw from the Moon in 1969 is gone, McKibben said.

He said that "even if we do everything right, we are going to come right up to the 2 degree red line that the world's governments have declared is the absolute and final red line for climate chaos. We shouldn't go there, obviously. If one degree melts the Arctic, we're fools to find out what 2 degrees will do."
Van Jones is an activist and leader on human rights and a clean-energy economy. He is President and Co-Founder of Rebuild the Dream and a frequent and favored speaker at Netroots Nation.









Jones (and I think he is one of the speakers in DC next weekend) believes in the value of environmental activism
, such as the
XL pipeline protest
. The earlier civil disobedience protest "broke the seal on civil disobedience and protest against the President in August of 2011 and had a big victory by October. Huge, huge game changer."
Congressman Ed Markey, one of our national leaders on environment and energy, has frequently challenged the tar sands pipelines, including the ability of safely delivering "corrosive oil" from Canada to the US.











Marty Cobenais (Ojibwe) is with the Indigenous Environmental Network that was established in 1990 in the U.S. to address environmental and economic justice issues, including "building the capacity of Indigenous communities and tribal governments to develop mechanisms to protect our sacred sites, land, water, air, natural resources, health of both our people and all living things, and to build economically sustainable communities." Photo from WH Tar Sands civil disobedience September 2011

Marty has been fighting the tar sands for 6 years. Here is Marty talking at an XL rally in DC last November about how we all need to come together, with an introduction from Bill McKibben:


And, here is Marty presenting some detailed facts about tar sands:

We have a very special and exciting honor this week. In our blogathon, Marty will be live blogging with Tom Goldtooth (Dine' and Dakota), executive director of IEN. Tom was "honored in 2010 by the Sierra Club and the NAACP as a "Green Hero of Color." He co-produced an award winning documentary film, Drumbeat For Mother Earth, which details the effects of bio-accumulative chemicals on indigenous communities." These persistent toxic chemicals "contaminate the traditional food web, violate treaty rights, travel long distances, and are passed from one generation to the next during pregnancy causing cancer, learning disabilities, and other serious health problems."

Marty will also be live blogging with Oglala Sioux Tribal Vice President Tom Poor Bear.

Poor Bear has been a "long-time supporter of the American Indian Movement, starting with the 1972 Trail of Broken Treaties that took over the BIA building in Washington, D.C. to the Wounded Knee, South Dakota conflict in 1973 'when we told white America that Indian people are very much alive today.' He calls the XL pipeline the 'snake that is spitting black venom into our water.'"

Tom Poor Bear is "widely known as the first person to prompt President Obama to speak publicly about Keystone XL":


Rev. Lennox Yearwood Jr. is the President of the Hip Hop Caucus in Washington, D.C., a minister, community activist and one of the most influential people in Hip Hop political life. He works tirelessly to encourage the Hip Hop generation to utilize its political and social voice.

A national leader and peacemaker within the green movement, Rev. Yearwood has been successfully bridging the gap between communities of color and environmental issue advocacy for the past four years. With a diverse set of celebrity allies, Rev. Yearwood raises awareness and action in communities that are often overlooked by traditional environmental campaigns. The Rev. Yearwood's innovative stance has garnered the Hip Hop Caucus support from several environmental leaders including the National Wildlife Federation, Earthjustice, and former Vice President Al Gore's Alliance for Climate Protection.

In 2010, he was named one of the 100 most powerful African Americans by Ebony Magazine, and one of the 10 Game Changers in the Green movement by the Huffington Post. He was also named to the Source Magazine's Power 30, Utne Magazine's 50 Visionaries changing the world, and the Root 100 Young Achievers and Pacesetters.

Bill McKibben introduces the Rev. Yearwood at the White House XL Tar Sands Pipeline protest in 2011 where he speaks about our "lunch counter moment for the 21st century":

Phaedra Ellis-Lamkins is the CEO of Green for All, which is a "national organization working to build an inclusive green economy strong enough to lift people out of poverty."

Phaedra has led Green For All to several groundbreaking policy victories at the federal, state, and local levels. At the federal level, she led a successful effort to include two key provisions in the House's climate and energy bill: securing funding for job training and guaranteeing broad access to clean-energy jobs.

Under Phaedra, Green For All has helped states like Washington and New Mexico pioneer state-level green jobs and energy-efficiency programs. And the organization is helping cities like Portland and Seattle craft groundbreaking energy-efficiency home upgrade programs that use innovative financing mechanisms and community agreements about job standards to cut energy bills, create green jobs, reduce pollution, and expand business opportunities.

The scope and scale of Phaedra's many achievements have won her wide praise and recognition. In 2011, The Grio recognized Phaedra as one of their "100 History Makers In The Making." In 2010, for the second year in a row, Ebony included her in its Power 150 and Essence named Phaedra one of the 25 Most Influential African-Americans in 2009 and one of the 21 Leaders of the New School in 2010. Black Enterprise Magazine honored Phaedra as one of their 2010, "40 Next: Emerging Leaders for Our Future." She has been featured in various outlets, including the The Wall Street Journal, The New York Times, The San Francisco Chronicle, and The Huffington Post, and on ABC, BET, CNN, MSNBC, and NBC.

Phaedra talks about the interconnection of economy and environment at Netroots Nation two years ago:


Shaye Wolf, Climate Science Director at the Center for Biological Diversity, writes about how record heat
"warped train tracks, melted the tarmac at Reagan National Airport and smashed thousands of daily temperature records across America:"

As his second term begins, the president has a clear opportunity to revolutionize his whole approach to fighting human-made climate change. And 2012 couldn't have made a more powerful case for urgent action against the greenhouse gas pollution creating this problem.

It wasn't just the heat: 2012 also bedeviled us with chaotic weather. Climate change, research shows, is driving up the risk of extreme weather such as this summer's devastating drought, which affected more than half the country, and adding destructive power to storms like Hurricane Sandy.

As a scientist, I'm deeply concerned that 2012's blazing temperatures are just a taste of what lies ahead.

Allison Fisher is the Outreach Director for Public Citizen's Energy Program and an "expert in engaging and organizing communities to challenge dirty energy sources at the local and state level and on issues such as the relapse of nuclear energy."