We've all seen it when we talk about climate chaos, our planet in peril, the Keystone XL Pipeline and the massive carbon bomb that the fossil fools would love to rocket through our aquifers and into our atmosphere: people's eyes glaze over. We talk about 350, Copenhagen, the failed Kyoto protocol, the melting ice sheets, and we can see it when minds shut off and ears close. It's too big for a lot of folks. It's too far away. It's not happening in their back yards.
I'm here to bring it down a little bit, to take the discussion in a micro direction for a monent or two, and say, "Yes, this is in all of our back yards, because here's what's happening in mine". Instead of focusing on the planet as a whole, come with me to a little bit of the planet 300'x600' in size, where my house is.
Let's start with my neighbor who ought not to be awake at this time. For the last week, he's been outside my window every night, singing to me.
I'm assuming for the purposes of this diary that the lone singer is male, and what he's doing up at this point is pretty obvious to me; we haven't had a real winter here for two years now. Temps are above 30, even well into the 40s, even in the middle of the night in early February, and something about that has urged him from his winter somnolence and into the mood where he is looking for love. Every spring and summer, the frogs gather around the pond and sing "hey, baby, hey, baby" to every passing potential love interest, and we'll have an evening chorus of them starting in about mid-April or so, except for this guy. What's going to happen to him if we get a major cold snap?
The proverbial frog in a pot of slowly heating water, gradually and all unaware being cooked to death, is graphically represented to me in this lone little frog chirping outside my window every night. This isn't the first winter he's been out there, either; he showed up at around this time last winter, too. The usual signs he needs to tell him when to rest and when to be active and seek a mate just don't make sense anymore, not in a world altered past his system's recognition by Anthropomorphic Global Warming.
We had a late Rainreturn this past fall. It's supposed to start in early September after a month or so of no rain, and those of us who love the Northwest welcome the rains back as an old and dear friend. Last year, this past fall, it started in mid-October after nearly four months of no rain. We were watering native plants! I plant in keeping with the area in which we live: natives preferred, non-invasive and environmentally compatible a must in any case, and my usual practice amounts to "set 'em and forget 'em". This past year, we were scrambling to keep our new and beautiful vine maple, planted a year ago in a proper environment for it, from drying up due to a lack of rainfall. We still aren't sure we didn't lose it.
Here's an effect of the carbon bombs we humans have already set off: all my hazelnut trees are in bloom at least a month early, more like a month and a half for these particular ones. I have learned over the years when the seasonal rounds take place, what should happen when, and find myself in unmapped territory. Rules are changing, and the new ones are constantly being rewritten. We have some four or five hazelnuts in full bloom right now, torturing my poor husband with pollen bukkake in a month he should be free of it (he's essentially allergic to outside). Two are the original male and female pair down near the road, and the others are in locations selected by squirrels, who always get all the nuts. What's going to happen to this year's hazelnut crop when the trees are in bloom even before the red alder? And what's going to happen to the squirrels?
Here's Climate Chaos in a microcosm: I can see its effects every single day, no matter what the weather is, all around my place. Climate Chaos is quite literally in my back yard.
A rhododendron bud a month early.
The hazelnut tree nearest the pond, in full bloom.
Blackberry bushes should be dormant now, not releafing.
It's in all my neighbors' yards and farms and ranches. It's in the Olympic Range to the west and the Cascades to the east. It's in your yard, if you have one, and in your neighborhood whether you have a yard or not. Climate Chaos is as micro as it gets, as well as planetary in scope. It affects the food you eat, the water you drink, the prices you pay, the air you breathe, your health and well-being.
Somewhere probably not very far away, the utility company with the local electricity monopoly operates the dirtiest energy-generation coal plant on the west coast; I got something from the Sierra Club on this last week. Somewhere - and we do know where - in the marble halls of legislative buildings, lobbyists with satchels stuffed full of dirty money work to encourage our elected officials to not only continue the status quo, but to blow up the environment we all share with the biggest, dirtiest carbon bomb we've yet seen. Somewhere - and again, we know where - First Nations people are dying from increased cancer rates brought on by the greed of mostly-white carbon executives. And in one particular place on Pennsylvania Avenue in Washington, DC, there lives a man with the power to change the course we've been on for far too long, and one of the best ways he can demonstrate our national and global willingness to change course from carbon pollution to clean energy is with the power of his voice and the power of his pen: by saying "No Chance" to the Keystone XL Pipeline. Stopping KXL won't water my vine maple, or cause my hazelnuts to bloom only in season, or teach my little amphibian neighbor when to rest and when to be active, but it'll be a start. It will be a glorious moment when President Obama sets our national course on the path it needs to take.
The next time you see someone's eyes glaze over when you talk of Climate Chaos, remind him or her of this: there is no one on earth who can truthfully say "not in my back yard" about this. It affects every single one of us directly, and it's up to us to do something to help. Our friends and neighbors, like the frog outside my window, can't always speak up for themselves - but when they do, we need to listen.
Listen.
"Kee-rick, kee-rick, kee-rick".
"Forward On Climate" Blogathon: February 11 - February 15, 2013

Diary Schedule - All Times Pacific
---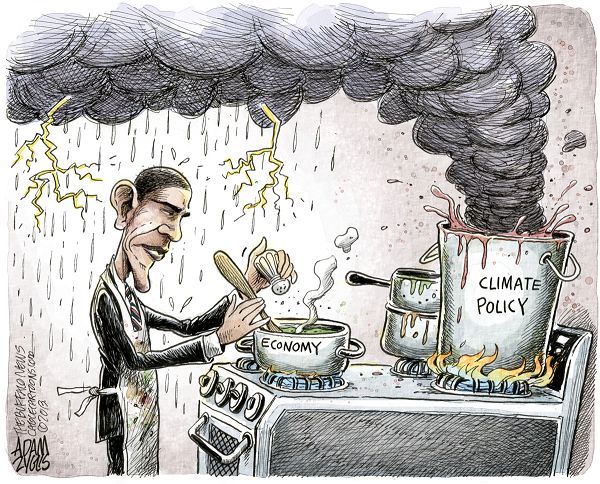 IT IS TIME TO TAKE A STAND
Please join tens of thousands of Americans on the National Mall in Washington, DC on Feb. 17 from 12:00 pm-4:00 pm to urge President Barack Obama to take immediate action on Climate Change.
President Obama has now listed Climate Change as an important part of his second term agenda. Legislative proposals and debate will occur in Congress. President Obama can take executive action to move Forward on Climate now; he can reject the toxic Keystone XL tar sands pipeline. A recent study in Canada has linked tar sands with cancer, something First Nations groups have reported for years - with the result being increased cancer rates, deformed wildlife, and a variety of other negative impacts. President Obama can also direct the Environmental Protection Agency to set carbon standards for power plants.
Let your voice be heard.

SIGN UP TO SUPPORT THE "FORWARD ON CLIMATE" RALLY IN WASHINGTON, DC ON FEBRUARY 17TH
Our Daily Kos community organizers (Patriot Daily News Clearinghouse, citisven, boatsie, JekyllnHyde, rb137, and peregrine kate) coordinated this blogathon with Bill McKibben of 350.org to help spread the word.
---
7:30 am: A Siegel.

11:00 am: citisven.

1:00 pm: Shaye Wolf, Climate Science Director for Center for Biological Diversity.

3:00 pm: Van Jones, President and Co-Founder of Rebuild the Dream.

4:00 pm: Glen the Plumber.

5:00 pm: Kitsap River.
11:00 am: Allison Fisher, Outreach Director for Public Citizen's Energy Program.

1:00 pm: Rev. Lennox Yearwood Jr., President of the Hip Hop Caucus.

3:00 pm: gregladen.

5:00 pm: WarrenS.
11:00 am: Jeremy Bloom.

1:00 pm: Congressman Ed Markey, Democratic Candidate for 2013 United States Senate MA Special Election.

3:00 pm: FishOutofWater.

5:00 pm: Roger Fox.
11:00 am: Marty Cobenais (Ojibwe), U.S. Pipeline & Heavy Haul Resistance Organizer for Indigenous Environmental Network. Liveblogging with Tom Goldtooth (Dine' and Dakota), Executive Director of IEN and Oglala Sioux Tribal Vice President Tom Poor Bear.

1:00 pm: rb137.

3:00 pm: James Wells.

5:00 pm: jlms qkw.
10:00 am: Phaedra Ellis-Lamkins, Chief Executive Officer of Green For All.

11:00 am: Agathena.

3:00 pm: DWG.

5:00 pm: JekyllnHyde.
---
Please remember to republish these diaries to your Daily Kos Groups. You can also follow all postings by clicking this link for the Climate Change SOS Blogathon Group. Then, click 'Follow' and that will make all postings show up in 'My Stream' of your Daily Kos page.