Well at least, as they say: "It's good to have Goals."
But it's even better to have pro-active, substantial solutions too ...

Energy experts expect showdown over greenhouse gases
by Amanda Robert, legalnewsline.com -- Feb 15, 2013
WASHINGTON (Legal Newsline) [...]


"I urge this Congress to pursue a bipartisan, market-based solution to climate change, like the one John McCain and Joe Lieberman worked on together a few years ago," Obama said. "But if Congress won't act soon to protect future generations, I will.

"I will direct my Cabinet to come up with executive actions we can take, now and in the future, to reduce pollution, prepare our communities for the consequences of climate change and speed the transition to more sustainable sources of energy."

[...]

At the end of his first year, EPA administrator Lisa P. Jackson ruled that greenhouse gases endangered public health and welfare, a decision made possible by Massachusetts v. EPA. The 2007 landmark U.S. Supreme Court ruling determined that greenhouses gases were air pollutants under the Clean Air Act and authorized the EPA to decide if they threatened the American people.

The Obama administration, in the wake of the endangerment finding, tackled what was considered one of the largest offenders -- motor vehicles. In July 2011, the EPA and the U.S. Department of Transportation proposed standards that would increase fuel economy to the equivalent of 54.5 miles per gallon for cars and light-duty trucks by 2025. Those standards were finalized in August.
That's a good start, but
we need to go further -- faster
.
If we must leave the Climate Change problem to "executive action" solutions, what is it that the EPA can really do about these troublesome "greenhouses gases" that the Supreme Court has ruled are "air pollutants" in dire need of government oversight?
Well they CAN do what the EPA does -- Regulate, Standardize, Grant Permits ... and maybe even a bit more?

Climate Change -- Regulatory Initiatives
U.S Environmental Protection Agency

EPA and NHTSA Standards to Cut Greenhouse Gas Emissions and Fuel Use for New Motor Vehicles

EPA and the National Highway Traffic Safety Administration (NHTSA) are taking coordinated steps to enable the production of a new generation of clean vehicles -- from the smallest cars to the largest trucks--through reduced greenhouse gas emissions and improved fuel use. [...]

Renewable Fuel Standard Program

EPA is also responsible for developing and implementing regulations to ensure that transportation fuel sold in the United States contains a minimum volume of renewable fuel. [...]

Proposed Carbon Pollution Standard for New Power Plants

On March 27, 2012, EPA proposed a Carbon Pollution Standard for New Power Plants that would, for the first time, set national limits on the amount of carbon pollution that power plants can emit. The proposed rule, which applies only to new fossil-fuel-fired electric utility generating units, will help ensure that current progress continues toward a cleaner, safer, and more modern power sector.

Final Greenhouse Gas Tailoring Rule

On May 13, 2010, EPA set greenhouse gas emissions thresholds to define when permits under the New Source Review Prevention of Significant Deterioration (PSD) and Title V Operating Permit programs are required for new and existing industrial facilities. [...]

Oil and Natural Gas Air Pollution Standards

On April 18, 2012, EPA finalized cost effective regulations to reduce harmful air pollution from the oil and natural gas industry, while allowing continued, responsible growth in U.S. oil and natural gas production. The final rules are expected to yield a nearly 95 percent reduction in VOC emissions from more than 11,000 new hydraulically fractured gas wells each year. The rules will also reduce air toxics and emissions of methane, a potent greenhouse gas.

Geologic Sequestration of Carbon Dioxide

[...] EPA has finalized requirements for geologic sequestration, including the development of a new class of wells, Class VI, under the authority of the Safe Drinking Water Act's Underground Injection Control Program.
That's a good start, but we need to
go further -- faster
.

Thank goodness Mitt Romney didn't win -- because if he had the EPA would be out there "making sure all the trees were just the right height" ... And maybe counting all the lakes too, to make sure none were missing, from the GOP's grand old vacation inventory.
In Mitt Romney's Corporate America -- the EPA would be chilling it, Bahama-style.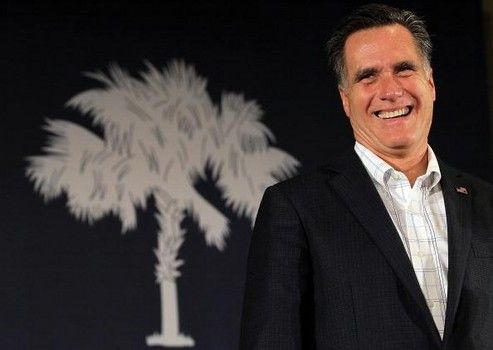 Thankfully, the American people knew better ... This time around.



But the sad truth is the EPA can only do so much to reduce our Greenhouse Gas problem. It acts primarily after the fact, to monitor, curb, and reduce. The EPA is for the most part, stuck when comes to putting a dent in Carbon Demand. The EPA seems to be limited, in providing the incentives for the economic actors to change their Carbon-consuming ways.
Until we get real Market-based solutions, as alluded to by President Obama in the SOTU address -- until the real human and economic costs of CO2 and Methane, are priced into each ton of gas released -- well there will not be much "economic" incentive for the emitters of these gases, to reallocate their "income streams" which lead to the "easy profits" that they now enjoy. Unhindered. Scott Free.
Someone will always step into the Under-priced Void, to tap into those Eazy Profits -- at least until those exploitative sooty gains are not so easy (so cheap) to tap.
When the long-term hidden costs of releasing truckloads of CO2 and Methane into the atmosphere are kept "artificially" FREE (delinked from their environmental costs) -- There will always be short-term corporate interests that will step up, and take their MAXIMUM Quarterly advantage of the Faux-price situation. And there will always short-term Political interests (primarily the GOP) -- waiting in the wings, to help them to continue to exploit OUR once limitless Clean Skies -- to continue to misuse them as their own personal sewers. All for the sake of those gang-buster Carbon profits.
One need only check the Climate Denial Mis-information campaign in action -- to understand it was a small investment for Big Oil interests to make, in order to keep raking in those unfathomable Big Bucks. All for the price of a political-action-committee song ...
And their Eazy Money Machine -- will continue to waste away OUR skies -- as their personal dumping grounds. For as long as they can keep their clueless, clamoring, cheering section intact: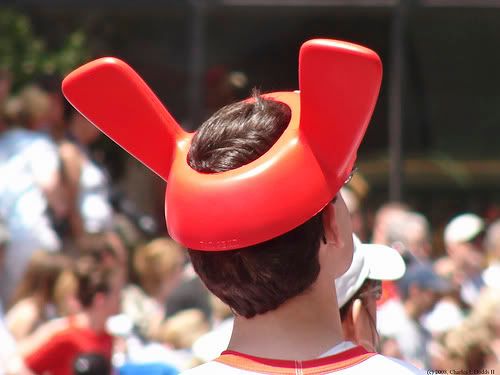 Hats tightened here -- No charge!

But even so, even though the Naysayers keep neighing -- the EPA could do more. Back in the day of impossible challenges, the EPA once put an Economic price on Acid Rain -- way back in the 90's. Without this EPA "nudge" -- there would have been No economic incentive for Power Plants to switch to a cleaner grades of Coal, to boil the water, to power their electric turbines. To keep our TVs on.
In other words, the EPA could do even more, NOW. Just like they did, back in the day, of dying lakes and forests and fish. It was kind of a National Emergency, then. We need to see that same sense of urgency now.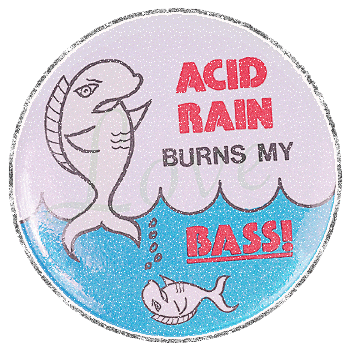 Air Pollution is NOT Free. Still.

The EPA could start fining the GHG profiteers. Start making the price of expelling Carbon Pollution more costly to the Corporations who have little "economic incentive" to otherwise change. Just like the EPA once put a surcharge on the "point sources" of Acid Rain "profit streams" ... (aka. Fined them).
It's called True Cost Accounting. It called pricing in those Negative Economic Externalities.
And we need to get there faster, for the long-term sake of future generations, who will inherit the very negative (and very expensive) results, of this generation's stubborn neglect of our basic environmental stewardship responsibilities.

Climate Change IS all about those Hidden Economic Costs -- and about WHO will profit from them, ultimately WHO will end up paying the price for them:

"We're paying for coal-fired energy in our utility bill, but we're also paying for eroding shorelines, the drought-stricken farm belt, and on and on," he said [KC Golden, policy director of Climate Solutions]. "Right now, prices aren't telling the truth about coal-fired power because they don't include these devastating costs of climate change."
Just because something
is Cheap
-- doesn't mean it is
ultimately FREE
. Not when you take into account, the toll the Planet exacts from us in the form of ever more unlivable Environments.

Most generations face this one simple moral and ethical Imperative:
Will we leave the world a BETTER place than we found it, for the generations who will inherit our Legacy? Or will we say the political problem was just too hard.
[... President Barack Obama, 2013 Inaugural address: ]
We, the people, still believe that our obligations as Americans are not just to ourselves, but to all posterity. We will respond to the threat of climate change, knowing that the failure to do so would betray our children and future generations. Some may still deny the overwhelming judgment of science, but none can avoid the devastating impact of raging fires, and crippling drought, and more powerful storms. The path towards sustainable energy sources will be long and sometimes difficult. But America cannot resist this transition; we must lead it. We cannot cede to other nations the technology that will power new jobs and new industries -- we must claim its promise. That is how we will maintain our economic vitality and our national treasure -- our forests and waterways; our croplands and snowcapped peaks. That is how we will preserve our planet, commanded to our care by God. That's what will lend meaning to the creed our fathers once declared.
Well, such "good intentions" don't happen by magic. They happen because of hard work and renewed commitment, to actually accomplish and reach those noble goals.
Rather than waking up one future day, and wishing we had ... had done more, had fought harder, against the forces of ignorance, aligned against ANY Climate Change action AT ALL.
Afterall the skies and the environment, belong to EVERYONE. Not just to the industries, equipped to make record profits, by passing on their environmental tab to those on the ground, and to those generations, who will follow ...

===== ===== =====

Thankfully more and more people are waking up to the very real side-effect costs of letting these money-changing Carbon profiteers have free reign -- all the time. It's still an open question, whether to the GOP wakes up too -- wakes up to the Environmental facts of life that are costing EVERYONE more and more in Disaster and Recovery costs, each and every new climate-crazy year:
Is climate change next for GOP?
by Stephanie Yang, Medill News Service, for UPI -- Feb. 13, 2013
[...]
"Some may still deny the overwhelming judgment of science but none can avoid the devastating impact of raging fires, and crippling drought, and more powerful storms," Obama said at his inauguration last month.

Pierce said voters' tolerance for people who don't believe in climate change is wearing thin.
We need to get
MORE impatient
with these see-no-problem
Anti-Science Fools
-- FASTER.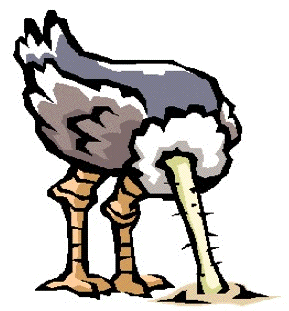 "Hey! The weather's just fine down here."

If Republicans are content to remain the Goofy Ostrich Party, we need to make that their undoing (in 2014) -- make all those GOP Big Oil parrots go the way of the Dodo.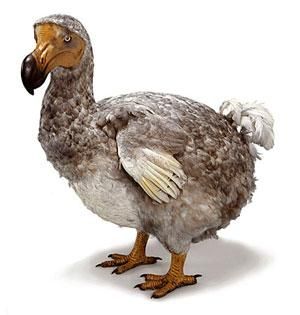 "Squawk! What climate change!?"

Give them an early and undeserved retirement ... give them a one-way ticket to the beach at one of Romney's many villas.
And we need to SEND them there -- Faster!
It's our human imperative, to do so. While we still can.
Because, there may not be ... "a better time" to solve this Carbon-Profits-taking problem ... the next time around ... the EPA's best efforts, notwithstanding.
Who knows, next time we could end up with someone, even more clueless, than that Tea-Party Tree-Panderer-guy.
We have to ACT now ... We have to give the EPA, that "get serious" nudge. Remind them of what they did once before, leaving us the Legacy of Acid-free lakes. That was a politically difficult problem too. But those future generations (us) deserved the effort back then. And (we) ask for the same price-oriented effort now (a system of CO2 & Methane polluter fines).
That worked before. It can work again. Our children deserve no less. THEY will be paying the ever-mounting yet-to-be-seen true-accounting climate-change costs.