That turn of a phrase was just too good -- not to write a brief post about it.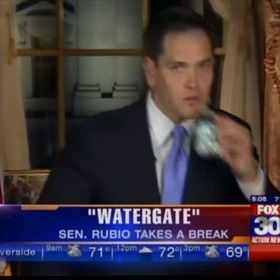 First Rubio has been complaining (in between gulps of water) that the President needs to send his Immigration plan to Congress. That the President needs to lead on this issue.
And then, when that plan ends up in Rubio's clammy, fidgety hands -- Marco Rubio declares:

"If actually proposed, the president's bill would be dead on arrival in Congress."
When commenting on Rubio's
"reflexive dismissal" out of hand
, of the leaked proposal, Joy Reid quipped to Chris Matthews today, (something to the effect of):
"Also 'Dead on Arrival' -- Rubio's chances of winning over Latino voters."
Way to win over your "target audience," Marco.
Right
, an 8-16 year "arduous path to citizenship" is "a non-starter" for Republicans --
maybe you guys would rather have them take up Romney's solution:
Otherwise known as "Self-Deportation" -- after a life-time of low-wage, back-breaking work? How about a revolving, permanent Work Visa, with a guaranteed "cap on wages" too, Marco?
Yeah that will win that allusive voting block back, Right! What a maroon!



I'm sure this will help Rubio's cause -- Selling "water bottles" starting a $25 a pop:
Rubio PAC Selling Water Bottles After SOTU -- talkingpointsmemo
Hey, ethnic voters are you "thirsty" for a new home? Compadres, does Marco Rubio have a new Republican deal for you! ... (The GOP wants your votes, for Pete's sake!)
The Rubio Water Bottle will keeps your beverage cool, during those long days of toil, working under the hot southern sun.
[Fine print: No Returns, No Guarantee. Rubio Water Bottles may fail meet sponsor's advertized claims. Believe claims at your own risk. Always, always consider the source.]




------------------- For a more serious look a Rubio's latest pandering fail -------------------

Republicans outraged that White House isn't sitting back and trusting them on immigration reform
by Laura Clawson -- Feb 18, 2013

Rubio comes out against immigration reform
by brooklynbadboy --Feb 17, 2013