Assuming job creation, raising the minimum wage occasionally, and moderate slowdown of workforce growth, Social Security is good thru 2090. Most of the country understands that in one form or another.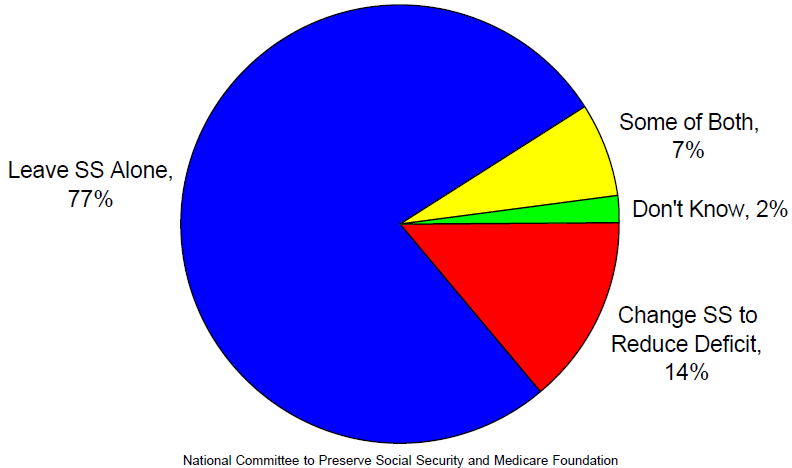 The only thing wrong with Social Security, is the recession we've been in for 4 years, and the continued increase in income disparity. Yes, if we have 20 more years of recession, the Social Security trust fund will be depleted.
#HandsOffmySS
Looking solely at GDP growth, 2.8% or better and SS is good thru 2090. If you want to go with the "trust fund will be depleted in 2033", well you just picked 2.1% growth for most of the next 20 years. Yup, a 25 year recession, thats your prediction. First time since the Black Plague killed off half the human race on Earth. Sort of a Mad Max Scenario, but without Mel Gibson.
Looking just at the growth in the civilian workforce, it is slowing down, most predictions estimate it will slow down from about 1% growth to .7% in 2050. If we see this number at .6% or better thru 2033, SS wont be broke. And .7% should get us thru 2090. But if you think the US is going to build fences, and cut immigration down to .2%, well then, oh noes, SS is broke.
Okay, I've had a little fun at the expense of some folks, but the point I want to make is that the assumption that SS will be broke by 2033 is based on some very severe assumptions about the next 20-30 years.
Below is a screen capture of the 2012 Trustees pdf "Trust Fund Ratios",found here.
#HandsOffmySS
Eliminating the current cap of $113k is a drastic solution to a problem that doesnt exist. Whats broken is our economy, fix the economy and SS is very likely good thru 2090. Unfortunately too many Americans buy into the hype that SS is going to go broke in 2033 or sooner. And way too many Democrats are in that group. Too many Kossacks believe its going to go broke in 2033 or sooner. Once you buy into the falsehood there is a problem, then you start looking at solutions, instead of fixing the economy, creating jobs, raising the minimum wage and reversing income disparity.
The DK group Social Security Defenders will be presenting a #HandsOffmySS blogathon March 25th thru March 29th. So stay tuned for more information on scheduling and guests.