America won't be turning back from this trend toward renewable energy sources any time soon. When the President of the United States stands behind it in his State of the Union speech, and then the fellow giving the state of the union rebuttal ALSO stands behind it....
"Of course solar and wind energy should be a part of our energy portfolio."
...it's clear that renewable energy is part of the American fabric now. It's arrived. It's not that weird, untested thing. It's just another way to move electrons. It's powering our cities. It's putting people to work. And it's growing fast. Period. End of story. Now let's get moving.
In 2012, wind power outpaced all other sources for new energy capacity in the US.
In January 2013, renewable energy made up 100% of all new energy capacity in the US according to Grist, and illustrated by their graph....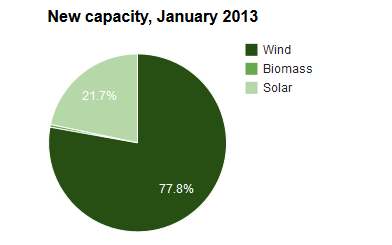 100% of ALL new energy generating capacity was from renewable sources NATIONWIDE. The WHOLE. DAMN. COUNTRY.
We're moving on this, folks. And we're only going to do more. And the more common it is, the more we see it as a normal part of life the faster the transition to renewable energy will be.