I've run across some possitive stories which I plan on sharing over the next few days, but there were more stories of people behaving inappropriately to us transfolk. And that is even excluding Bill O'Reilly who went beyond his usual venom to attack Massachusetts transgender students.
I'll cover that over the next week as well.
Hell, it's Spring Break here. What else do I have to do except grade a few tests and some homework assignments, create some other tests to give after the break (midterm week), and prepare some lectures.
So up tonight are three stories, from St. Petersburg, FL, Centreville, VA, and Batesville, MS respectively, of people who haven't been able to figure out how to accept the existence of transpeople.
St. Petersburg police officers Douglas Gaddis, 35, Robert, Leoce, 38, James Olson, 45, and Courtney Zak, 33, have been disciplined by Police Chief Chuck Harmon for improperly accessing information on a former officer and sharing it with someone who was not a police officer.
The officers responded to a call of shoplifting at a mall and began a conversation with an employee with Valor Security Services who was a former police officer.

While on scene, officers were approached by an employee of Valor Security Services. The employee engaged officers in conversation unrelated to the shoplifting investigation.

The conversation led to the topic of a former St. Petersburg Police Department officer, who is a current employee of Valor Security Services. At the request of Officer Olson, Officer Gaddis used his cruiser laptop computer to display a "Photo Line-up" from the Florida Driver and Vehicle Information Database (DAVID), of the former St. Petersburg police officer.

The displayed images depict the former officer in a gradual gender change from female to male and were seen by the Valor Security Services coworker and the other officers on scene.
Harmon's report said the display of the photos was accompanied by disparaging remarks,
specifically by Zak
, about the former employee.
Harmon determined that the allegations of improper procedures against Zak and Leoce were sustained and they were given memorandums of counseling.
Allegations against Gaddis and Olson were also sustained and they had employee notices placed into their permanent records.
That will show them!
* ---------------- *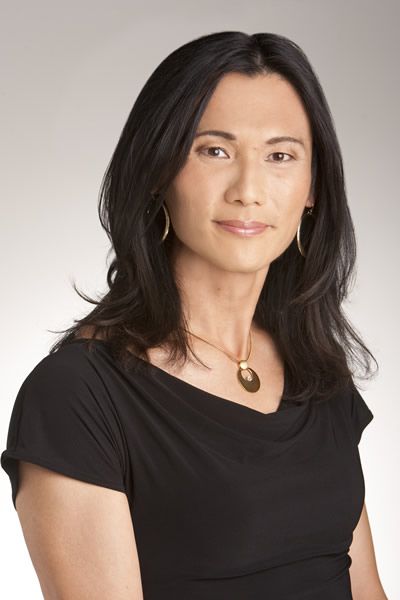 Palo Alto, CA transwoman Riya Suising decided to relax at Spa world in Centreville, VA during a business trip to DC last November. While bathing in the pool, she was approached by the manager, who told her she was a man and must leave the premises.
Suising said that she put her clothing on and then went to the manager's office and showed her identification, which listed her as a woman. The manager was not impressed and showed her a letter she had which was written and signed by five customers who were in the spa and objected to her presence.
If recent commentary is any indication, there will be some who defend the actions of the Spa…but let me say that this has nothing to do whatsoever about her genitals. What attracted the notice of the other customers was only that she is a marathon with an athletic build and broad shoulders.

None of the complaints, as they were described to me, referenced my genitalia in any way. I can't believe that they would discriminate based on physical appearance. I was not doing anything but keeping to myself.

I was mortified. It was obvious that this business discriminates against any 'abnormal appearing' persons, specifically against LGBT people, and likely against anyone else not appearing up to their standards.

--Suising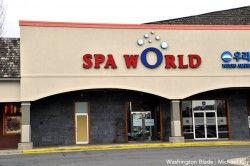 In February Spa owner Sang Lee responded that management
asked the customer to leave the facility, for the safety and the comfort of the other customers, and also to promote a healthy reputation for our business.
It is our policy not to accept any kinds of abnormal sexual oriented customers to our facility such as homosexuals, or transgender. We strongly enforce this policy for the safety and the comfort for (sic.) our customers, and also to promote a healthy reputation for our business. Spa World accepts family-oriented customers many times with young children. Also, for the safety and the comfort for young children at Spa World, we strongly forbid any abnormal sexual behaviors and orientation in our facility.

We did our best to communicate to the customer in proper manner. Once again, we feel sorry about this incident. I hope the customer can understand our position.
Riea Choi of Spa World told the Washington Blade that Lee's statement was a communications error and that the spa did not, in fact, discriminate against people.
What was meant to be the point of that letter was, SpaWorld does not condone of homosexual as well as heterosexual misconduct and actions. We do not care about the sexual orientation of any customers; we simply ask that you keep to yourselves and refrain from having sex in a public bathroom.

--Choi
It seems that was not the case with Ms. Suising. She has filed a complaint with the Better Business Bureau.
In a separate interview, manager on duty James Lee was contacted by LGBTQ Nation and blamed the incident on language.

The Korean-English barrier just made a small miscommunication: Mr. [Sang] Lee meant to write only that sexual activity, either gay or straight, is not allowed at Spa World. There was a woman inside of the woman's sauna, and we had many complaints about that particular person, stating there was a man inside of the woman's locker room.
--James Lee
James Lee did acknowledge that a transgender woman using Spa World's bathing and changing facilities doesn't violate the spa's policy, however, but that Suising 'caught us all off-guard.'
This has happened to me a few times before in other parts of the country, and perhaps I am pushing the boundaries of this type of discrimination, but I am not purposely looking for controversy. That is not my goal. I too, think it is correct to prohibit 'abnormal sexual behavior' in a public place, but a transgendered person just being there, behaving appropriately like any other customer should not count as such.

--Suising, who is Chinese-American
* ---------------- *
Our final story starts off well-enough. A transgender girl identified only as "Leah" decided that her senior year in high school would be a better experience for her if she fully realized her gender identity and began living as a girl. Unfortunately for her, Leah lives in Mississippi. The South Panola school district has astounded everyone by suspending its dress code in her case and, in the wods of the ACLU, uphold her right to her constitutional right to expression. The ACLU says it will continue to monitor the situation.
The district has long had a dress code.

When this student challenged that, we found out this was unconstitutional.

--Superintendent Mike Foster
Foster says the code will be reexamined and eventually changed.
The bad behavior has come from from the dozen or so students who have protested by not following the dress code.

People are people. Some are on one side and some on another.

--Foster
The protesters said they were protesting the "double standard" that gave extra advantages to the transgender student.
How distracting is it for you walk down the hallway and see a boy you've known since kindergarten, now a girl, wearing high heels walking, that's distracting to you.

--senior Logan Roberson
Roberson did not elaborate on what exactly distracted him.
A supportive Facebook page has been created by Oxford resident Betsy Chapman: Mississippians support Leah.

As a mother and a Mississippian, I felt compelled to stand up in some small way for this child who is simply and bravely trying to live her life. And I wanted to provide a forum for others to do the same, at the same time demonstrating to the rest of the country that there are intelligent, compassionate, progressive Mississippians who insist on dignity and respect for all people.

--Chapman
Another Facebook page also appeared,
Prayers for South Panola School District
, which does not specifically reference Leah, but includes comments such as:
[T]he things we were given at birth and what we are defined by (gender) is what separates male from female. Just because he will undergo surgery later in his life does not mean he is a female now. I will be the first to tell you I have no idea what doctors are capable of these days with all of the technology invented so he may very well resemble a female down to the wire, but as of this moment HE is a boy.

--Ryan Moss, Batesville
No, sir. At present she is a girl, but one with some inappropriate body parts. There might be some hope for you if you could manage to accept that concept.