There has been a diary on the rec list for quite some time, which presents a document along with an explanation. The document clearly states that social security will not be solvent, yet the diarist mistakenly presents it as evidence that social security will be solvent.
In discussions of policy, it is critical to make sound arguments based on demonstrable facts. This is especially true when trying to sway others who disagree with you: the best way is to present evidence that is hard to refute (and to engage and rebut the evidence presented against your point).
DKos is usually a good source of both information and analysis, but sometimes it's just embarassing. I don't mind when diarists make mistakes - we all do. But when our community as a whole fails to actually read a diary before collectively putting it on the reclist, it seems like a problem to me. I guess this diary is just a request for you to use your reading skills before hitting "recommend"!
Just for reference, I'll post the document and explanation from the linked diary below the orange squirrely-whirly.
Here is the document cited: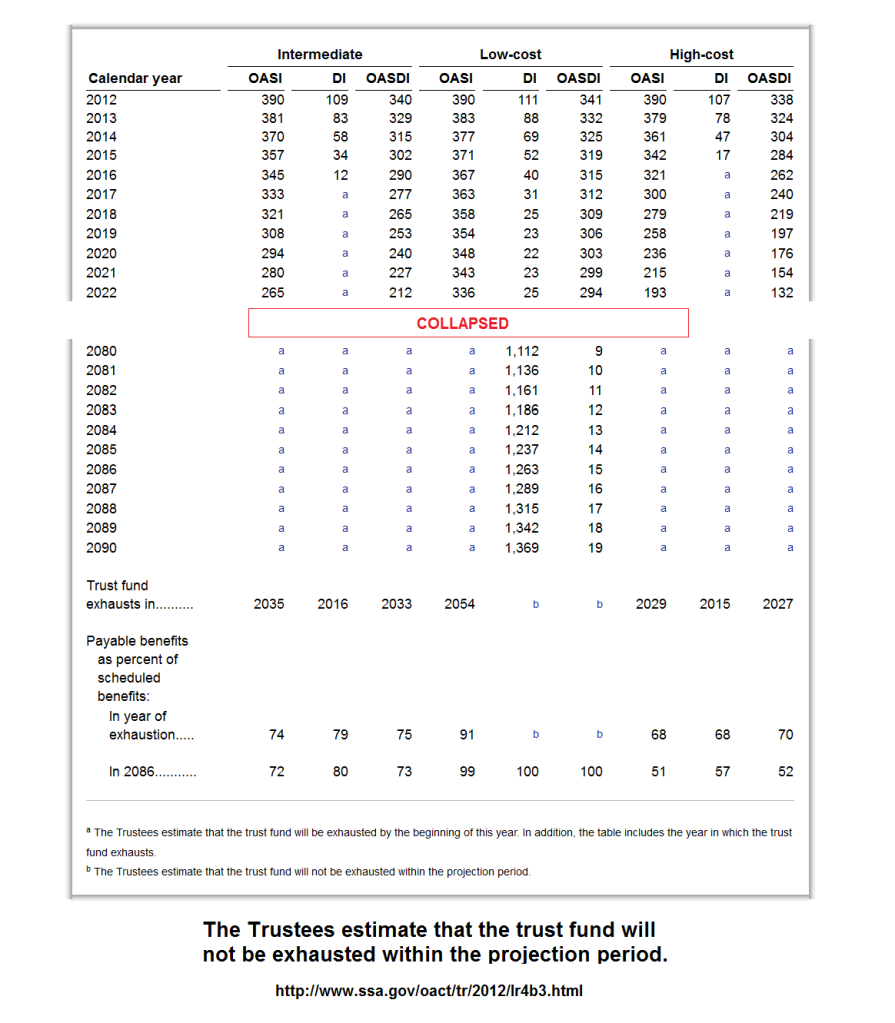 The diarist has added the caption "The Trustees estimate that the trust fund will not be exhausted within the projection period." They are focusing on footnote (b). However, this footnote is not a description of the table as a whole, but simply describes what an entry of (b) in the table means. In this case, there are only two entries labelled (b) in the table - under the low cost assumptions, DI and OASI will not be exhausted. Under all other assumptions, all three funds will be exhausted, and even under the low cost scenario, OASDI will be exhausted. The chart clearly says (in the row labelled "Trust fund exhausts in..." that the disability trust funds will be exhausted around 2015 and the old age and survivors insurance will be exhausted around 2030 (depending on whether you're making the low-cost, high-cost, or intermediate assumptions).
Again, my goal here is not to harp on the diarist, nor to argue either against or for his or her thesis. I'm just pointing out that the evidence presented doesn't show what they claim, and asking you to apply your critical reading skills.
Wed Apr 24, 2013 at 1:29 PM PT: Based on the comments below, I've learned that the OASDI is an aggregation of other funds, and is commonly used as a summary of the whole "trust fund", so that it more accurate to say that the trust fund is only solvent in the low-cost scenario.