This is a ShelterBox diary. Please rec and share and tweet.
Many of you get the updates on ShelterBox because so many of you helped during the earthquake in Haiti.
I have been "keeping my powder dry" so to speak because writing a diary just to have it sink to nothing is not a good use of my time.
But now it I have to step up to help get more supporters of ShelterBox for the people of Syria. Just because they are not right next to us and far away is not a reason to ignore it.
Well, we al have been following the weeks of the destruction of home of the people of Syria.
Many have fled the violence with their children to Lebanon. Lebanon have been welcoming but can not shelter all who have fled the the war torn areas.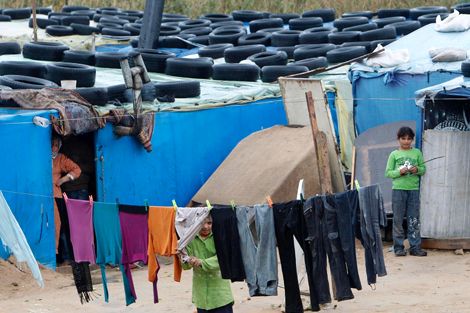 http://www.huffingtonpost.com/...
BEIRUT -- The number of Syrians who have fled their war-ravaged country and are seeking assistance has now topped the 1 million mark, the U.N. refugee agency said Wednesday, warning that Syria is heading towards a "full-scale disaster."

http://www.shelterboxusa.org/...
ShelterBox is the first aid agency in the world to distribute tents to Syrian refugees in Lebanon with the permission of the Lebanese Government.

In a complex political environment, ShelterBox is delivering thermally insulated tents to vulnerable families desperately in need through a network of 27 implementing partners that include Scout groups, municipalities and grassroots non-governmental organizations.

"They've been serving the refugee population for two years now, meeting needs based on thorough targeting," said ShelterBox Response Team (SRT) member, Phil Duloy (US/UK), who has just returned to Lebanon. "They have also been providing prescription drugs, access to doctors, water, food, even phone cards to help refugees contact family."

The government has historically been opposed to the setting up of tented settlements and there are major considerations surrounding how they are distributed.

Support

"We are receiving a great deal of support from the Lebanese government and the local people," added Duloy. "With the help of their comprehensive knowledge, we are able to focus on the most needy, particularly those who have not yet received any humanitarian aid. However, here everyone has some sort of trauma and are vulnerable."

"We are distributing either to individual families, or to small groups," noted SRT member, David Webber (UK). "Grouped tents will be used as transit shelters where newly arriving Syrian families will stay in them for 1-3 days until they locate people they know, such as other family members, to move on to live with. These tents will then be vacated for the next arrivals. Many will be set up in various multi-story buildings that are half built. They don't have any exterior walls but do have plumbing."
http://www.shelterboxusa.org/...
Please donate today.