Human intelligence is highly overrated. Let's take a trip to Florida for a little proof.
Florida is vulnerable to any rise in sea level. The mere 6-7 inches seas rose during the 20th century are already causing coastal erosion and storm drainage flooding. You can see video footage of beach erosion on March 11 from a nothing special storm here.
Another 2-3 feet over the 21st century would be catastrophic, particularly in heavily populated South Florida. Everyone agrees on the basic parameters of the issues. The following graph shows the trajectory of sea level rise in South Florida based on historical trend data (blue line) and on current projection data used by the U.S. Army Corps of Engineers (orange shaded area). Sea level rise during the last half of the 20th century was 1.7 mm yr. By contrast, sea level rise during the first decade of the 21st century was 3.1 mm yr, consistent with the lower bound estimate used by the USACE.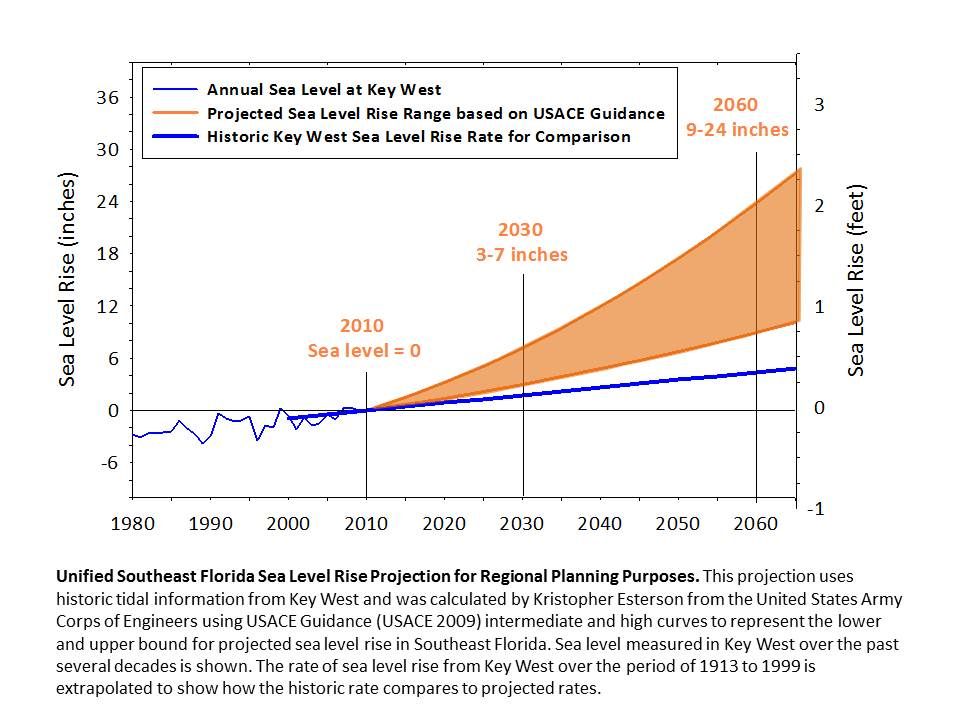 Here are humans who are beginning to see rapid changes associated with climate change. Let's watch how they behave. (By the way, there will be a test at the end of the discussion.)
Officials in the Miami-Dade area have been engaged in intense discussions over how to update an aging sewer system that backs up water in residential areas with routine storms (let's call them storms-of-the-month during the rainy season). After 10 months of negotiation, they opted for spending $1.5 billion on upgrades. Here are some of the larger pieces of the project.

Miami Beach last year approved a $206 million overhaul of an aging drainage system increasingly compromised by rising seas. Just another foot of sea-rise, possible within 20 years, could worsen high-tide street flooding there. It also would inundate much of coastal South Miami-Dade, leaving a sewage plant adjacent to the dump called Mount Trashmore, as well as Turkey Point nuclear power plant, virtual islands.

[. . .]

Of particular concern: a nearly $600 million reconstruction of the trouble-prone plant on Virginia Key, where four spills over just three months in 2011 dumped some 19 million gallons of waste water into Biscayne Bay.
The upgrades do not include recommendations to make the facilities "climate ready" for changes likely during their 50-year life expectancy.
Yet after 10 months of negotiations between agencies, the sewer plan doesn't contain a word about dealing with flooding tides or the sort of storm surge that devastated the Northeast during Hurricane Sandy. No calls for sea walls, elevated separating tanks, stronger casks for pressurized liquid chlorine or other "armoring" measures.
The article goes on to discuss the controversy over how to upgrade a system that already cannot handle current climate conditions. The moral of the story is that the impacts of climate change on infrastructure are going to be exceptionally expensive, particularly when our current public officials refuse to plan for the most likely future impacts.
Another climate impact that will devastate the Florida economy in the near future comes from rising ocean acidification and temperature. Both are harming plankton and coral populations in the area. Without these foundational elements, the aquatic ecosystem food chain begins to collapse and with it go businesses dependent on them.

Recreational saltwater fishing alone has long been a boon to Florida's economy. A recently released National Oceanic and Atmospheric Administration (NOAA) economic report shows that in 2011, saltwater fishing on the east coast of Florida generated 29,000 jobs and $3.3 billion in sales. But the sustainability of those sought-after fish is dependent upon the plants and animals at the base of the food chain, and at that level, things are looking a bit grim.
However, the impacts on human infrastructure from the collapse of coral populations are likely to be even greater. Coral reefs provide a major storm surge buffer.

If coral reefs decline or disappear, not only would the crustaceans, tropical and game fish vanish, but human residents could expect to see major changes in the South Florida coastline. Right now, coral reefs help to "block" some of the water from getting to shore and buffer some of the effects of hurricanes; both are necessary features, given that many Florida beaches lack the substantial sand dunes needed to prevent breach erosion.
The combined threats from rising sea levels, acidification, and water temperature are going to pummel South Florida coastal infrastructure and its economy in the near future.
Ready for your test? Several structures were mentioned as being threatened by a small rise in sea level in the excerpt from the Miami Herald story. Without looking back, which one has the potential for catastrophic failure? Come on, think.
Give up? See if you can spot it now.

It also would inundate much of coastal South Miami-Dade, leaving a sewage plant adjacent to the dump called Mount Trashmore, as well as Turkey Point nuclear power plant, virtual islands.
Good thing there has never been a disaster where
sea water flooded nuclear reactors
.
Action Request: Please support the listing of the two most threatened coral species, the elkhorn coral and staghorn coral, as endangered under the Endangered Species Act. The National Oceanographic and Atmospheric Administration is requesting public comments from now through April 6.
Help Us Spread the Word About Climate Change
---
For those of you on Facebook and Twitter: Please help to spread the word by hitting the FB and Tweet links at the top of this diary and if you have time, join the discussion with comments. Share such postings with friends, family, co-workers, and acquaintances.
Thanks, as all of this helps build the Climate Change movement as well as introducing critically important ideas about renewable sources of energy.