.
Good Morning All. I am James, also known as exlrrp
this is the Saturday Morning Home Repair Blog where the Dailykos community gets together to talk about all things construction and repair. Our genial and expert staff stand ready to aid you on your every problem

OK OK OK settle down , we're gonna start now.
YOU IN THE BACK!!! Listen up!!
Trying to remember where I left off (quickly scans all available data)
OK, so the last two month's blogs were tossoff's--the re-run, the El Disco Es Gonzo one and now here I am. Hey! before I start, I bought a tractor last weekend, a Ford 8n. I paid $2800 for it, got him down from $3800. Its two years younger than I am. This is breaking my tractor cherry, the very first I ever owned, becept lawn tractors. Its in pretty good shape for being Real Old minus Two. Got a loader and came with an 8'blade which I had to take off. I'm already acquainted with some of its limitations, like no parking brakes. Jam the loader into the ground and it stays OK, I found out.
So I took the 8' blade off the 3 point hitch because it was 3' wider than the tractor and now I have to cut it down with the cutting torch and put it back on because you really need the weight in the back with the loader in the front. I mean REALLY need it..
I needed this because a big part of my mile long driveway needs attention. That will be for another diary but already my driveway is better.
One day when I was sad and blue
Didn't know just what to do
Thought my life could use a new factor
So I went out and bought a tractor
Now I'm driving around a-scraping and scooping
Out in the field where the horses be pooping
I'm having a ball, Oh Lordy Badordy
Moving the dirt in my lower forty
So if you're sitting round all blue
I'm gonna tell you what to do
Go by a tractor it'll make you feel socko
and if that don't do it, go eat a taco
Ok, so it was months ago I started the 34th phase of my lightning plan to finish fixing up my house before I turn 90. Hey, its only 26 years away now, they creep up on you.
So anyhow, I have been redoing the front room over the bedroom. Now its hard to know what to call it but its sort of a bedroom cum library cum office for mrs e. It can be a bedroom but it gets the best sunlight of any of the bedrooms and in addition is the only room where you can see the front gate from. So I like it as a reading room. I sit there and imagine me, Dali, Pablo Picasso and Pablo Neruda sitting there talking in Spanish.
You know my methods, Watson: nail up a bunch of wood and hack at it with an axe untill it looks right. And thats just about the quality of work I'm up against, trying to fix, actually.
I built two ponywalls (short walls) to close off the unusable space on each end of the room where the roof came down to the wall.One has an inset bookshelf now and the other will too.
this room will also have a formica counter/desk for mrs e. and set up for her desktop. It has a stand up, hanger closet already from where I did the same thing in the room outside, coming in to that. I don't know what to call that either, just an occasional place, maybe. I have to make up names for these rooms.
Anyhow, these are the 4th and 5th doors I have done like this: cut the tops off so the door goes 4' up from the bottom, then put them into a pony wall, which was built to make unusable but heated space into usable space with insulation. Unstupiding it, in other words.
So, I sheetrocked the walls, taped them and blew on the texture, same as I did in the I-don't-know room. There was about 5 sheetrock sheets involved. The texture came out a little bigger than I had intended but thats the nice things about fixing up an old house that had a lot of stupid things done to it---when questioned about it I look wise and mumble of how the pioneers used to do it that way and I'm only re-creating them faithfully right down to the errors. This is called passing the buck historically, contrctor style.
I call this style of building i'm doing Pioneer Cobby. Essentially, what the pioneers would have done if they had power tools but were lazy and smoked pot. (not while working.) The "cobby" is in memory of the rough but simple solutions they had for their everyday problems.
Here's an example of Pioneer Cobby: ever see casing nailed on with 16p finish nails before? Now you have: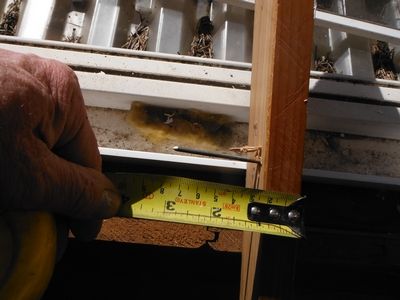 After I blew on the texture with my hopper gun I waited for it to dry, then painted it. I also painted the guest bathroom---this means that Ive painted all,l the paintable surfaces in my house, they're no longer THAT MAN'S colors. (Grrr)


Did I say I built and installed inset shelves in one of these walls? I went down and bought a set of shelves---it was actually from one of those closet organizer sets, the 'spensive Martha sTewart ones.($40/per) This worked so well, I elected to buy 2 more sets to install in other places.
Here's the inset shelves. The empty space on the right i where the formica top computer desk will go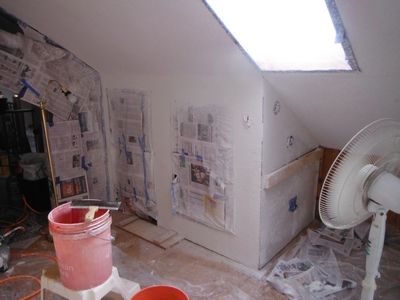 Ok, what happened is photobucket changed their format and I'm having trouble making it work and I'm doing this on friday night and getting all panicky about finishing so youre going to have to do without pictures from now on.
I made the trim for the room and also the bathroom with the router table. The trim is finished in the bathroom, just starting on the bed/reading/office room. Its all stained and ready to go. The doors are cut down and ready to be installed. I changed the switches and outlets from white to ivory. Everything is picked up, tidied up and cleaned up all spiffy.
OK, I lied about that clean up but the rest is real.
well, thats enough about me and my project, what are you working on?