In the early 1900's Wisconsin was a hotbed of progressive politics centered around the University of Wisconsin. Phillip La Follette graduated with a law degree from the University of Wisconsin in 1922 and then in 1930 La Follette entered the Republican Gubernatorial primary, running against Walter Kohler. He attacked Kohlers position on the Depression, and went on to win in the general election. La Follette sought expansion of public works, highway construction, regulations for Utilities and banks. Edwin Witte, an Economist from UW, working at the Wisconsin Legislative Reference Library, wrote the nations first unemployment compensation law, La Follette championed the unemployment law (1932), as well as a unified state labor code that fostered Collective Bargaining. La Follette was unseated and ran again as a Progressive, going on to win. La Follette's brother, Robert La Follette Jr, was a US Senator noted for leading investigations into the practices of large employers used to prevent workers from organizing. Together they ran the Wisconsin Progressive Party.
....is a philosophy embraced by the University of Wisconsin System, which holds that research conducted at the University of Wisconsin System should be applied to solve problems and improve health, quality of life, the environment and agriculture for all citizens of the state. This Progressive-era policy applied the expertise of the state's university to social legislation that benefited all the state's citizens...
At the University of Wisconsin at Madison, an early proponent of the Wisconsin Idea, Economist John Commons "promoted an economic doctrine that stressed fairness over the creation of wealth" and wrote Wisconsin's workmans compensation law,
the nations first
.
A faculty fixture from 1904 until 1933, Commons was a proponent of a school of thought called institutional economics, which in his eyes aimed to redress the inequities of the free market....... His teaching blended in history, sociology, and psychology to place economics within the vast context of human social development.
Commons mentored Edwin Witte thru graduate school, and got Witte the job of chief of the Wisconsin Legislative Reference Library in 1922. The same Edwin Witte that wrote the Wisconsin Unemployment compensation law that Governor Phillip La Follette saw thru to passage.
The same Edwin Witte that was to be called the Father of Social Security.
Witte knew that Unemployment Insurance by itself, was not going to return Wisconsin to economic health. Witte thought that Unemployment insurance would "promote recovery by helping to allay the frightful sense of insecurity which is one of the greatest obstacles standing in our way." Witte believed that insecurity dashed hope, that if people had a safety net, a foundation for economic recovery could be had.
Witte's reasoning was popular, even at the White House.
When, in the summer of 1934, President Franklin Roosevelt decided to give America an economic safety net, his administration chose to do so through a government-sponsored insurance program. Edwin Witte was the only in the country who had experience turning such a plan into working law.
In 1934 Wilbur Cohen was a freshly minted PHd Economist at UW@Madison. When Edwin Witte was called to serve on The Committee on Economic Security as Executive Director, he brought Wilbur Cohen with him to Washington DC. Cohen had studied under both Commons and Witte at UW.
Wilbur Cohen would become the first employee of the Social Security Board and would go on to play a prominent role in Social Security for more than fifty years, including a brief tenure as Secretary of Health, Education and Welfare.
In 1960 President Kennedy appointed Cohen as the Chairman of the task Force that recommended Medicare.
The Milwaukee-born, University of Wisconsin-educated Under Secretary has been characterized by Medical World News magazine as "The Man Who Built Medicare." Publisher Maxwell Geffen goes on to state that, "Obviously, Wilbur Cohen doesn't run every facet of the medicare program. But he is largely responsible for putting the pieces together
http://www.ssa.gov/...
Social Security isn't just the federal government's most important domestic program; it's also the most far-reaching result of the Wisconsin Idea, a unique product of the UW's economic doctrine, the state's progressive politics, and a professor named Edwin Witte.
http://www.news.wisc.edu/...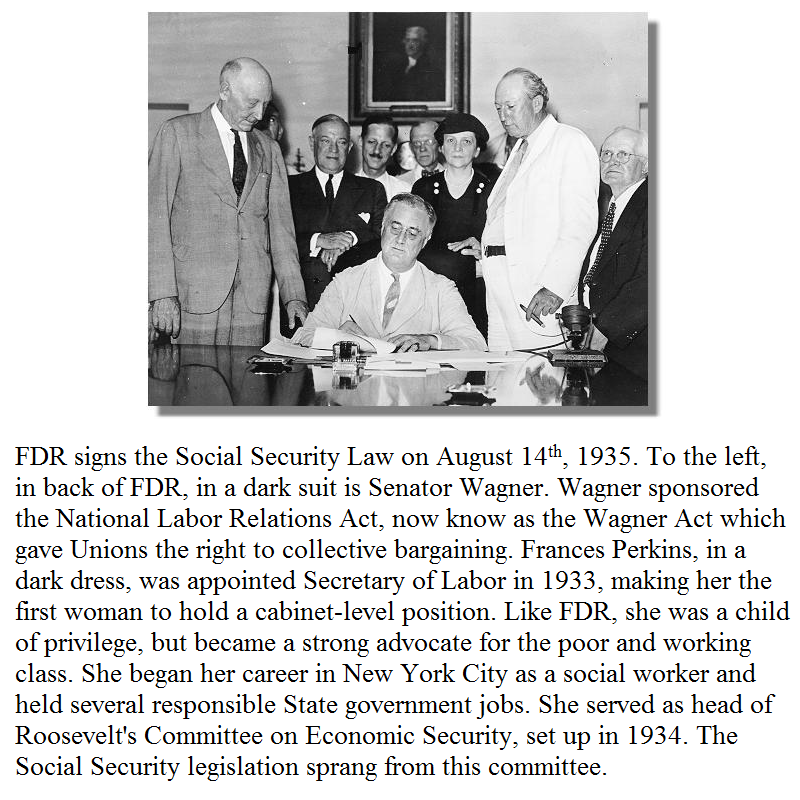 Significant Wisconsin legislation:
1911: Workman's Compensation
The Constitutionality of the Act was upheld by the Wisconsin Supreme Court on November 1, 1911 (and by the U.S. Supreme Court in 1926).
1913: Elevator Safety
Wisconsin's first elevator safety code took effect in 1913.
1913: Wage Laws for Women and Children
The first Wisconsin wage law was enacted in 1913 and specified that a "living wage" must be paid to women and minors. A woman's work week was limited to 55 hours and a childs workweek was limited to 48 hours.
1914: State Building Code
Ithe first building code in Wisconsin was adopted to help in the enforcement of the safe place statutes for all buildings and places of employment.
1915: Apprenticeship Law
A new Wisconsin apprenticeship law required apprentices to attend school 5 hours a week, at the employer's expense.
1917: State Employment Services
1919: Minimum Wage Law
A 22-cent minimum wage was established for women and minors 17 years of age and older.
1919: Worker's Compensation expanded
Occupational diseases were added to Worker's Compensation coverage.
1921: Mine and Quarry Safety
A complete safety code was developed for all mines and quarries by the Industrial Commission.
1921: Worker's Compensation expanded
Wisconsin created the Vocational Rehabilitation program with emphasis on people injured in industrial employment accidents.
1931: Prevailing Wage
New legislation required employers to pay all laborers, workman and mechanics on state public works projects at the "prevailing" wage rate of the area.
1931: Owed Wages
Wisconsin Legislature created a new division to help workers collect wages owed by former employers.
1932: Unemployment Compensation Law
The Wisconsin Legislature passed the nation's first unemployment compensation law.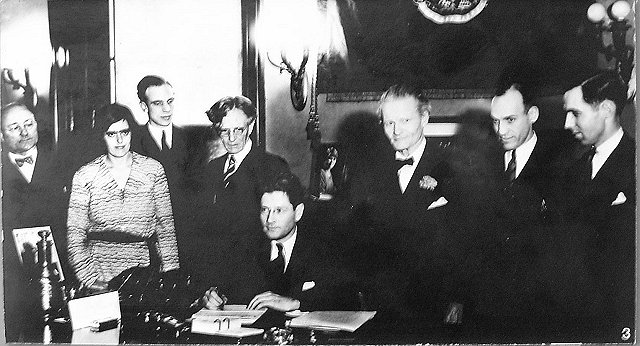 Governor La Follete signs Nations first Unemployment Compensation Law
1936: First Unemployment check
Wisconsin issued the first Unemployment Compensation Check in the United States on August 17, 1936. It was in the amount of $15.00 and issued to Neils N, Ruud.
Citations and further reading:
Edwin E. Witte, who died in 1960, has been called "The Father of Social Security."
http://www.jsonline.com/...
Wibur Cohen graduated U of Wis in 1934
http://www.socialsecurity.gov/...
http://www.ssa.gov/...
The Committee on Economic Security: Professor Edwin Witte
http://www.socialsecurity.gov/...
1938 Advisory Council Re: Sidney Hillman
http://www.socialsecurity.gov/...
Executive Director of President Roosevelt's Cabinet Committee on Economic Security:Professor Edwin Witte
http://www.ssa.gov/...
"Hands Off My Social Security"
---
I suggested that it had been a mistake to levy these taxes in the 1930's when the social security program was originally adopted. FDR said, "I guess you're right on the economics. They are politics all the way through. We put those pay roll contributions there so as to give the contributors a legal, moral, and political right to collect their pensions and their unemployment benefits. With those taxes in there, no damn politician can ever scrap my social security program. Those taxes aren't a matter of economics, they're straight politics."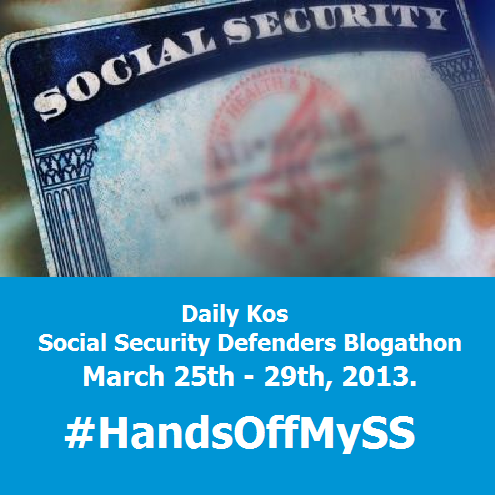 Link - feel free to post on your Facebook pages.
"HandsOffMySS" Blogathon: March 25th thru March 29th, 2013
Diary Schedule - All Times Eastern Standard
---
IT IS TIME TO TAKE A STAND
Social security is a concept enshrined in Article 22 of the Universal Declaration of Human Rights which states that Everyone, as a member of society, has the right to social security.
A limited form of the Social Security program began, during President Franklin D. Roosevelt's first term, as a measure to implement "social insurance" during the Great Depression of the 1930s, when poverty rates among senior citizens exceeded 50 percent.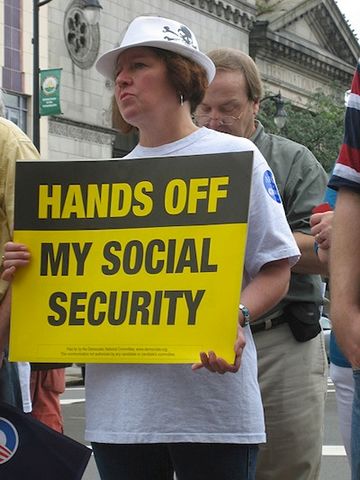 Let your voice be heard.
Members of the Daily Kos group Social Security Defenders have organized this bogathon to promote the truth about the financial condition of the Social Security trust fund, and the impacts of various so called reforms and fixes.
Understanding how benefits are calculated, the History of Social Security, where the Wisconsin Idea came from, and how over the years changes have been made to Social Security, all increase awareness and hopefully improve the discussion.
---
11:00am:Roger Fox
1:00 pm: Joan McCarter
3:00 pm: Roger Fox
5:00 pm: KitsapRiver

11:00am: joanneleon
1:00 pm: joe shikspack
3:00 pm: Arshad Hasan DFA
5:00 pm: Roger Fox
11:00am: poopdogcomedy
1:00 pm: teacherken
3:00 pm: Jamess
5:00 pm: Bruce Webb
11:00am: Jim Dean DFA
1:00 pm:
3:00 pm: One Pissed Off Liberal
5:00 pm: floridagal
11:00 am: Economist Dean Baker
1:00 pm: VCLib
3:00 pm: Armando
5:00 pm:
---
Please remember to republish these diaries to your Daily Kos Groups. You can also follow all postings by clicking this link for the Social Security Defenders Blogathon Group. Then, click 'Follow' and that will make all postings show up in 'My Stream' of your Daily Kos page.