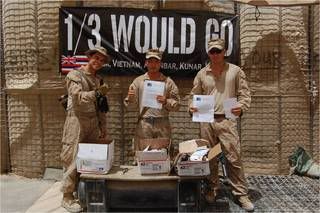 It's that time of year again where you'll be seeing us ask for your assistance in achieving our goal of raising $50,000.00 to send Care Packages to our forward deployed combat personnel. Over the next weeks you'll see Netroots For The Troops® diaries popping up. Before we get into those I have a favor to ask of all of our NFTT friends;
Via Facebook, email, Pinterest or by whatever means you can pass along to your friends, family, colleagues and co-workers a request to contribute to our effort. I'm not expecting tons of responses from a few efforts, but I shared a DONATION link to just ten of my friends' FB pages so far and generated $40 in donations.
Netroots For The Troops
---
Netroots For The Troops® is raising funds to send Care Packages to our soldiers stationed overseas.
We are asking all of you to support our efforts and to also make a contribution for this worthwhile cause.
Over the years, many soldiers have sent letters to express their appreciation for these Care Packages and even posted thanks at Daily Kos

It was in the middle six months of my assignment in Afghanistan that the packages started arriving. I received an array of things from them… letters, candy, toothpaste, floss, baby wipes, razors, food, socks, books, dvd's. The list could go on and on. It was amazing. Netroots for the Troops was always there... The packages were a reminder that our country knows about our fight. Every day, because of their support, I knew that if it was going to be my last day, I would be remembered and I would be honored.

Please make a donation HERE. Thank you from the entire 2013 NFTT Team.
Netroots For The Troops® is a project of Netroots for the Troops, Inc., a Virginia non-profit corporation. The organization raises money for the assembly, mailing and delivery of Care Packages to American military in war zones and to provide assistance to military families in the United States. Netroots For The Troops, Inc. is a 501(c)3 tax-exempt organization.
On with the games!!
Mojo Friday Guidelines


1) If you comment you have to recommend all comments. (in order to receive mojo you have to give mojo. It's only good mojo manners.)
2) Everything you say may be taken as a joke (so if you ask a question, expect a silly answer)
3) You must recommend the diary (and pimp it unapologetically)
4) You don't have to comment to recommend.
5) You can't steal my idea (right, like that ain't goin' to happen)
6) Please, no pictures or YouTubes until after 300 comments. Now, after 300, use a little common courtesy and be responsible in the number.
7) Mojo mojo mojo mojo, mojo mojo mojo.
8) TexDem (that's me) is not bound by the guidelines. Heh

Mojo Friday Goals


A. At least 300 different commenters and 1000 comments by 1:30 PM EST and 1500 by 5:00 PM EST Friday Night that it's posted.

B. 100 recommends for each comment, at least.

C. Stay on Recommend List at least five hours (this requires some strategic planning by you guys, refer to guideline #3)

D. At least 200 diary recommends. 300 would be better, spread the word.

E. And always, fun fun fun.

F. Have at least 75% average participation rate as seen here in the Mojo Friday Postgame Show by Woodtick and bjedward.

G. (New) Have at least 30 kossacks over 90% participation (see here for some tips).

H. Overload the servers with recommends, not to mention dominate Top Comments Mojo list. (we do tend to mess with the site with all of our recommends at one time)(also, to dominate the Top Comments Top Mojo we need at least 50 comments with over 200 recommends, see guideline B)

I. That's enough for now. (Have a suggestion? Post it.)

MKinTN posted a diary to help everyone achieve greater success called How to Succeed at Mojo Friday Without Really Trying.
For those of you new to MF (Mojo Friday) we have our own lingo about a few things. Thank's to MF'er Jez (the link will explain) go to this diary for a little more fun and explanation. Official Mojo Friday Snecktionary.