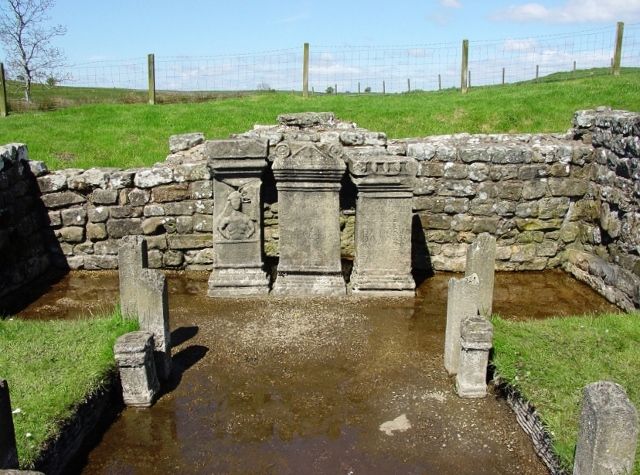 Temples to the god Mithras, or mithraea, were common amongst the settlements and forts defended by the Roman Legions. Wherever they went, following the rapid emergence of this Sun-worshipping religion in the early 2nd Century CE, they were sure to erect a temple to the Persian deity, or modify a natural cave, as worship often took place in profound darkness. There is still great debate as to whether this is a Persion religion, with Roman overtones, or a Roman sect with Persian additions. However you parse it, this worship of Mithras is bound up with the Persian lore regarding contracts, oath-giving and Sun-worship and the defeat and death of a bull. Despite the fact that it is known that the Emperor Septimus Severus (193 - 217 CE) was an adherent, and it was popular amongst the officers of many Legions, it is likely that no more than 1% of the Empire's population worshiped Mithras.
Sacred rites of this religion, always conducted in near darkness, also involved the initiation and 'raising' of members of this cult from one of the seven grades to the next. The grades included 'corax' (crow) and 'pater' (father). Initiates, as far as can be determined always male, met for a communal meal, and identified themselves by use of a secret handshake; they were known as 'syndexioi' - 'those identified by a handshake'. Carvings and statuary to the god were common (there is a Mithraic bas-relief on display in the Museum of Yorkshire in York, for example). Mithras is shown as being born from a rock, and is usually depicted along with two other entities, Cautes and Cautopates; these are torch bearers, one with his torch pointing downwards, one upwards. Mithras is often shown not just in battle with a bull, but accompanied by a dog, a snake, and a scorpion and a raven. Details of these sacred rites are limited, due to the secretive nature of this religion, although bathing in the blood of a newly-sacrificed bull is hinted at. Evidence of Mithraism exists from Roman settlements in what is now modern Turkey, all the way to Hadrian's Wall, but the religion seems to have vanished almost as swiftly as it arose. This may be connected with the adoption of Christianity by the Roman Emperor Constantine 1st and the Edict of Milan (313 CE) which guarenteed religious freedom to Christians within the Empire.
Here we see part of a tiny mithraeum just south of Hadrian's wall near what was the Roman fort of Brocolitia (now Carrawburgh). The columns you can see are concrete replicas – the originals having been removed for display elsewhere.
I always think of Kipling when I see a temple or votive carving dedicated to this god, beloved of the Legions. Several of the short stories in 'Puck of Pook's Hill' and 'Rewards and Fairies' are centered on 'The Wall' and involve characters who are devotees of Mithras. In some ways there are echoes of Mithranism in the various Masonic rites, with their initiation and 'raising', prominent use of pillars and secret methods of identifying fellow-initiates by means of a handshake. It is no surprise, therefore, to learn that Rudyard Kipling, who wove Mithranism into some of his stories, also wrote others with a Masonic theme, or that he was, himself, a Mason.
Mithraism was a complex, secretive religion which flashed across the spiritual firmament for a very brief span, yet has left rich cutural traces embedded in the history of the Roman Empire. There still remain many more questions to be answered about this enigmatic belief system.