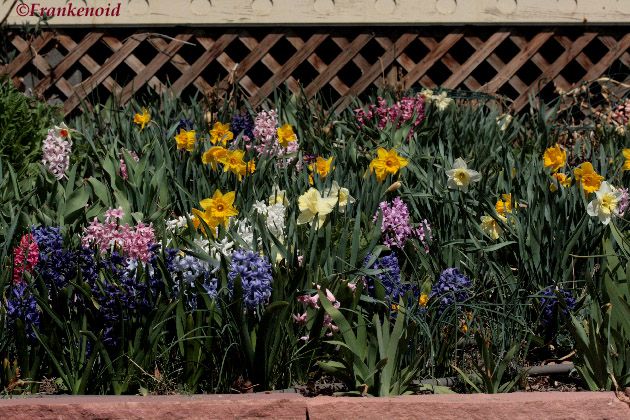 Good morning, and this is why my neighbors love me. Welcome to Saturday Morning Garden Blogging.
The weather did a little bit of an April Fool's here in Denver — we ended March with a beautiful day, the with the high at 71° and a light breeze.
And then the clouds rolled in… we got a bit of rain… and it stayed cloudy, cold and drizzly for a couple of days.
On Wednesday, though, the damp moved out, on Thursday we hit 68°, and yesterday — ah, we made it to the 70s.
And although I've been bitching about the succession of weekend storms we had during March, the wet weather did marvelous things for the beds of bulbs in front of my house. Folks linger long sniffing the air and examining the varieties of hyancinth and daffodils.
Yup; the neighbors love me.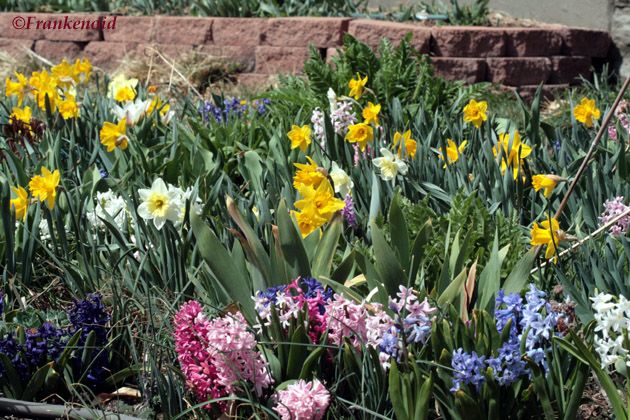 And with the glorious weather finally arriving, this week saw the accomplishment of tasks which had been delayed by weather and procrastination.
I emptied the compost tumbler and readied it to be moved to a new location.
I spliced in a new section of soaker hose, to replace a section that had split.
I raked aside the veggie patch's thick mulch of straw, put a layer of compost down, topped it over with a section of wire fencing secured with garden staples to deter Arwen the Terrible's digging, set the support fencing, and planted the snap peas — they were perfectly sprouted, with most showing roots, but none having yet sent those roots into the layer of damp paper towels they were sprouted on.
And I made a double batch of espresso ice cream to take to the party at ColoTim's place today.
My hands are rough, my cuticles embedded with compost, and my favorite daffodils are blooming — I love spring.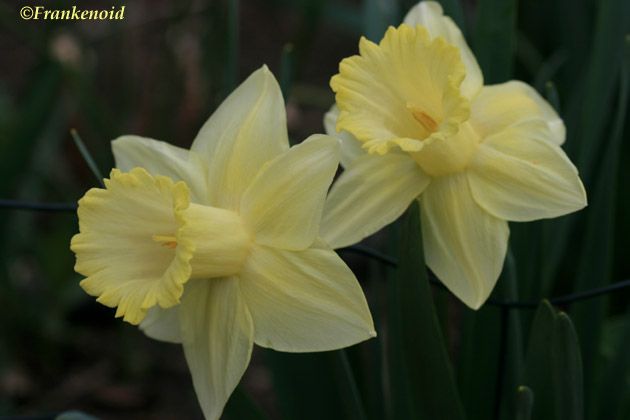 That's what's happening here. What's going on in your gardens?