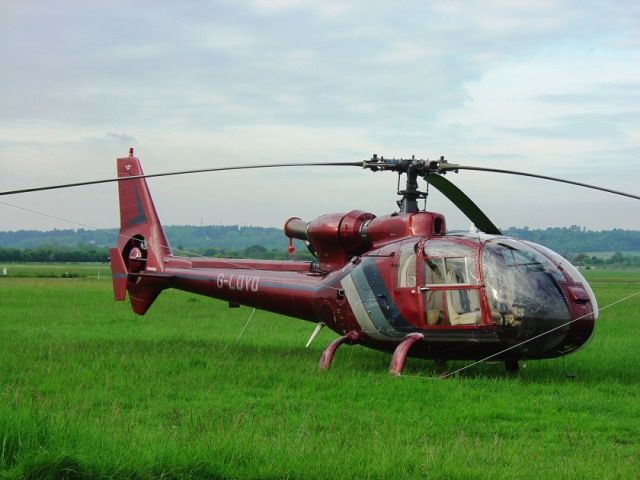 Well, it might not be Monty Python, but it IS a helicopter – and what a helicopter! The Gazelle was a French design, first flown in 1967, which was successfully modified and built for all the British armed forces - Royal Air Force, Royal Navy, Royal Marines and the Army - by Westland (later AugustaWestland). The Army Air Corps used it for armed battlefield reconnaissance, and the Royal Air Force, Royal Navy and Royal Marines used it for pilot and crew training. This version, the SA341G , is, however, a civil variant, powered by a Turbomeca Astazou IIIA turboshaft of 590 eshp. Seating five, the Gazelle was appreciable faster (145mph) than its main competitor, the Bell Jetranger, but also more expensive to operate. I have flown in a Gazelle, and they are markedly smoother than many other helicopters of this generation, with absolutely none of the vibration-induced shaking of instruments which can happen with other rotorcraft. This is due, in the major part, to advanced composite main blades, and the enclosed, multi-blade tail rotor, called a 'fenestron', which also makes the helicopter much quieter.
G-LOYD used to be owned by a Derbyshire company, and has been repainted since it's days with Specialist Flight Training at Carlise in 1982-1985, where it was registered as G-SFTC. SFT offered military-style flight training to overseas clients, who wanted, shall we say, 'discrete' training. Since Carlise Lake District Airport (CAX) is fairly remote, and is right next to the rugged Lake District and the Scottish Borders, this is just the right location for this type of business!
There have been a couple of ownership changes; a Mr Ian Graham Lloyd bought the Gazelle (hence the vanity registration) but, as of last year, it now is based with a new owner at Crab Tree Farm, Deighton, near York.
Overall, the Gazelle has been a winner, with a long military career – it was also built under licence by SOKO in Yugoslavia, and ABHCO in Egypt – however, it never really established itself in the civilian market. Fast, manoeuvrable, but pricey to own.