Ever wonder why so many have jumped on the Peterson Bandwagon "Fix the Debt"?
Well besides a possible high-paying gig working for Pete, they stand to gain Billions, if their Corporate "Debt-Fixing" measures go into effect.
Primary among them is the "territorial tax system" fix. Also known as "repatriating offshore earnings" in its former incarnations.

The CEO Campaign to 'Fix' the Debt: A Trojan Horse for Massive Corporate Tax Breaks
by Sarah Anderson and Scott Klinger, Institute for Policy Studies

The Fix the Debt campaign has raised $60 million and recruited more than 80 CEOs of America's most powerful corporations to lobby for a debt deal that would reduce corporate taxes and shift costs onto the poor and elderly.
[...]

[Regarding Fix the Debt campaign's CEOs]
Key findings:

-- The 63 Fix the Debt companies that are publicly held stand to gain as much as $134 billion in windfalls if Congress approves one of their main proposals -- a "territorial tax system." Under this system, companies would not have to pay U.S. federal income taxes on foreign earnings when they bring the profits back to the United States.

-- The CEOs backing Fix the Debt personally received a combined total of $41 million in savings last year thanks to the Bush-era tax cuts.
How that for a 'Fix the Debt' slogan:
"Reduce corporate taxes and shift costs onto the poor and elderly"
Kind of has a nice Peter G. Peterson ring to it, doesn't it?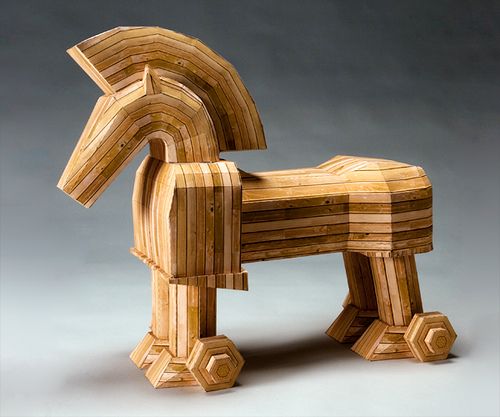 "Beware of hedge-fund Billionaires, bearing gifts." Neeigh!



So who are these Corporate Retread-Patriots backing the Peterson Agenda, out of the cheapness of their stonecold ledgers?
Well some of their names jump right off the S&P 500 and the Dow Jones Index ...

The CEO Campaign to 'Fix' the Debt (Report pdf)

A Trojan Horse for Massive Corporate Tax Breaks
Sarah Anderson, Scott Klinger, Brent Soloway
Institute for Policy Studies -- www.IPS-dc.org

[...]
These 63 companies have squirreled away more than $418 billion offshore, according to their 10-K reports. As it is now, these firms would be required to pay U.S. federal corporate income taxes (at a top rate of 35 percent) on these foreign earnings when or if they return ("repatriate") them to America to use to invest or pay dividends to shareholders.

If Congress adopts Fix the Debt's proposed territorial tax system, these corporate foreign earnings would be permanently exempted from U.S. income taxes. As a result, these 63 companies would stand to win as much as $134 billion in tax windfalls.

The Campaign's Ten Top Potential Winners from a Territorial Tax System


larger image


The practice of accumulating massive earnings in foreign countries goes far beyond Fix the Debt's corporate membership. S&P 500 companies as a whole have nearly $1.5 trillion parked offshore, according to Citizens for Tax Justice. While some of these profits are offshore because a U.S. multinational corporation produced a product offshore and sold it to a foreign consumer, a significant share is there for the purpose of avoiding taxes.


[Here are those 'Corporate Patriots' from A to Z:]


larger image
What's in it for them -- these
Corporate Tax-shirkers
-- besides:
"reducing corporate taxes and shifting costs onto the poor and elderly"
Well as their offshore-accountants well know -- the "
Fix the Debt" fine print gains them literally Billions!
.... Billions in Tax-free "Repatriated" offshore, cheap-labor profits.

According to Center for Media and Democracy (CMD), as reported on commondreams.org, the "Fix the Debt" game-plan is relying on Corporate CEO's (aka Serious People) to help sell their message of fear and dread, right on cue:

[...]
According to CMD, Fix the Debt members -- which include at least 127 high-powered corporate CEOs -- hide their "self-serving motives" by wrapping themselves in patriotic language of "shared sacrifice."

These CEOs are bolstered, as CMD explains,


by elder "statesmen" (many of whom have gone through the revolving door and have undisclosed financial ties to firms that lobby for tax loopholes and other corporate welfare that contribute to the deficit), plus four PR firms, 80 full-time staff members, 23 phony state chapters, and a raft of Peterson-funded "partner organization," Fix the Debt has targeted a budget of $60 million in "the first phase."

Key to the strategy is ginning up a crisis. In lockstep, the CEOs, politicians, and partner organizations stormed the media last fall warning of the looming disaster of the so-called "fiscal cliff." Breaching the fiscal cliff "will lead to chaos," warned Erskine Bowles; "derail the fragile recovery," said Goldman Sachs CEO Lloyd Blankfein; generate a "shock to the financial markets and a painful return to the recession," said the CEO of Morgan Stanley.

To achieve traction for its campaign, Fix The Debt has developed a web of state-level chapters, an army of lobbyists, established corporate partnerships, and a fomented relentless media campaign to push its ideology.
The message of "doom" they are currently trying to sell us, is a distant Social Security ailment,
that can ONLY be solved
with the poisoned-pill known as the
Chained-CPI
. Watch
one Peterson site
report on another Peterson front group (without disclosing that):
[...]
An updated report from the nonpartisan Moment of Truth Project, co-chaired by Fix the Debt co-founders Alan Simpson and Erskine Bowles and charged with carrying on the legacy of the Simpson-Bowles Commission, finds that implementing "chained CPI" could save $390 billion over the next decade and reduce the deficit by more than $1 trillion in the decade after that.
[...]

The CPI is used to calculate cost-of-living adjustments for various government programs and to index portions of the tax code to ensure that these programs and tax provisions keep pace with inflation. So, using a more accurate measure of inflation would better achieve this goal and bring savings from both spending and revenue.
Chained $avings!
Decade after downsizing decade.
That $39 Billion a year in Savings ie. "benefit cuts" is coming from somewhere
-- somewhere like seniors' meager budgets. Even though Seniors already paid for those benefits. You know that "Social Contract."

Well at least Peterson's Fix the Debt campaign has all the vested corporate help he could want (127 CEO's), to help push through their CPI-message of "fiscal responsibility" (designed to be balanced on the frayed budgets of seniors -- NOT CEO's).
Afterall those corporate CEO's have a LOT riding on the FTD outcome ...
-- 100's of billions in repatriated offshore profits -- brought back into America Tax Free, once these Peterson Patriots finish selling us their wares.
Once the Chained-CPI sleight-of-hand benefit reductions, become the law of the land, for this year and every "cost cutting" year to follow.
If we sit back and say nothing, and let it happen that is. Just say"Hell No!" to that.



DailyKos Blogathon -- Week of April 8th



(All times are Eastern, diaries published by the Pushing back at the Grand Bargain group)
Monday, April 8
10:00 a.m. Roger Fox
12:00 noon eXtina
2:00 p.m. Guest crosspost by Yves Smith
4:00 p.m. Horace Boothroyd III
6:00 p.m. slinkerwink
8:00 p.m. joedemocrat

Tuesday, April 9
10:00 a.m. Guest crosspost by Bill Black
12:00 noon Livestream Event diary/Team
2:00 p.m. joe shikspack
4:00 p.m. Roger Fox
6:00 p.m. Priceman
8:00 p.m. TomP

Wednesday, April 10
11:00 a.m. Liveblog budget announcement press conference
12:00 noon Words in Action
1:00 p.m. bobswern
2:00 p.m. One Pissed Off Liberal (OPOL)
4:00 p.m. Puddytat
6:00 p.m. Tool
8:00 p.m. SouthernLiberalinMD

Thursday, April 11
10:00 a.m. Letsgetitdone
12:00 noon CitizenofEarth
1:00 p.m. Words in Action
2:00 p.m. Liveblog event diary
3:00 p.m. LeftHandedMan
4:00 p.m. Unitary Moonbat
6:00 p.m. cosmic debris
8:00 p.m. angelajean

Friday April 12
9:00 a.m. 2LaneIA
10:00 a.m. joanneleon
11:00 a.m. Roger Fox
12:00 noon jamess
1:00 p.m. joejoejoe
2:00 p.m. ek hornbeck
3:00 p.m. Seneca Doane
4:00 p.m. Vetwife
6:00 p.m. Jim P
7:00 p.m. teacherken
7:30 p.m. Horace Boothroyd III
8:00 p.m. Roger Fox

* If you would like to join the blogathon, contact joanneleon or Lady Libertine by kosmail.






1. Call your senators and representatives and tell them "Hell No!" with a priority on contacting senators. U.S. Capitol Switchboard at (202) 224-3121. You can find email contact information here

2. Contact the White House and tell them "Hell No!". Switchboard: 202-456-1414. Email contact page is here.

3. Petitions. There are a number of petitions available. Choose from the following or preferably sign them all.

a. White House petition calling for no cuts to Social Security.
b. AFL-CIO petition calling for no cuts to Social Security, Medicare, Medicaid and calling for more jobs, repealing the sequester and ending tax loopholes for the wealthiest individuals and corporations.
c. Sen. Harkin's petition telling Pres. Obama not to cut Social Security.

4. Social Media. Share this diary and promote this blogathon on Facebook and Google+ using the buttons at the top of the diary. Send this out on Twitter and add the hashtags #HellNo and #NoGrandBargain.
Blogathon diaries you might have missed

Monday:
Hell No! #NoGrandBargain: "Pushing back at the Grand Bargain" by Roger Fox
Hell No! Chained CPI will reduce eligability for EITC #noChainedCPI by Roger Fox
Hell No! Dan Pfeiffer: "The President's Budget Shows That He is Serious About Solving Deficits" by eXtina
Guest Crosspost, Yves Smith: Obama Wants to Be the President Who Rolled Back the New Deal by Yves Smith via joanneleon
Hell No! Stop crushing the poor by Horace Boothroyd III
Hell, No! Social Security Contributes Nothing To Deficit by slinkerwink
Hell No! No Grand Bargain: Chained CPI: Social Security Means So Much To So Many by joedemocrat



Tuesday:
Bill Black: "Wall Street Uses the Third Way to Lead its Assault on Social Security" by Bill Black via joanneleon
Hell No! Livestream. Petition delivered to White House. Millions of signatures. 12:30pm by Lady Libertine
Hell No! No Grand Bargain. Are "Progressives" Destroying the New Deal? by joe shikspack
#HellNo ! #ChainedCPI : $65 billion income tax increase on working families #noChainedCPI by Roger Fox
Hell No! Chained CPI is a Cut. You Either Care About People or You Don't. by priceman
Hell No! No Votes or Money To Dems Who Vote To Cut Social Security. by TomP

Wednesday:

Hell No! No Grand Bargain Liveblog 2014 Budget press conference by joanneleon
Hell No! No Grand Bargain: Are We At War With Our Own Neoliberals? by Words In Action
Hell No! "Progressives Rage...Over Plan to Cut Social Security" (Pt. 1 of 2) by bobswern
Hell No! Pam Martens: "Progressives Rage...Over Plan to Cut Social Security…" (Pt. 2 of 2) by bobswern
Hell No! There's No Way to Vote Against Goldman Sachs by One Pissed Off Liberal
Hell No! Hands Off Social Security - This Has Gotten Personal by Puddytat
Hell No! Expand Social Security - Don't Cut It by Tool
Hell No! "Do You Think That Democracy Is Part of the Problem?" Attacks on Soc Security& Democracy by SouthernLiberalinMD

Thursday:
Hell No! The Ultimate Pushback against the Grand Bargain by Letsgetitdone
Hell No! Obama & The War on Seniors by CitizenOfEarth
Hell No! No Grand Bargain. Death of the Third Way: Son of Plutocracy by Words In Action
Hell No! Liveblog: Joint press conference AFL-CIO, House Progressive Caucus, Sens. Sanders & Harkins by joanneleon
"Hell no!" Why Toss 'Enrage the AARP' into an Already Tough 2014 Haul As Is? by LeftHandedMan
Hell No! I Am A Loco-Foco by Unitary Moonbat
Hell No! to Chained CPI: Defending the People's Pension by cosmic debris
A Military Wife's Honest To God Opinion on the Grand Bargain. by angelajean

Friday:
Hell No! Joe Biden in Iowa 2015 by 2laneIA
Hell No! Lieberman told us why Social Security must be cut by joanneleon
Hell No ! Chained CPI cuts Head Start, CHIPS, WIC, SNAP by Roger Fox