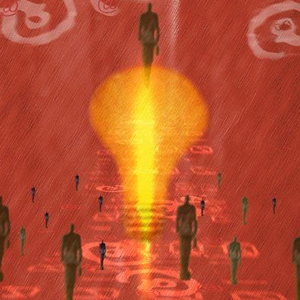 Commentary: African American Scientists and Inventors
by Black Kos Editor, Sephius1


George Robert Carruthers (born October 1, 1939 in Cincinnati, Ohio) is an African American inventor, physicist, and space scientist. He has lived most of his life in Washington, DC.
From a young age he showed an interest in science and astronomy. He grew up in the South Side of Chicago where at the age of 10 he built his first telescope. Despite his natural aptitude, he did not perform well in school at a young age, earning poor grades in math and physics. Despite his poor grades he won three separate science fair awards during this time.
(con't.)
After graduating from Englewood High School he went on to get a bachelors in aeronautical engineering from the University of Illinois in 1961, a master's degree in nuclear engineering in 1962, and a doctorate in aeronautical and astronautical engineering in 1964. He now works with NRL's community outreach organization, and as such helps support several educational activities in the sciences in the Washington D.C. area.
His work on ultraviolet spectrums and other types of astronautical tools helped him earn the Black Engineer of the Year award, of which he was one of the first 100 people to receive. His work has also been used by NASA, and in 1972 he was one of two naval research laboratory persons whose work culminated in the camera/spectrograph which was put on the moon in April, 1972.
He is perhaps best known for his work with the spectrograph that showed incontrovertible proof that molecular hydrogen exists in the interstellar medium.
George Robert Carruthers was born in Cincinnati, Ohio on October 1, 1939 and grew up in South Side, Chicago. His father was a civil engineer and his mother was a homemaker. The family lived in Milford, Ohio until Carruthers' father died suddenly and his mother moved the family back to her native Chicago. At an early age George developed an interest in physics, which his father encouraged. Also as a child, he enjoyed visiting Chicago museums, libraries and the Adler Planetarium that caused him to be an avid science-fiction reader and enjoyed constructing model rockets. Later he became a member of the Chicago Rocket Society and various science clubs.
In 1957, he earned his high school diploma from Englewood High School. This was the same year that the Russians launched the first Sputnik. After high school he entered to the College of Engineering at the University of Illinois, getting his bachelor's of science degree in aeronautical engineering in the year of 1961. He also did his graduate work at the University of Illinois earning his masters degree in nuclear engineering in 1962 and his Ph.D. in aeronautical and astronomical engineering in 1964. While conducting his graduate studies, Carruthers worked as researcher and teaching assistant studying plasma and gases.....Read More
~~~~~~~~~~~~~~~~~~~~~~~~~~~~~~~~~~~~~~~~~~~~~~~~~~~
News by dopper0189, Black Kos Managing Editor
~~~~~~~~~~~~~~~~~~~~~~~~~~~~~~~~~~~~~~~~~~~~~~~~~~~


~~~~~~~~~~~~~~~~~~~~~~~~~~~~~~~~~~~~~~~~~~~~~~~~~~~
The best way to win over young people is to tell them to vote for you because your party did something in 1863. Talking Points Memo: Rand Paul Ducks Record On Race In Awkward Howard Speech.
~~~~~~~~~~~~~~~~~~~~~~~~~~~~~~~~~~~~~~~~~~~~~~~~~~~
As Rand Paul told it, the biggest problem keeping African Americans from voting Republican is that they didn't know Republicans have long been leaders on abolition and civil rights. As students at Howard University heard it, the problem was that Paul was condescending, misleading, and removed from the issues facing their community.
Paul devoted almost none of his speech Wednesday at the historically black college in Washington, D.C., to explaining the GOP's thorny relationship with black voters over the last fifty years, and most of it arguing that "the Republican Party has always been the party of civil rights and voting rights." His history lecture focused almost entirely on the period before 1964, when the GOP began to champion the states rights arguments of southern whites. Echoing a popular conservative talking point, Paul repeatedly reminded the audience that Democrats passed Jim Crow laws in the south and that Abraham Lincoln was a Republican, as were the first black legislators and the founders of the NAACP.
"Would everyone know here they were all Republicans?" he said at one point, referring to the NAACP's founders.
"Yes!" came the booming response from nearly the entire audience, who appeared offended Paul would even raise the question.
He drew laughs and jeers at another point for bungling the name of the first popularly elected black senator, Edward Brooke of Massachusetts, whom he called "Edwin."
Thus went Paul's earnest, yet awkward, attempt at minority outreach at one of the nation's most prestigious black colleges.
As Rand Paul acknowledged in his speech, he may not be the most obvious choice to spearhead the GOP's outreach to African Americans. His first foray into national news came in 2010 when he criticized the Civil Rights Act of 1964 for encroaching on property rights and suggested that ending segregation should have been left to the free market. His father, former Rep. Ron Paul (R-TX), had an even more tortured history with race that included the publication of a series of inflammatory newsletters under his name, an issue that would follow him throughout his own presidential runs. But the younger Paul backed down soon after making the remarks in 2010 and ended up clarifying that he would have voted for the Civil Rights Act had he been in office at the time, despite his reservations about provisions banning discrimination by business.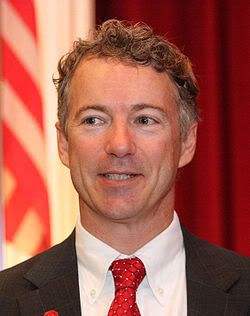 ~~~~~~~~~~~~~~~~~~~~~~~~~~~~~~~~~~~~~~~~~~~~~~~~~~~
A case study in how race perverts the spending debate. ColorLines: 'Obamaphones'.
~~~~~~~~~~~~~~~~~~~~~~~~~~~~~~~~~~~~~~~~~~~~~~~~~~~
As Washington has debated the sequester and the fake crisis of federal spending, some leading conservatives have revived a familiar meme about an old program called Lifeline, which is a longstanding federal subsidy created to make phone service accessible to people who are elderly, very low-income or living in rural areas. Like the furor surrounding Obamacare in 2009, the ongoing stir over "Obama phones," as the program has been dubbed, is instructive. It illustrates just how bizarre the right can make reality look when it uses race to demonize government.
Conservatives such as talk show host Rush Limbaugh and Rep. Tim Griffin (R-Ark.) have cast the nearly 30-year-old Lifeline program as wasteful and targeted it for elimination. In a video on his congressional page, Griffin spends more than three minutes bashing what he calls the government's "unchecked spending." The ad rests on the image of a black man screaming, "Get your free government phone today!" from a car.
The recent attack is actually nearly four years in the making. Early in Obama's first term conservatives began characterizing the program as "phone stamps" and calling Lifeline pre-paid cellular units "Obama phones." Trading on the welfare queen stereotype, they've also accused black people in low-income communities of voting for the president strictly because his administration doled out free cell phones.
As the narrative goes, the federal government is using taxpayers' (translation: white people's) hard-earned money to maintain an alleged welfare state and support the extravagant lifestyles of poor black folks in places like Cleveland, where video of an African-American woman singing the program's praises went viral last year.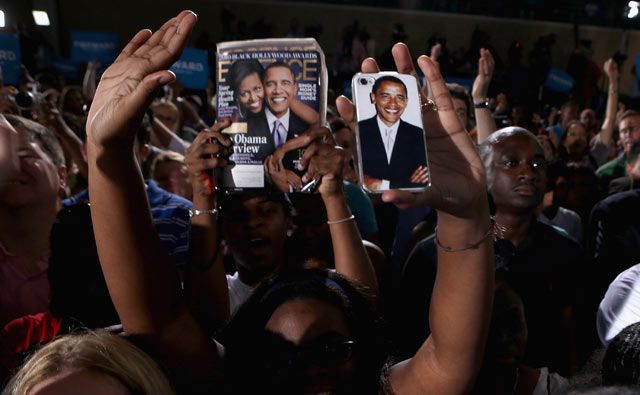 Supporters cheer as President Obama campaigns in Florida. Getty Images/ Chip Somodevilla


~~~~~~~~~~~~~~~~~~~~~~~~~~~~~~~~~~~~~~~~~~~~~~~~~~~


~~~~~~~~~~~~~~~~~~~~~~~~~~~~~~~~~~~~~~~~~~~~~~~~~~~
Two 27-year-old South African men, Tshepo Cameron Modisane (pictured left) and Thoba Calvin Sithole (pictured right), tied the knot Saturday. NewsOnes: Two Men Tie the Knot In Africa's 'First Traditional Gay Wedding'.
~~~~~~~~~~~~~~~~~~~~~~~~~~~~~~~~~~~~~~~~~~~~~~~~~~~
The couple was married in the town of KwaDukuza and stood before 200 guests as they exchanged their vows. On a continent that views homosexuality as vile lifestyle, both men were brave enough to proudly proclaim their love for one another in a public setting.
Modisane and Sithole met three years ago as students studying in Durban but then lost touch for a few months. They later bumped into each other at a gym and became fast friends, supporting each other during workouts. As their chemistry grew, the men soon realized that their relationship was moving past mere friendship.
According to Modisane, who spoke to Mamba Online, "The great step that we took in our relationship as a gay couple was introducing each other to our families. We are so blessed to have supportive families who care about us. Even though we are gay they still love us."
Last June, Modisane decided they should take their relationship an even step further, so he made the decision to propose to Sithole, who accepted. Marriage between homosexuals is legal in South Africa and has been for six years. The two discussed having a ceremony that would fall along the lines of their traditions and customs.
"We communicated our intentions to get married to both our families as we wanted to have a traditional African ceremony and also have a traditional Western 'fairytale white wedding,'" Sithole told Mamba Online. The date of April 6 was set for the ceremony.
The men want to stand as inspirational role models for others who are gay. "We see no reason to hide in darkness as if there is something to be ashamed about. Our marriage is largely symbolic and a sign that black gay men can commit and build family through a happy and loving marriage," Modisane says.


~~~~~~~~~~~~~~~~~~~~~~~~~~~~~~~~~~~~~~~~~~~~~~~~~~~

~~~~~~~~~~~~~~~~~~~~~~~~~~~~~~~~~~~~~~~~~~~~~~~~~~~
Leslie Salzillo wrote a diary on this, Black Woman Poses As White Woman - Suddenly Job Offers Come Tumbling In (Video). The comment section on this diary should also be read, I'll leave it at that. Unemployed Black Woman Pretends to be White, Job Offers Suddenly Skyrocket.
~~~~~~~~~~~~~~~~~~~~~~~~~~~~~~~~~~~~~~~~~~~~~~~~~~~~
For two years, I have been unemployed. In the beginning, I applied to more than three hundred open positions in the insurance industry—an industry that I've worked in for the previous ten years. Not one employer responded to my resume. So, I enrolled back into college to finish my degree. After completing school this past May, I resumed my search for employment and was quite shocked that I wasn't getting a single response. I usually applied for positions advertised on the popular website Monster.com. I'd used it in the past and have been successful in obtaining jobs through it.
Two years ago, I noticed that Monster.com had added a "diversity questionnaire" to the site. This gives an applicant the opportunity to identify their sex and race to potential employers. Monster.com guarantees that this "option" will not jeopardize your chances of gaining employment. You must answer this questionnaire in order to apply to a posted position—it cannot be skipped. At times, I would mark off that I was a Black female, but then I thought, this might be hurting my chances of getting employed, so I started selecting the "decline to identify" option instead. That still had no effect on my getting a job. So I decided to try an experiment: I created a fake job applicant and called her Bianca White.
First, I created an email account and resume for Bianca. I kept the same employment history and educational background on her resume that was listed on my own. But I removed my home phone number, kept my listed cell phone number, and changed my cell phone greeting to say, "You have reached Bianca White. Please leave a message." Then I created an online Monster.com account, listed Bianca as a White woman on the diversity questionnaire, and activated the account.
That very same day, I received a phone call. The next day, my phone line and Bianca's email address, were packed with potential employers calling for an interview. I was stunned. More shocking was that some employers, mostly Caucasian-sounding women, were calling Bianca more than once, desperate to get an interview with her. All along, my real Monster.com account was open and active; but, despite having the same background as Bianca, I received no phone calls. Two jobs actually did email me and Bianca at the same time. But they were commission only sales positions. Potential positions offering a competitive salary and benefits all went to Bianca.
At the end of my little experiment, (which lasted a week), Bianca White had received nine phone calls—I received none. Bianca had received a total of seven emails, while I'd only received two, which again happen to have been the same emails Bianca received. Let me also point out that one of the emails that contacted Bianca for a job wanted her to relocate to a different state, all expenses paid, should she be willing to make that commitment. In the end, a total of twenty-four employers looked at Bianca's resume while only ten looked at mines.




~~~~~~~~~~~~~~~~~~~~~~~~~~~~~~~~~~~~~~~~~~~~~~~~~
~~~~~~~~~~~~~~~~~~~~~~~~~~~~~~~~~~~~~~~~~~~~~~~~~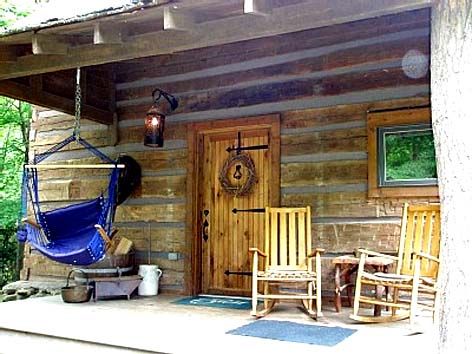 Welcome to the porch, where it's always warm, and the conversations are just fine.