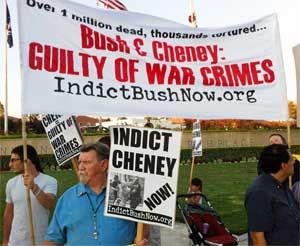 Credit:http://www.bartcop.com/...
Have you seen this ?

NBC
Bush-era torture use 'indisputable,' Guantanamo must close, task force finds
Cheney was in UK for the 1%'s celebration of Thatcher's destructive reign. Hope somebody 'over there' arrests his @ss for war crimes he so gleefully admits to when the rare question comes about it from the press.
Bush and supporters are here in TX set to smooth over his failed legacy.
As Hunter put on the FP here yesterday
But we have this to look forward to, apparently:

Karen Hughes, a longtime adviser, said it's been harder for the former president's friends to hear the criticism.Bush alumni, she said, will make a renewed effort to clear up "some misimpressions in the public's mind."

Oh God, no. Anything but that. The only saving grace in that whole eight-year running fiasco has been that some of the most conspicuous accomplices have at least had enough good sense to shut their traps and scuttle off in shame afterwards. Let some poor contrarian suckers in the next century try to pretty up that cow pie if they feel up to it, but in the meantime, Karen Hughes, just leave us the hell alone already.
Heh.

Never Give UP
Some real Americans that believe in human rights and justice are not going to let those efforts to 'clear up' the obscene Bush legacy go unquestioned.
Here's an email got from them this morning.

Indict Bush message headed to Dallas library opening

Dear [divineorder]

We are writing to ask your help as we mobilize people to protest the dedication of the George W. Bush library on April 25 in Dallas, Texas.

People are coming from faraway places to spread the message that We the People demand that George W. Bush be indicted and prosecuted for having committed the worst crimes of the modern era.

If you can't personally join us at the Dallas demonstration you can show your support and help defray the travel expenses of others by making a generous contribution today.

We Can't Let Bush Re-write the History of His Crimes

Because of the Library dedication Bush is back in the news. He announced that "he feels comfortable" about his invasion of Iraq.

Of course, he feels comfortable. He has raised $500 million for his presidential library and for the so-called George W. Bush Institute which is designed to make an iconic figure out of this criminal.

More than a million Iraqis died and Bush feels comfortable. Five million Iraqis became refugees and Bush feels comfortable. Tens of thousands of young soldiers and marines are suffering life-changing physical and psychological wounds and another 5,000 lost their lives – and Bush feels comfortable.

Our grassroots campaign is spreading. At the UN and in countries throughout the world, there is constant activity calling for accountability for Bush, Cheney, Rumsfeld and others who instituted a global system of torture, kidnappings and secret prisons.


If you are planning on coming to the April 25 demonstration in Dallas, please let us know by sending an email to indictbushdallas@gmail.com.

Please make an urgently needed donation to help us cover transportation costs to Dallas.

Thank you,

From all of us at IndictBushNow
If you can't go join them perhaps you could send them a nickel for their efforts on our behalf?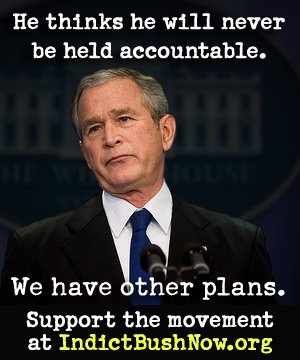 Credit: http://www.impeachbush.org/...