While tramping through the field of English etymology—a field which has been well fertilized from many sources—I found myself thinking about the words which are often used to describe today's Republicans, conservatives, and tea party types. One of the first words to come to mind was "bigot." Join me below the magic squiggle for a short discussion of this word.
The word "bigot" is first recorded in the English language in 1598 when it meant a "superstitious hypocrite." According to legend, however, the word "bigot" begins in what is now France with Rollo.
Rollo was the Viking sea king who forced Charles the Simple (aka Charles III) to sign the Treaty of Saint-Clair-sur-Epte under which Rollo was given Rouen and the area of modern Haute-Normandie. This established the Duchy of Normandy. Rollo agreed to be baptized as a Christian, to pledge vassalage to Charles, and to guard the estuaries of the Seine from Viking attacks. As a part of the ceremony of vassalage, Rollo was supposed to kiss the foot of Charles the Simple. He refused, uttering the phrase "bi got," which appears to have been similar to the Old English "by God."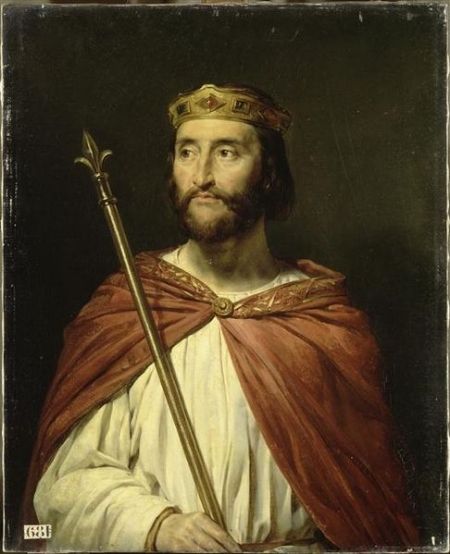 Charles the Simple is shown above.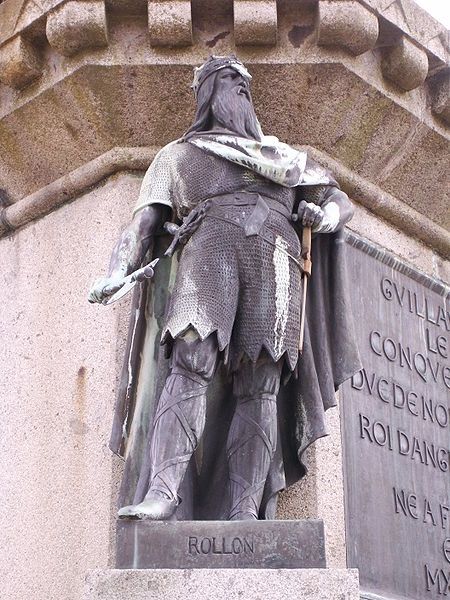 A statue of Rollo is shown above. Rollo is a Latin translation of the Old Norse Hrólfr.
According to another version of the story, Rollo had been promised Gisla, the king's daughter, in marriage. When Charles the Simple delivered his daughter, Rollo was supposed to kiss the king's foot as a symbol of his vassalage. Rollo refused unless the king would hold up his foot to be kissed. Those present urged Rollo to kiss the foot, but Rollo cried out "No, by God" to which Charles the Simple called him a bigot.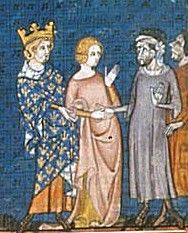 The marriage of Rollo and Gisla is shown above.
While the legend of Rollo with regard to the origin of "bigot" cannot really be verified, it is clear that "bigot" came to be used as a term of abuse for the Normans. By the fifteenth century, the French term "bigot" meant "an excessively devoted or hypocritical person." English borrowed (some would say stole) the term from French.