Tea is the second most popular beverage in the world (water is first). From a global perspective, people drink more tea than coffee, soft drinks, and alcohol combined. Tea is made and consumed many different ways throughout the world.
The highest per capita consumption of tea in the world is found in Ireland where the national average is four cups per day with many people drinking six or more cups. Irish tea is spicier than English tea and is usually taken with milk and/or sugar.
Etymology:
Let's start our exploration of the world of tea by looking at the English word "tea." While it is currently pronounced "tee" this wasn't the way it used to be pronounced. Alexander Pope in 1714 wrote:

"Here thou, Great Anna! Whom three realms obey,
Dost sometimes counsel take—and sometimes tea"
At the time Pope wrote these words, "tea" rhymed with "obey." At about the time that Pope wrote these words many of the words with "ea" began to change their pronunciation from "ā" to "ē". Some of the exceptions to this change were "break," "steak," and "great."
The ultimate source of the word "tea" is Amoy Chinese (spoken in southeast China) "te" (茶). In Cantonese Chinese the word for tea is "cha" which became "chai" in Persian.
History:
Archaeologists tend to feel that tea originated in China during the Shang Dynasty. It was during this time that the Chinese began to use oracle bones and to create ritual bronzes. One of the capitals at this time was Anyang.
According to the popular legend, tea was discovered in 2737 BCE by Emperor Shan Nong. According to Wissotzky Tea:

The Emperor had a habit of boiling his drinking water. One day while he was in his garden a few tea leaves fell by chance into his boiling water which then gave off a rich, alluring aroma. The Emperor, upon drinking this brew, discovered it to be refreshing and energizing. He immediately gave the command that tea bushes to be planted in the gardens of his palace. Thus the custom of brewing fresh tea leaves in hot water began and it quickly spread.
Originally tea was used as a medicinal drink. Until about the fifth century CE, tea was used primarily as a remedy. It had many medicinal benefits attributed to it such as an aid used for colds, and infectious diseases. It was also seen as an aid to the digestive and nervous systems.
About the fifth century CE, the Chinese tea ceremony began to develop and the upper class began to present packages of tea as highly esteemed gifts. From a Taoist perspective, the tea ceremony is conducted in a peaceful atmosphere and is intended to bring to the participants a sense of tranquility and harmony.
By 900 CE, tea drinking had spread to Japan where it became a high art form requiring years of dedicated study.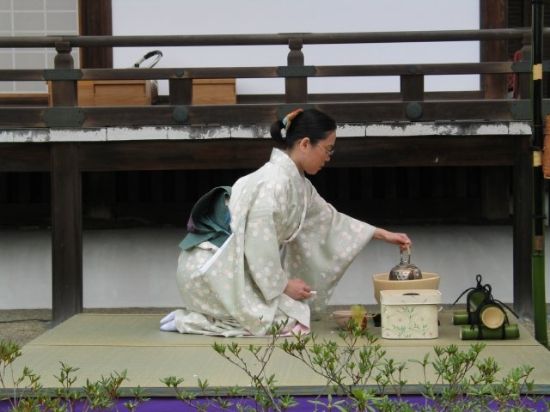 A Japanese tea ceremony is shown above.
The first Europeans to encounter tea were the Portuguese priests and merchants in the sixteenth century. When first introduced in Europe, tea was a symbol of high status because it was very expensive.
By the seventeenth century, tea drinking had become popular in Britain and the British subsequently established tea plantations in their South Asian colonies to break the Chinese monopoly.
Black Tea: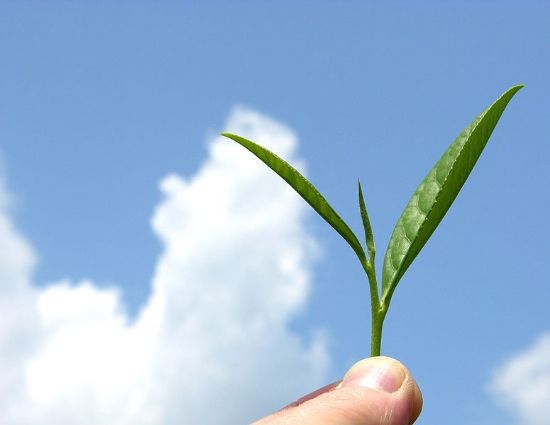 Black tea is the world's most popular tea. Black tea is made by exposing the leaves of the Camellia Sinensis bush to an extended period of oxidation. The result is a tea with a stronger flavor and a longer shelf life. Most of the world's black teas come from South Asia, China, and Kenya.
The three most popular types of black tea are Darjeeling, Assam, and Ceylon, all of which are grown exclusively in South Asia. All three are named for the regions in which they are grown.
Darjeeling is located north of Bangladesh and between Nepal and Bhutan. The leaves grown here have a distinctive natural flavor due to the hilly and unique agroclimatic conditions. Darjeeling makes up about 7% of India's tea production.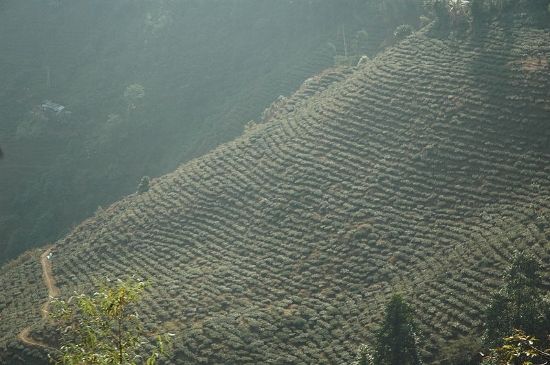 A Darjeeling tea plantation is shown above.
According to the English Tea Store website:

Darjeeling tea is considered the "champagne" of teas. It is generally considered a lighter afternoon tea, but it depends on the time of year the leaves are harvested.
While Darjeeling tea comes from high elevations, Assam is grown near sea level in the valley of the Brahmaputra River just northwest of Myanmar. The unique malty taste of Assam is due to the tropical conditions in which it is grown. It has a high caffeine content and therefore is often used for a breakfast tea: Irish Breakfast tea is made from Assam, and English Breakfast is a blend of Assam and Ceylon.
According to A. C. Cargill:

Assam is truly a "stealth tea," one that is often not in the forefront but definitely tasted as part of a blend, sort of like a bass violin that you hear almost subliminally. Many breakfast blends start with Assam, then build up from that malty taste to give you a rich symphony of flavor with subtleties that come through even if you load up the tea with milk and sweetener. Just like you can always pick out the various instruments in an orchestra as the violin section plays the melody line.
Ceylon is the colonial designation for the island country known today as Sri Lanka. The taste and flavor of the teas grown in Sri Lanka, commonly known as Ceylon tea, is determined by the altitude at which the plant is grown and the length of its oxidation.
Green Tea:
Green tea also comes from the leaves of Camellia sinensis, but the leaves go through only minimal oxidation. Historically, green tea has been most popular in East Asia, and China is the world's leading consumer, producer, and exporter of green tea.
Japan is the world's second largest consumer of green tea. In Japan, the tea is not only consumed as a beverage, but is also made into ice cream and candy.
White, Yellow, and Oolong Tea:
White tea is made from immature leaves picked before the buds of the Camellia sinensis bloom. White tea undergoes less processing than green tea and instead of being air dried, the leaves are steamed. White tea gives off a sweet silky flavor. Many people feel that white tea is healthier than green tea because it is closer to a natural state.
Yellow tea has a slower drying phase than green tea. The leaves start to develop a yellow-green appearance after the damp tea leaves have been allowed to sit for an extended time. Yellow tea has an aroma similar to black tea.
With regard to the oxidation process, Oolong is between green and black tea. The leaves are allowed to wither under a strong sun. Oolong is popular in East and Southeast Asia.
Red Tea:
While black, green, white, yellow, and oolong teas all come from the leaves of the Camellia sinensis plant, red tea, commonly known as rooibos, is made from the leaves of the Calicotome villosa plant. The plant is grown in the Western Cape province of South Africa. Rooibus is not generally considered to be a true tea since it is not made from the Camellia sinensis brush. Technically it is a tisane: a non-caffeinated drink made from the infusion or decoction of herbs, spices, or other plant materials.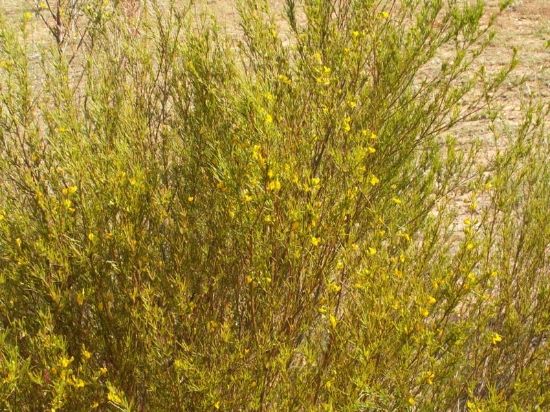 The Calicotome villosa plant is shown above.
Chris Cason reports:

Rooibos tea remained virtually unheard of for centuries, known only to the Khoisans, a tribe of South African Bushmen. It was used frequently by these people as an herbal remedy for a wide range of ailments. The secret of this delicious herb nearly vanished into oblivion due to the environment and landscape, as the isolated tribe dwindled away and eventually disappeared.
Dutch settlers in the Cape area began using rooibos as an alternative to black tea, which was an expensive commodity. During the second half of the twentieth century, rooibus gained in worldwide popularity.