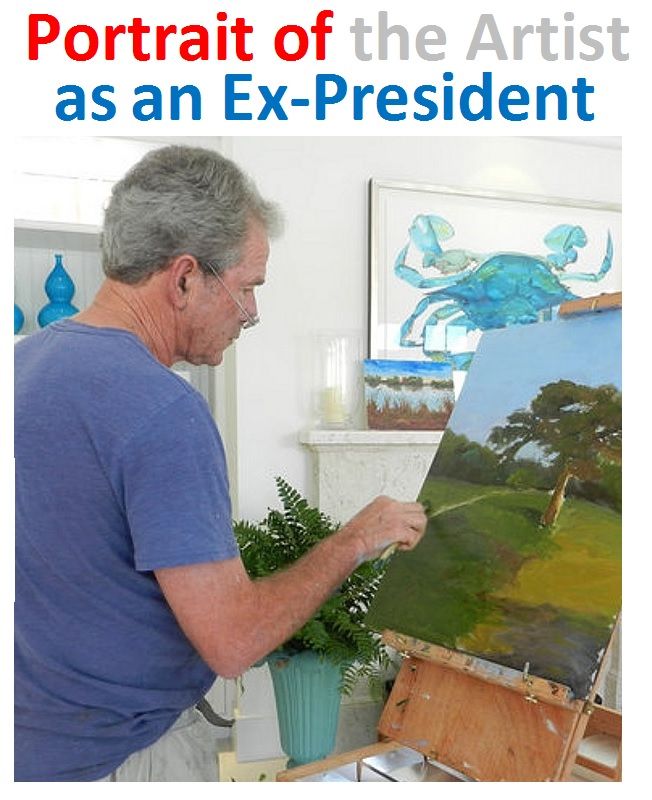 If you wonder if former President Bush's interest in painting is a sudden recent development, or like Churchill's, a lifelong passion, it's probably sort of neither. He got it from his KIDS. True story:
Early 1990's, my wife Laura and I receive our letter in mail from the Dallas Zoo. On Zoo stationery, it reads, "Congratulations, your children's artwork has been selected as winning entries in the Dallas Zoo's 'Draw Your Pet' competition. You are invited to join us at the zoo Saturday morning at 7:00 am, when the artwork selected will be placed on display for the public."
We load the kids into the car and, so as not to miss a thing, arrive at the zoo about 6:30 am. As I am certain is the practice at the Getty and Whitney Museums, the selected entries are displayed mounted outside on a chain link fence. There is only one other family already there, sitting on a bench about 100 feet away. In fact they were the only other family who bothered to have shown up at all, all morning – at least until we left.
Always with a keen eye for detail, my wife Laura can't help but notice that the other family consists of George W. Bush, his own Laura, and the twins. At the time, he was still managing partner of the Texas Rangers baseball franchise, and dad was, of course, in the White House as POTUS.
Since none of the exhibited art had been identified as 1st, 2nd or 3rd place finishers, we assumed there would be some kind of ceremony in which those that were chosen as such would be recognized. (Turned out there was no next level, what you saw is what you got, which is just as well).
My Laura, gets up saying, "I gotta go over and see what they drew," and walks to the fence. On her return, I am informed, "We're toast. They drew Millie's puppies." I saunter over to the still seated Bush family and, deadpan, inquire of the gentleman with the father in the White House, "If my kids win anything, will we be audited?"
Laura Bush gives me what even you will have to admit is that wonderful, calming, and nurturing smile. The future President gives me one word, "Yup." After which I slink back to our own bench , sort of without actually turning around, as you often see in period films when someone had been given a royal audience.
Epilogue: Two years later, we enter our son and daughter in the "Do You Look Like your Pet?" Competition. While all others showed up simply hoping some mild facial or other physical resemblance might we observable, we were unwilling to leave so much to chance. Our kids arrived head to toe in dog outfits Laura had made for them. As I recall, we may have come in 4th, after others who had arrived simply "as-is."