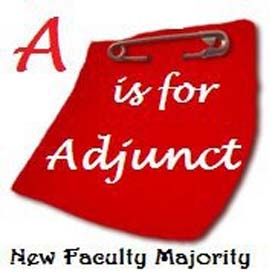 Tomorrow is Mayday, and at many campuses across the U.S. actions are being held to support an almost living wage for "adjunct" or "contingent" faculty at certain colleges and universities.
The "Mayday 5K!" campaign is supporting a pay raise to 5K per course taught for extremely underpaid, and overworked adjunct professors.
I'll give you an example from my personal experience. I earn the magnificent sum of about $10,000 per year (before taxes).
I teach two courses per semester - and cannot teach more than 2 at my university, because course loads for adjunct faculty are capped.
If I don't get full enrollment in those two classes, I lose my health insurance.
And I'm one of the "lucky" adjuncts. I am 65 and get social security, and have a husband who works full time who is willing to support what he jokingly calls my "charity work".
Younger professors, who are in or have completed graduate studies are carrying a heavy school loan debt burden, and trying to eat and pay rent. In order to deal with the cap, some have to drive more than 150 miles per day to teach more than two courses, attempting to patch together a living wage.
We could use your help, so follow me below the fold.
This is our Mayday Manifesto and Petition. Click on the link to sign and join us.
MAYDAY MANIFESTO

Mayday! This is an emergency call for help! We face a dangerous crisis in higher education. It affects almost every university, college and community college. It is not limited to any city, region or state. It is called contingency: the majority of teachers in higher education today are grossly underpaid, at-will employees, lacking any meaningful job security and the academic freedom essential to quality education.

The tenured jobs of the past have been outsourced to a contingent academic labor force. Many so-called "part-timers" teach twice as much as their "full-time" colleagues. Similarly, many "temps," whose short-term contracts typically extend for a year or less, have been teaching for decades—often longer than permanent teachers on continuing appointments.

The effects of this crisis should be known to everyone. Contingency has been a dirty little secret for nearly half a century, in plain sight but almost totally ignored, and nothing will change until the facts are widely understood. The majority of college teachers in the United States today—over a million individuals—are contingent. Most of them are so-called "adjuncts." They are paid poverty wages, earning an average of $2,700 per three-credit semester course. Most adjuncts make $10,000 to $20,000 a year, often working more than 40 hours per week. An estimated 80% lack any health or retirement benefits, and academic freedom is meaningless in the absence of any job security.

The conditions under which contingent teachers are forced to work undermine the quality of higher education. Their miserable working conditions adversely affect student learning conditions, thus short-changing our students and threatening the future of our nation. This is no way to prepare the next generation for an increasingly competitive global economy! Funding education on the cheap has resulted in most American students no longer being competitive with those in dozens of other countries.

To reverse this disastrous trend, the undersigned urge that the following steps be adopted on a priority basis:
1. Increase the starting salary for a three-credit semester course to a minimum of $5,000 for all instructors in higher education.
2. Ensure academic freedom by providing progressively longer contracts for all contingent instructors who have proven themselves during an initial probationary period.
3. Provide health insurance for all instructors, either through their college's health insurance system or through the Affordable Care Act.
4. Support the quality education of our students by providing their instructors with necessary office space, individual development support, telephones, email accounts and mail boxes.
5. Guarantee fair and equitable access to unemployment benefits when college instructors are not working.
6. Guarantee eligibility for the Public Service Loan Forgiveness Program to all college instructors who have taught for ten years, during which they were repaying their student loans.
7. With or without a time-in service requirement, allow all college teachers to vote and hold office in institutional governance, including faculty senates and academic departments.

The signatories urge a comprehensive, cooperative effort to end the staffing crisis in higher education for the sake of all our students and all our citizens. Mayday! Mayday! Mayday!
You can also find more information at the
New Faculty Majority
facebook page.
Please help us spread the word by "liking" this (posting to facebook) sharing on other social networks and tweet our Mayday distress call!