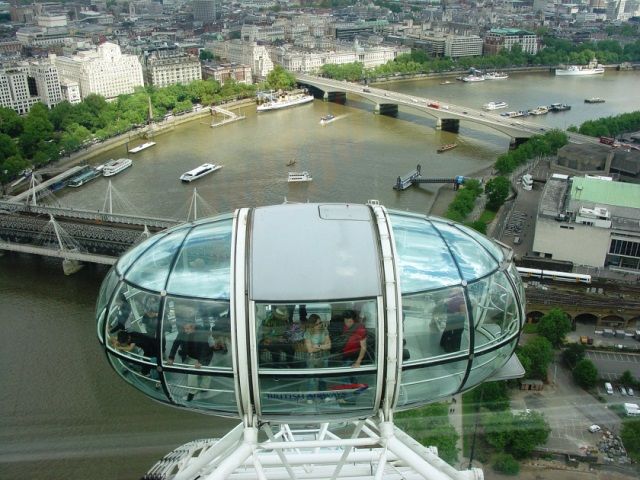 I really enjoyed my 'flight' on the EDF Energy London Eye (formerly operated by British Airways). High above the Thames you can see the north bank and the Victoria Embankment and King's Reach. The nearer bridge is Hungerford Bridge, the railway bridge which leads into Charing Cross Station (it also has pedestrian capacity). The further bridge is Waterloo Bridge, with its graceful arches. If you look closely, you can just make out Cleopatra's Needle on the Victoria Embankment. The Needle (and its twin in Central Park, New York) have NO connection with Cleopatra, they were commissioned by the Pharaoh, Thutmose III. After a dramatic sea voyage from Egypt, including its specially made iron pontoon breaking free from the towing ship 'Olga' in the Bay of Biscay during a storm, and nearly sinking, the obelisk was finally towed home by the paddle tug 'Anglia', and erected on the Embankment in 1878. The red granite obelisk is a most impressive sight.
Below the Needle you can see a fabulous luxury steam yacht 'The Yacht London'. This vessel was built in 1927, and is full of magnificent details, including a stained glass window. It is now one of the city's premier event venues, and is fully licensed for weddings; your party can continue until 3am if you want! Beyond the bridge you can make out a small vessel, the preserved sloop of the Royal Navy, HQS Wellington, the Headquarters Ship of the Honourable Company of Master Mariners, a Livery Company of the City of London. This is the former HMS Wellington, a 'Grimsby' Class sloop, which served as a patrol vessel during WW2; it is now a floating museum dedicated to the British Merchant Marine, as well as being an event venue. In the upper right-hand corner of the frame, you can make out yet another floating event venue, this time in the form of HMS President (1918). This is the former HMS Saxifrage, a famed 'Q' ship. These vessels were designed to lure German U-boats of the First World War to the surface by travelling alone in areas where enemy activity had been reported. Since she was specially built to withstand being torpedoed, the idea was that after she did NOT sink, the enemy submarine would surface to investigate, whereupon the 'Q ship' would suddenly drop the camouflage screens concealing her guns, run up the White Ensign of the Royal Navy, and then shell them! Now home to several media companies and host to events, she is one of only three surviving British warships from the First World War.
The Thames has always been a busy place, but you really need to get above it to appreciate just HOW busy it is. If you ever get a chance to ride the London Eye - do so!