Overnight News Digest, aka OND, is a community feature here at Daily Kos. Each editor selects news stories on a wide range of topics.
The OND community was founded by Magnifico.


National News

Basements scarce in tornado-prone Oklahoma City area; here's why

By Tom Watkins, CNN

CNN) -- It's one of the most familiar pieces of advice from authorities to people in the path of a tornado: Get into your basement. Yet few homes in the Oklahoma City area have them -- even though that state is hit by far more powerful tornadoes than most others.

"Probably less than one tenth of one percent" of the houses in Moore are built with basements, said Mike Hancock, president of Basement Contractors in Edmond, Oklahoma. "There's just such a misconception that you cannot do it."

Why?

Hancock cited the area's high groundwater levels and heavy clay as among the reasons some people believe -- wrongly, he said -- that basements are tough to construct.

But improved waterproofing methods can obviate the first; and the second, too, is surmountable, according to Hancock, who said he has built more than 600 basements in the Oklahoma City area over the past 15 years.


Arias jurors say they're stuck; judge sends them back to deliberations
By Catherine E. Shoichet, Ben Brumfield and Eliott C. McLaughlin, CNN

(CNN) -- Jurors in the Jodi Arias trial say they're stuck.

A note from the jury Wednesday said members couldn't agree about whether Arias should get the death penalty for murdering her ex-boyfriend.

Judge Sherry Stephens told them to try again.

Before sending them back to the jury room, she encouraged them to listen to each other, pinpoint areas of agreement and disagreement and ask for further guidance if they need it.

It's an approach often described as a "dynamite charge," used by judges to blast open logjams in deliberations and help jurors reach a verdict.

Jurors had been deliberating for more than two hours Wednesday when they sent Stephens the note saying they were stuck.

The jury's decision must be unanimous for Arias to be sentenced to death. In the case of a deadlock, a new jury would be chosen for this phase of the trial.


It's settled! Creator tells us how to pronounce 'GIF'
By Doug Gross, CNN

(CNN) -- We can't settle iPhone vs. Android or "Star Wars" vs. "Star Trek" for you. But another long-running geek debate was put to rest Tuesday night.

Those short, animated loops that have captivated the Web for decades? They're pronounced like a brand of peanut butter.

Steve Wilhite created the Graphics Interchange Format, or GIF, while working for Compuserve in 1987. On Tuesday, he received a Webby Award for it and delivered his five-word acceptance speech (that's all the Webbys allow) by flashing a GIF on the big screens at the Cipriani Wall Street in New York.

And, in a flash, it all became clear:

"It's pronounced JIF, not GIF."

Of course, in the grand tradition of heated debate, a flat statement of fact by the creator wasn't enough to sway some partisans. On Twitter, "GIF" became a trending topic as some folks pushed back.


In Raw Milk Case, Activists See Food Freedom On Trial
by Maria Godoy

What is the case against Wisconsin farmer Vernon Hershberger really about? It depends on whom you ask.

To hear the prosecution, it's about licensing, not raw milk: , a dairy farmer hailing from the town of Loganville, is on trial this week for operating without three licenses. He's also accused of continuing to sell raw milk to members of his private club after he was ordered not to.

If convicted, the father of 10 faces more than a year in jail and more than $10,000 in fines.

Prosecutors say they aren't debating the safety of raw milk — and the judge in the case has pretty much banned all mention of the stuff in the courtroom. His defense team tells us that one trial spectator wearing a T-shirt expressing support for raw milk had to turn it inside out before he was allowed in the courtroom.

But activists say the case is about raw milk and much, much more.

Fundamentally, they say, it's about personal food freedom and the rights of farmers and consumers to enter into private contracts without government intervention.


Think Obama's In Trouble? That Depends On Your Party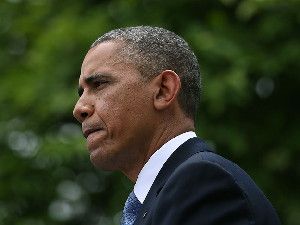 by Alan Greenblatt

Public opinion about the scandals plaguing the Obama administration is decidedly mixed.

Republicans feel that the trio of controversies — concerning Benghazi, the IRS and the Justice Department snooping on media phone records — are evidence enough that President Obama is either running a government motivated by partisan politics, or is badly out of touch.

Democrats, however, are proving to be much more forgiving.

"These things are being used for political purposes," says Lois Yatzeck, a retired minister in St. Louis. "Obama's political foes are taking advantage of it."

Yatzeck's read on the situation is widely shared. suggest that Republicans are paying much more attention to these matters and are much more likely to disapprove of Obama's handling of them. Democrats, meanwhile, have been more steadfast in support.

International News

Brutal, fatal cleaver assault in London called a terrorist attack
By Laura Smith-Spark and Greg Botelho, CNN

London (CNN) -- They first hit the man, thought to be a British soldier, with a car in broad daylight. Then the two attackers hacked him to death and dumped his body in the middle of a southeastern London road.

As the victim -- dressed in what appeared to be a T-shirt for Help for Heroes, a charity that helps military veterans -- lay prone, one of the two attackers found a camera.

"We swear by almighty Allah we will never stop fighting you until you leave us alone," said a meat-cleaver-wielding man with bloody hands, speaking in what seems to be a London accent.

"The only reasons we killed this man this is because Muslims are dying daily," he added, in video aired by CNN affiliate ITN. "This British soldier is an eye for an eye, a tooth for tooth."

One witness, Michael Atlee, described the gruesome, frenzied and ultimately fatal sequence of events Wednesday afternoon as "a bloody mess."


Octogenarians Face Off to Earn Title of Oldest Man to Reach Everest Summit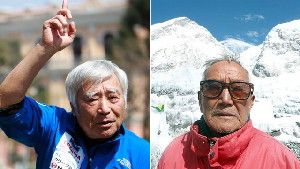 By ALEXIS SHAW

Two octogenarian climbers are facing off once again to earn the title of the oldest man to reach the summit of Mount Everest.

Yuichiro Miura, of Japan, is ascending the mountain in hopes of taking home the Guinness World Record that slipped away from him in May 2008, when he was just 75 years and 227 days.

Miura was beaten to the peak by Nepalese climber Min Bahadur Sherchan, who successfully made the climb one day before him, at the age of 76 and 340 days, according to the Guinness World Records website.

Five years later, both men meet again at Everest to test what is perceived to be possible when it comes to one of the greatest physical challenges a climber can endure.

Miura's daughter, Emili Miura, told ABC News in an email that her father is "scheduled to make [the] final attempt toward summit today."


Russian punk band member starts hunger strike to protest court ruling
By Catherine Koppel

(Reuters) - A member of the Pussy Riot band who was jailed over a protest against President Vladimir Putin in a Russian cathedral said on Wednesday she was starting a hunger strike after she was barred from a parole hearing.

Maria Alyokhina also told her lawyers to quit the proceedings.

She and bandmate Nadezhda Tolokonnikova are serving two-year prison terms for bursting into Moscow's main Russian Orthodox cathedral in February 2012 and singing a profanity-laced "punk prayer" urging the Virgin Mary: "Throw Putin out!"

Speaking by a video link from prison, Alyokhina told the court considering her request for release on parole that it had violated her rights by not allowing her to take part.

"In protest against the court's refusal to allow me to appear in person to take part in the hearing, I'm going on a hunger strike," Alyokhina was shown reading from her statement in a video from the prison in the Perm region.

"In the current circumstances I forbid all my lawyers and representatives to take part in this court hearing".


British Driver Says She's Sorry In 'Twit And Run' Case
by Bill Chappell

A British driver who struck a cyclist with her car — and who then bragged about the incident on Twitter — has issued an apology. The incident caused an uproar after the collision Sunday.

"Definitely knocked a cyclist off his bike earlier - I have right of way he doesn't even pay road tax! #bloodycyclist," tweeted Emma Way, in a message that has been widely circulated despite her apparent attempts to delete it, and seemingly her Twitter account, @EmmaWay20.

The story grew to prominence , which termed it a case of "twit and run." And as is the way with such things, the hashtag became a magnet for people who wanted to discuss the story, or talk about bikes sharing roads with cars — or simply to make jokes riffing on the term itself.

It wasn't long before the cyclist involved, Toby Hockley, 29, who works as a chef, saw the tweet. He then tracked Way down on Facebook.


Mexico cartel dominates, torches western state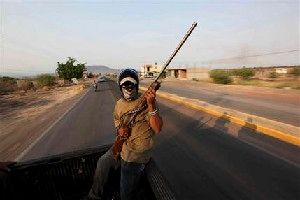 By MARK STEVENSON

LA RUANA, Mexico (AP) -- The farm state of Michoacan is burning. A drug cartel that takes its name from an ancient monastic order has set fire to lumber yards, packing plants and passenger buses in a medieval-like reign of terror.

The Knights Templar cartel is extorting protection payments from cattlemen, lime growers and businesses such as butchers, prompting some communities to fight back, taking up arms in vigilante patrols.

Lime picker Alejandro Ayala chose to seek help from the law instead. After the cartel forced him out of work by shutting down fruit warehouses, he and several dozen co-workers, escorted by Federal Police, met on April 10 with then-state Interior Secretary Jesus Reyna, now the acting governor of the state in western Mexico.

The 41-year-old father of two only wanted to get back to work, said his wife, Martha Elena Murguia Morales.