I was preparing a report on the new study from the Agency for Fundamental Rights (FRA) on LGBT rights in Europe. But something kept impinging.
ILGA-Europe released its own annual report last Thursday, which found "little legislative progress towards protecting LGBTI [Lesbian, Gay, Bisexual, Transgender/Transsexual and Intersex people] from discrimination in accessing goods and services". The ILGA survey especially noted the hostility gay people encounter in former Soviet states like Russia and Georgia when they try to demonstrate publicly.
And, by golly, just like that we had an illustrative example.
The next day approximately 10,000 anti-gay protesters in Tbilisi, Georgia stormed police barricades to attack several dozen gay activists who tried to mark the occasion of IDAHOT. Police eventually bussed the 50 or so gay activists out of the city center to avoid further violence. The precipitating cause for this event were comments by Patriarch Ilia II of the Georgian Orthodox Church, who called on the government to ban the anti-homophobia rally, saying it was a "violation of the majority's rights" and an "insult" to the nation. Ilia II described homosexuality as a disease comparable to drug addiction.
The ILGA-Europe report is Annual Review of the Human Rights Situation of Lesbian, Gay, Bisexual, Trans and Intersex People in Europe 2013 . ILGA-Europe spokespeople told the BBC " it regretted that a comprehensive EU Anti-Discrimination Directive drafted by the European Commission in 2008 had yet to be approved by EU leaders." I'll report more on the ILGA-Europe report over the weekend, unless someone else wants a shot at it.
Included in the ILGA report was the following Rainbow Map of Europe 2013, which measures the level of respect of the human rights and dignity of LGBTI people.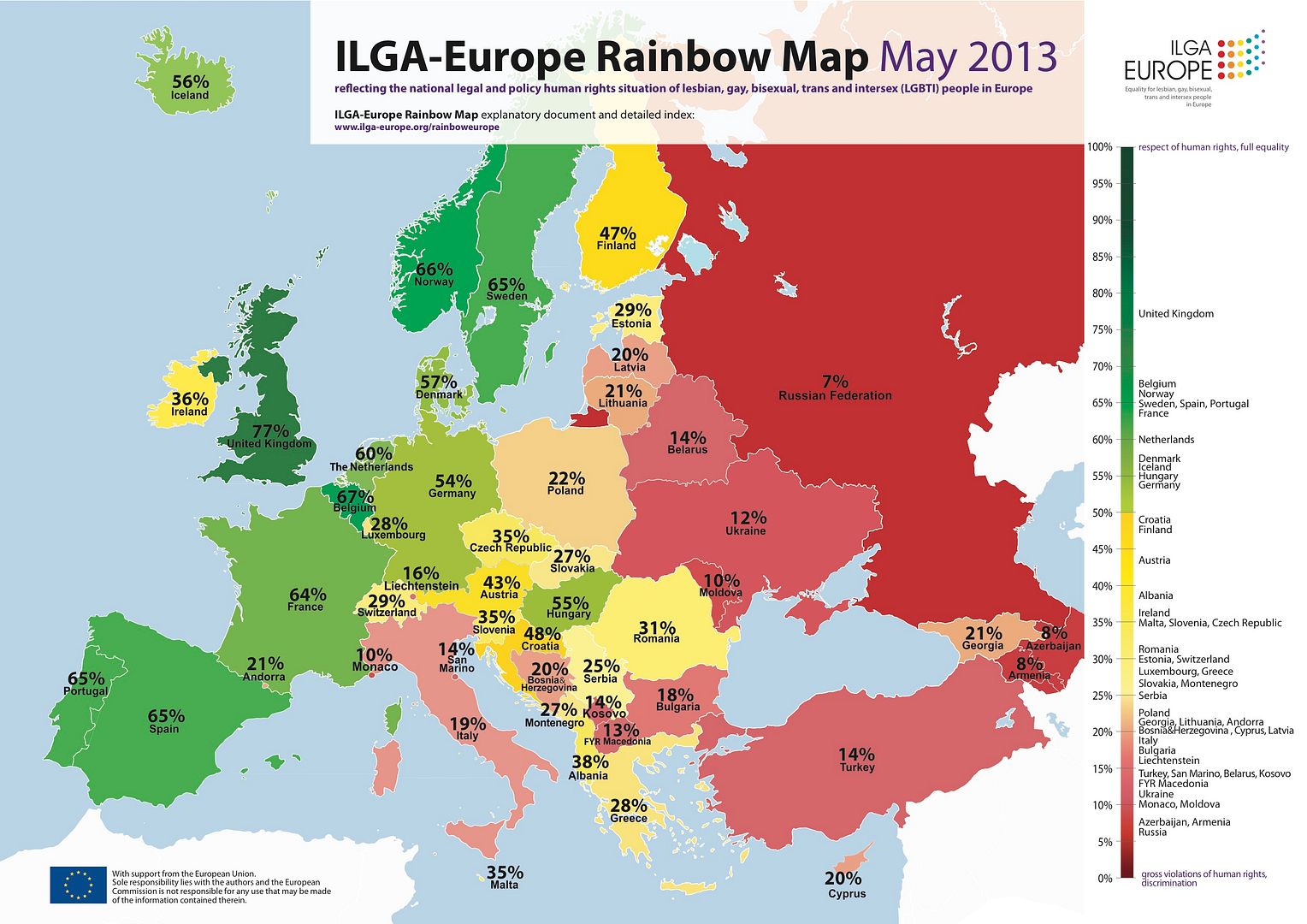 Probably the 21% ranking of Georgia will decrease for the 2014 map.
All of the people interviewed by the BBC at the riot said the patriarch's words had been the inspiration for their attendance.

We won't allow these sick people to hold gay parades in our country, It's against our traditions and morals.

--one woman holding a bunch of stinging nettles
Georgia's human rights ombudsman, Uchi Nanuashvili, called the events deplorable.
Georgia is hoping to join the EU. If Georgia's authorities are unable or unwilling to protect minority people and guarantee their safety, I would hope that their application would be severely damaged.
On the evening of the violence, Patriarch Ilia II appeared on television.

We distance from violence.

--Ilia II
I don't think he should be the one to decide that.
We should know that this is a sin before the god. We can express our sorrow without interfering in anyone's private life.

I hope that everything will be calmed down. I call on our people on all sides to go from streets and return back homes and to pray for each other.

--Ilia II
Other sources were not as conciliatory.
What happened today was the order coming from the nation.

You know very well that the United National Movement required two and a half months to gather five thousand people [for its April 19 rally] and then boasting: 'how many people we gathered'. Today people came into [streets] on their own initiative... Several millions would have come [into the streets] if needed.

--Bishop Jakob, senior cleric
Oh, we have an update.
Georgian police have arrested four men
for their part in the demonstration. They have been arrested on charges of hooliganisn and disobeying police orders and face up to 90 days in prison.