I Got The News Today (IGTNT) is one of the oldest continuous series on Daily Kos. It is a way for our community to pay respect to those who have died as a result of war.
The beautiful logo was created by Timroff
People from Guam and Utah are mourning the deaths of their loved ones in Afghanistan. In Afghanistan, some are mourning deaths of their own.
On May 16th, a small car packed with explosives rammed a military convoy in the Afghan capital of Kabul. The explosion rattled windows across Kabul and left bodies scattered along the street. An armored Chevrolet Suburban, that weighed nearly five tons, was thrown more than 30 feet. The blast claimed fifteen lives, six of them American, including
Corporal Dwayne W. Flores
and
Sergeant Eugene M Aguon
. Of those remaining, four were civilian contractors and nine were Afghan civilians - including two children. The suicide attack also wounded 35 others.
A previous
IGTNT diary
covered the deaths of Sgt. 1st Class Jeffrey C. Baker, Spc. Mitchell K. Daehling and Spc. William J. Gilbert on May 14th in Sanjaray, Afghanistan. It was later announced by the DOD that
Private First Class Cody J. Towse
had also been killed with his buddies in that incident.
Sergeant Eugene M Aguon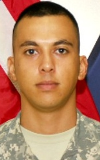 Eugene Michael Aguon was referred to as Mikey, Mike, or Gene by family and friends. In 2001, he played in the Guam Little League in his hometown of Mangilao in Guam. He joined the military in 2006, and graduated from George Washington High School in 2007.

He was sent as a military advisor to Afghanistan, assigned to the 1st Battalion, 294th Infantry Regiment, 29th Infantry Brigade Combat Team, Fort Juan Muna in Guam.

This past April, the Aguon family joined dozens of other family and friends of soldiers from the Commonwealth of the Northern Marianas Islands. They gathered for an evening of prayer and support for their loved ones about to go to Afghanistan. Also attending were the governor and other officials. The soldiers were part of "Task Force Guam," the largest deployment of troops for the Guam Army National Guard since its inception in 1981.

Sergeant Aguon was riding in a convoy in Kabul, Afghanistan, when a suicide bomber rammed the trucks and killed him. He was 23 years old. A story at the Pacific News Center site states that Aguon is remembered by his uncle:
Sergeant Eugene Michael Aguon, who was also killed with Flores by a suicide car bomber in Kabul last Thursday, is also remembered by his uncle, Senator Frank Aguon Jr. He says Eugene's nickname was "Mikey" and he grew up with his son.

"You know what's very interesting is, not only is "Mikey" Aguon a nephew of mine, really he played baseball with my son when they were growing up and they also attended Agueda Johnston Middle School together, so we've always been close, we've always had some close relationships with the family members," said Aguon...

Senator Aguon visited the family and attended a rosary for his nephew yesterday. He admires how Eugene's mother continues to be proud and supportive of her children during this sensitive time.
Two fellow soldiers also suffered minor injuries in the attack. They were SFC Peter J. Crisostomo and SPC John F. Chargualaf. Both have returned to their unit, Echo Company, 1-294th IN RGT, which is expected to return home next year.
Corporal Dwayne W. Flores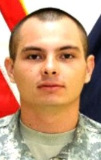 Dwayne was an altar server at Hagatna Cathedral Basilica since his childhood. He enlisted in the Army right before he graduated from Guam's George Washington High School in 2009.
Flores was assigned to the 1st Battalion, 294th Infantry Regiment, 29th Infantry Brigade Combat Team, which is based at Fort Juan Muna, Guam.
Sergeant Aguon and Flores were part of the nearly 600 Guam guardsmen in the 1st Battalion, 294th Infantry Regiment. They left island on March 2nd for a month of pre-deployment training at Camp Shelby in Mississippi. Flores was promoted on March 15th and arrived in Afghanistan in the first part of April.
Corporal Flores was serving as a military advisor helping to train Afghans in Kabul, Afghanistan. On May 16th, the convoy in which he was riding was blasted by a car filled with explosives. He died on that day at the age of 22. The
Guampdn.com site
talks about services being held for Flores and his fellow guardsman:
Last night, Mass was held at the Dulce Nombre De Maria Cathedral-Basilica for one of the two young soldiers, Cpl. Dwayne Flores, of Sinajana.

A flag-draped casket carrying Flores' remains arrived over the weekend at Dover Air Base, where a dignified transfer of remains ceremony was held.

A couple of villages away, in Mangilao, the family of Sgt. Eugene Aguon gathered for another night of rosary, and requested that they be allowed to grieve privately. He was 23.
A mass is being celebrated nightly this week for Dwayne Flores at the Hagatna Cathedral Chapel in his hometown.
Private First Class Cody J. Towse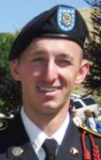 After Cody Towse graduated from Salem Hills High in Utah, he considered serving a mission for The Church of Jesus Christ of Latter-day Saints. Instead, he enlisted in the Army in 2011. He hoped that as a certified EMT and volunteer firefighter, he could save lives. He did that, earning a medic combat ribbon for saving another soldier.
The young man from Elk Ridge Utah was assigned to 3rd Battalion, 41st Infantry Regiment, 1st Brigade Combat Team, 1st Armored Division, which is based at Fort Bliss in Texas. While serving in Kandahar, Afghanistan, Army medic PFC Cody Towse was known as the "Candy Doctor" by the children there, because he loved to pass out candy to them.
According to an article in the
Salt Lake Tribune
:
Like his father, Cody Towse didn't always say what he felt. In posts on his blog "A Taste of Whiskey," which chronicle his experiences in basic training, the young soldier confessed, "I never really tell people that I appreciate them."

"There are a lot of really great people in my life that made it a whole lot better," he wrote on Dec. 9, just before heading to Afghanistan. "I just wish I'd told them more often, not that I plan on dying ... that's just something I've been thinking about lately."

The post also includes a quotation from the A.A. Milne Winnie the Pooh books, which Cody Towse said can "describe every emotional latitude that ever existed." The post includes a colored drawing of Pooh sitting alongside his best friend, Christopher Robin. "If there ever comes a time we can't be together," it reads, "keep me in your heart, I'll stay there forever."
He had turned 21 on May 8th, requesting as a gift, more candy to be sent from home to share with his young friends. Just 6 days later, Towse was treating a soldier injured in an attack when he was killed in an explosion.
Tragically, Towse's remains were flown to Dover Air Force Base in Delaware before officials were able to identify him, so the confirmation of his death was delayed. For several days, his family had been told only that he was missing in action.
**********************
Helping our troops:
If you wish to assist our military and their families, consider contributing to Fisher House. Donating to Netroots for the Troops provides care packages that make a real difference in a military person's life. To assist the animal companions of our deployed military, information is available here. Also, you could visit:

When our veterans come back home, they need jobs. Look at the programs of Hire Heroes USA and Welcome Back Veterans to see if you can help out.
About the IGTNT series:
"I Got the News Today" is a diary series intended to honor, respect, and remember the fallen, and to remind us that each casualty has family and friends who received the terrible news that their loved one has died. US service members whose names have been released by the US Department of Defense will usually be diarized two days after the official announcement on the DoD website. This allows the IGTNT team to cover each person more fully, but still in a timely manner. Click the IGTNT tags below to see previous diaries in the series, which was begun by i dunno, and is maintained by Sandy on Signal, Monkeybiz, Noweasels, Blue Jersey Mom, Chacounne, Twilight Falling, Joyful, Roses, SisTwo, a girl in MI, Spam Nunn, JeNoCo, True Blue Majority, CalNM, Wide Awake in Kentucky, Maggiejean, JaxDem, TheFatLadySings, Joy of Fishes & Ekaterin. These diaries are heartbreaking to write, but show our community's respect for those who have died.
Please bear in mind that these diaries are read by friends and family of the service members mentioned here. May all of our remembrances be full of compassion rather than politics.