It started with 4 raised beds.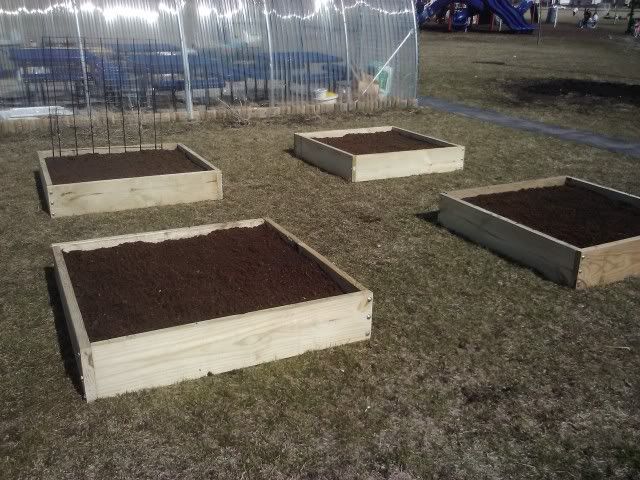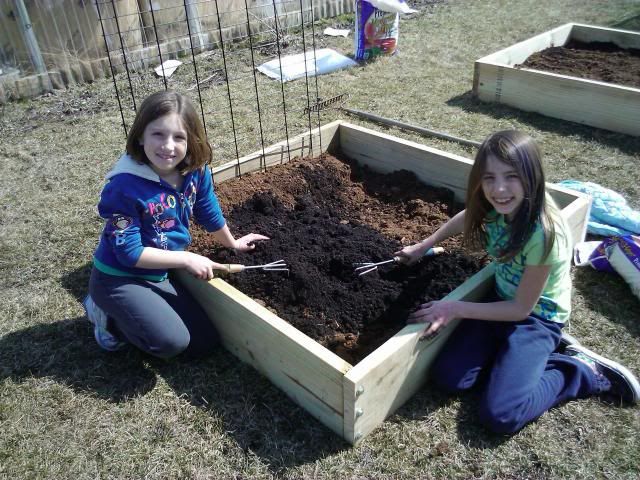 With hand-painted signs courtesy of my 2 rugrats.

We divided the 4 x 4 beds into 16 squares, which not only made more efficient use of the space, it was a great math lesson for the kids as they has to read maps to figure out where to plant our seeds. We labeled the x and y axes with letters and numbers, so for example the carrots needed to be planted in bed 2, square f7.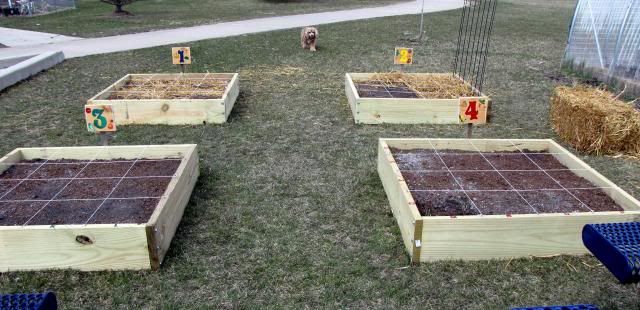 Establishing a school garden in the Midwest is tricky, because our growing season for most crops starts just a few weeks before school lets out and then the kids are gone just as things start to take off. Our early spring meetings with the 4th graders consisted of deciding what to grow, starting seeds in our greenhouse, planting things like spinach, peas, and lettuce that like the cool weather, and talking about the other part of Green Club, reducing, reusing and recycling.
Microgreens, using a recycled container:
Other crops we decided to grow are swiss chard, carrots, radishes, tomatoes, bell peppers, green beans, squash, pumpkins, brussels sprouts and beets.
Chard: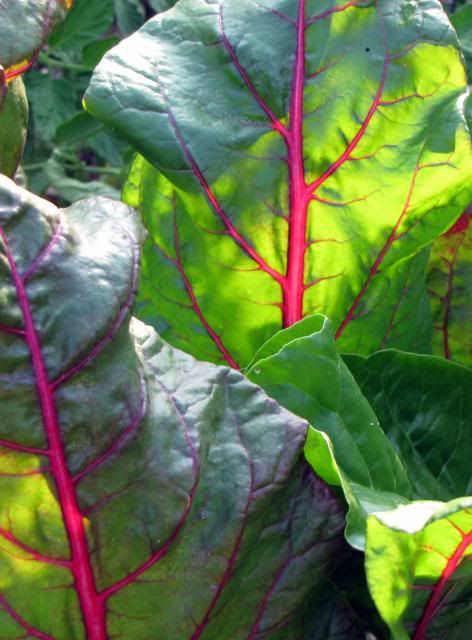 Brussels Sprouts: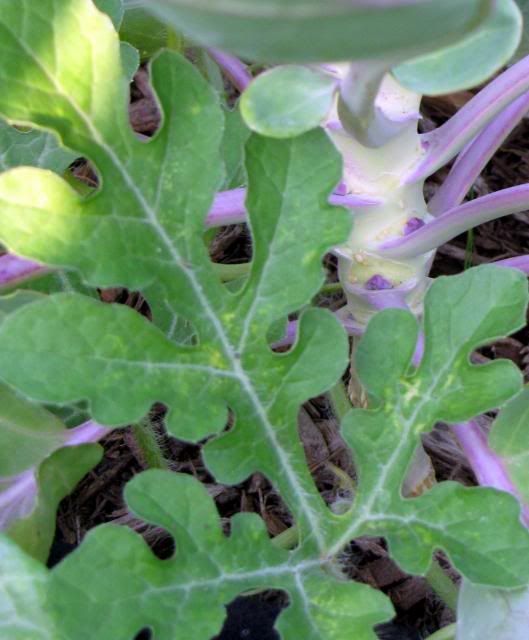 We successfully got everything in the ground, and a few of us parents made trips to the school over the summer to water and weed.
The Go Green Club's first meeting the following school year had the now 5th graders starting a new year excited to see what their garden yielded over the summer. They split into 3 groups . One learned about composting and began to create a poster that they can use to let students in the lunchroom know what items they can add to our compost bin.
Another group began to work on a chart assessing the success of the crops we grew in our raised beds.
The third harvested a few items and planted some garlic. At the end of the meeting everyone had a chance to taste some of the vegetables that they started from seed last spring, which was very cool. Carrots, beets, broccoli, cucumber and green pepper were the veggies that they tried, and there was not a piece left! Behind the plate is popcorn that we harvested and tried to pop in the microwave, but unfortunately it was not dried out enough so the pieces that did pop were very tiny. Lesson learned. :)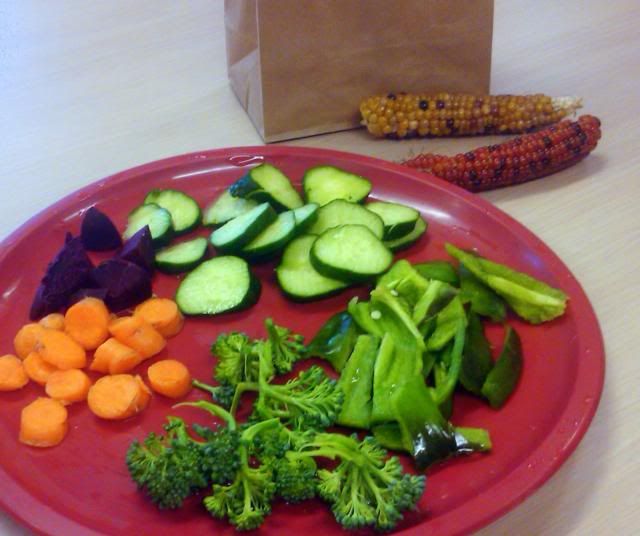 At the next meeting, some of kids wrote recycle tips to share with the school that were placed by our recycling bulletin board. We talked more about the 3 R's, reduce, reuse, and recycle and how they can help us be green. To help the kids focus, we made teams, one for each R, so they each chose a group that interested them and signed up. The groups were able to focus on different projects throughout the year, such as new recycling projects and reducing waste. Then the kids went outside and harvested more of the veggies and cleaned up the garden beds, while the others finished up their compost poster for the lunchroom and presented it to the group.
My daughter helps clean up one the the areas that got taken over by weeds: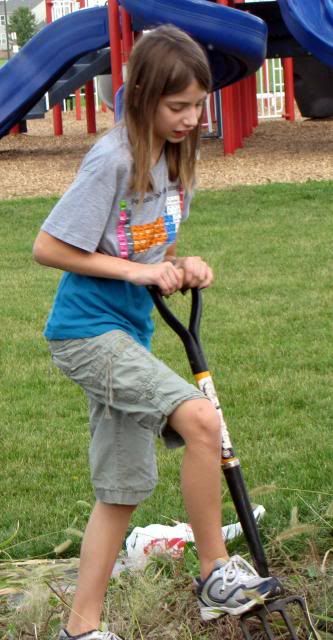 A teacher and I help students show off and explain the composting poster they made: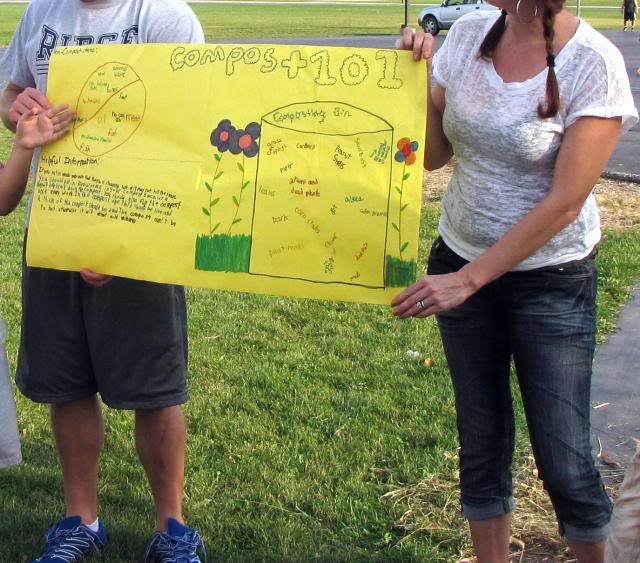 At the end, we snacked on bread made from the squash harvested at the last meeting.

Zucchini Bread

Ingredients

3 cups whole grain flour
1 teaspoon salt
1 teaspoon baking soda
1 teaspoon baking powder
3 teaspoons ground cinnamon
3 eggs
1/4 cup vegetable oil
3/4 cup applesauce
2 cups brown sugar
3 teaspoons vanilla extract
3 cups grated zucchini, drained if possible

Topping:
2-3 Tablespoons butter
1/4 brown sugar
1/4 flour

Directions

Grease and flour two 8 x 4 inch pans. Preheat oven to 325 degrees F (165 degrees C).
Sift flour, salt, baking powder, soda, and cinnamon together in a bowl.
Beat eggs, oil, applesauce, vanilla, and sugar together in a large bowl. Add sifted ingredients to the creamed mixture, and beat well. Stir in zucchini until well combined. Pour batter into prepared pans.
Pinch butter into flour and sugar until crumbly and sprinkle over loaves.

Bake for 40 to 60 minutes, or until tester inserted in the center comes out clean. Cool in pan on rack for 20 minutes. Remove bread from pan, and completely cool.
Our third meeting was similar, splitting into groups and working on making bags from old t-shirts and harvesting more veggies. The coolest part about this meeting was that the kids got to harvest and prepare a vegetable that many of them had never seen before and most of them have never tried - beets!
Pulling the beets out of the ground:


We needed carrots too:


Prep:

And more prep:

After a quick shred in the food processor, we mixed the beets and carrots with chives, olive oil, and mandarin orange juice:


Not only did they all try it, most of them liked it!


Raw Beet and Carrot Salad

3 or 4 beets

2 or 3 carrots

3 tablespoons mandarin orange juice

1 tablespoon olive oil

chives

Salt and Pepper

1. Peel the beets with a vegetable peeler, and grate in a food processor.

2. Combine the orange juice, lemon juice and olive oil. Toss with the beets and chives. Season with salt and pepper
We had more meetings, and as fall turned to winter we had less hands on experience with the food, but still discussed and tried simple to prepare recipes using vegetables that are easy to grow.

Crunchy, salty snacks are always high on everyone's list, but usually are not very healthy. Crispy kale is a great way to get that crunch, but also protein, Vitamin E, Thiamin, Riboflavin, Folate, Iron and Magnesium, dietary fiber, vitamin A, vitamin C,vitamin K, vitamin B6, calcium, potassium, copper and manganese.

Crispy Kale

The only ingredients you need are olive oil or cooking spray, a bunch of kale, and salt. Wash and dry the kale; it needs to be very dry before you bake it or it will steam and not get crispy. Cut off the stems and rip or cut into potato chip size pieces. Place on 2 cookie sheets and then either spray with cooking spray or toss with about one tablespoon of olive oil, and sprinkle with salt. Bake at 325 for 20 - 30 minutes until it is crisp. Enjoy!!
Connecting with kids is IMHO one ofthe most important things we can do to reduce meat consumption and slow down the damage being done to our planet. They are the ones that will suffer from climate change, and it is so much easier to start healthy habits than to change bad ones.
One of the great tools that we have courtesy of the White House and First Lady Michelle Obama is the Let's Move website. There is a lot of information on why it was created, such the fact that
"we are now eating 31 percent more calories than we were forty years ago–including 56 percent more fats and oils and 14 percent more sugars and sweeteners. The average American now eats fifteen more pounds of sugar a year than in 1970."
To combat this, there are plenty of tricks and tips for parents and students to reverse this trend.
I encourage anyone and everyone to get involved with kids and gardening, whether it be by volunteering at a school or community garden, or in your own backyard with your kids, grand-kids, cousins, or neighbors. The rewards are not only personal, it will have a big impact on the future of our planet.