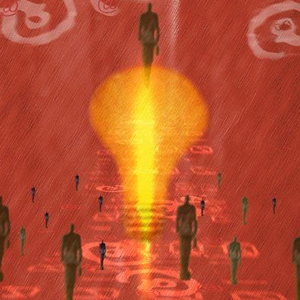 Commentary: African American Scientists and Inventors
by Black Kos Editor, Sephius1


Meredith "Flash" Gourdine Meredith "Flash" Gourdine was an outstanding track and field athlete at Cornell University, becoming a silver medalist in the 1952 Olympics in Helsinki. He was also an excellent physicist who pioneered the research of electrogasdynamics. He was responsible for the engineering technique termed Incineraid for aiding in the removal of smoke from buildings. His work on gas dispersion developed techniques for dispersing fog from airport runways. Dr. Gourdine served on the Technical Staff of the Ramo-Woolridge Corporation from 1957-58. He then became a Senior Research Scientist at the Caltech Jet Propulsion Laboratory from 1958-60. He became a Lab Director of the Plasmodyne Corporation from 1960-62 and Chief Scientist of the Curtiss-Wright Corporation from 1962 to 1964.
[From NY Times (Nov 24, 1998)]
Meredith (Flash) Gourdine, the 1952 Olympic silver medalist in the long jump and later an engineer and physicist with 70 patents that deal with thermal management and the conversion of gas to electricity, died Friday at St. Joseph's Hospital in Houston. He was 69.
The cause of death was complications from multiple strokes, said his son, Meredith Jr. He had also been suffering from diabetes and had gradually lost his sight.
Gourdine's success in track and field was more than matched by his scientific achievements later. The companies he founded worked on purifying the air and converting low-grade coal into inexpensive, transportable and high-voltage electrical energy. They produced a commercial air-pollution deterrent, a high-powered industrial paint spray and a device to eliminate fog above airports.
His sports career flourished at Cornell University, where at 6 feet and 175 pounds he competed in the sprints and low hurdles and the long jump. He won four titles in the championships of the Intercollegiate Association of Amateur Athletes of America and five titles in the Heptagonal Games. In 1952, he helped Cornell finish second to Southern California in the National Collegiate Athletic Association championships, in which Southern California had 36 athletes and Cornell 5.
His greatest achievement and greatest frustration in sports came in the 1952 Olympics in Helsinki, Finland. Jerome Biffle, another American, won the gold medal in the long jump at 24 feet 10 inches. Gourdine finished second, an inch and a half behind.
"I would have rather lost by a foot," he said years later. "I still have nightmares about it."
Meredith Charles Gourdine was born Sept. 26, 1929, in Newark. He was raised in Brooklyn, where his father was a painter and a janitor. After classes at Brooklyn Tech High School, he worked eight hours a day on painting jobs with his father.
The son recalled: "My father said, 'If you don't want to be a laborer all your life, stay in school.' It took."......Read More
~~~~~~~~~~~~~~~~~~~~~~~~~~~~~~~~~~~~~~~~~~~~~~~~~~~
News by dopper0189, Black Kos Managing Editor
~~~~~~~~~~~~~~~~~~~~~~~~~~~~~~~~~~~~~~~~~~~~~~~~~~~


~~~~~~~~~~~~~~~~~~~~~~~~~~~~~~~~~~~~~~~~~~~~~~~~~~~
The heckler's response is causing a lot of debate on the internet. Policy Mic: White Lady Heckles Michelle Obama — What Happens Next is Something Black Women Know All Too Well.
~~~~~~~~~~~~~~~~~~~~~~~~~~~~~~~~~~~~~~~~~~~~~~~~~~~
First Lady Michelle Obama is known for her incredible intelligence, grace under pressure, and her charming amiability. As a result, she is one of the most popular political figures in the country. And quite honestly, she has to be; as the first black First Lady of the United States, Michelle Obama must navigate a dual terrain of sexist and racist stereotypes and bigotry with a friendly, open, and non-confrontational demeanor. But after she confronted a heckler during her speech at a Democratic fundraiser on Tuesday night, the response revealed what feminist and anti-racist activists have known all along: Michelle Obama cannot win, and it is because she is a black woman.
The heckler was activist Ellen Sturtz of the gay-rights group GetEqual, who interrupted the First Lady's speech demanding that President Barack Obama sign an executive order giving full equality under the law to all, regardless of sexual orientation or gender identity. Cutting off her speech, Michelle Obama descended from the podium, walked over to Sturtz, and promptly said "listen to me or you can take the mic, but I'm leaving. You all decide. You have one choice." Listen to the exchange here:
The crowd responded with support for the First Lady while Sturtz was escorted out. And that's where, if the First Lady was a white woman, the incident would have likely ended. But of course, Michelle Obama is not a white woman.
When interviewed after being escorted out of the fundraiser, Sturtz said of the First Lady, "She came right down in my face. I was taken aback." Interesting. Sturtz assumed that because the First Lady is supposed to be the embodiment of grace and cool, that she should stand at her lectern and silently endure what she felt was blatant disrespect. Instead, Michelle Obama decided that she had had enough and instead of shouting from across the room, spoke to Sturtz face-to-face and demanded respect. I can't help but think that if Hillary Clinton or Laura Bush had done the same, that we would all be nodding our heads in support of the First Lady defining how she wishes to be treated.
Notice the language Sturtz uses to describe the encounter. Rutgers Anthropology Ph.D student Donna Auston emphasizes that Sturtz's word choice of "taken aback" is one of distinct privilege; Sturtz sees herself as above reproach in this situation. As Auston inquires, why was Sturtz surprised at Obama's response? "Is it because you did not expect her to exercise agency?


~~~~~~~~~~~~~~~~~~~~~~~~~~~~~~~~~~~~~~~~~~~~~~~~~~~


~~~~~~~~~~~~~~~~~~~~~~~~~~~~~~~~~~~~~~~~~~~~~~~~~~~
This is another reason why decriminalization of marijuana needs to happen. Slate: Whites and Blacks Use Marijuana at Similar Rates. Blacks Are Almost Four Times Likelier to Be Arrested for It.
~~~~~~~~~~~~~~~~~~~~~~~~~~~~~~~~~~~~~~~~~~~~~~~~~~
A new report from the ACLU finds that blacks are arrested for marijuana possession 3.73 times more often than whites nationwide, even though the rate of marijuana use is relatively similar across races. The report, "The War on Marijuana in Black and White," was released this morning; it claims to be the first comprehensive attempt to examine marijuana possession arrest rates, by race and by state, from 2001 to 2010. Its findings are further evidence that the "war on marijuana" is expensive, inefficient, and racially biased—and that it probably won't be ending anytime soon.
The recent decriminalization of marijuana possession for personal use in Colorado and Washington state might seem to indicate that national attitudes toward the drug are liberalizing. But the ACLU report shows that Colorado and Washington are the exception, not the rule:

The report finds that between 2001 and 2010, there were over 8 million marijuana arrests in the United States, 88% of which were for possession. Marijuana arrests have increased between 2001 and 2010 and now account for over half (52%) of all drug arrests in the United States, and marijuana possession arrests account for nearly half (46%) of all drug arrests. In 2010, there was one marijuana arrest every 37 seconds, and states spent combined over $3.6 billion enforcing marijuana possession laws.
As the following chart shows, marijuana usage rates are roughly equal for blacks and whites:
But minorities, overwhelmingly, are the ones being arrested: "In 2010, the Black arrest rate for marijuana possession was 716 per 100,000, while the white arrest rate was 192 per 100,000. Stated another way, a Black person was 3.73 times more likely to be arrested for marijuana possession than a white person—a disparity that increased 32.7% between 2001 and 2010."
~~~~~~~~~~~~~~~~~~~~~~~~~~~~~~~~~~~~~~~~~~~~~~~~~~~


~~~~~~~~~~~~~~~~~~~~~~~~~~~~~~~~~~~~~~~~~~~~~~~~~~~
Haiti is still rebuilding... Miami Herald: Colombia, U.S. help train Haitian women police.
~~~~~~~~~~~~~~~~~~~~~~~~~~~~~~~~~~~~~~~~~~~~~~~~~~~
Juliana Jolissaint is no more than 5-feet-5 and 123 pounds, but she could easily instill fear in the heart of a criminal. Put a nightstick in her hand and she drops a comrade to the ground in seconds.
"I was very slow," said Jolissaint, a 21-year-old cadet from Cap-Haïtien, Haiti. "Everything that I have to do [now], I do fast. This is an experience, a great opportunity."
Since arriving at the Sumapaz academy near Bogotá four months ago, Jolissaint has learned to run everywhere she goes, march in formation, bark out orders and use her nightstick for self-defense. She and her nine companions were carefully selected from a field of 350 Haitian female police recruits for a scholarship to train with women from the Colombian National Police.
Jolissaint intends to return to Haiti in December to help her country's 19-year-old police force improve through the training she is receiving about everything from taking down criminals to gender equality.
The 10 trainees were chosen by Colombia on the basis of academics, physical acumen, good health and Spanish fluency. Most were university students, and several had studied Spanish in the neighboring Dominican Republic.
"It is essential to share our experience and be present to help Haiti build a good police force," said Colombian Police Commissioner Gen. José Roberto León, highlighting the areas of organized crime, narco-trafficking and terrorism, where Colombia's expertise is shared.


Sophie Poulard, a 25-year-old Haitian police trainee from Petionville, grips her nightstick as part of self-defense exercises at the Sumapaz school in Colombia. Juan Manuel Barrero Bueno / For the Herald
~~~~~~~~~~~~~~~~~~~~~~~~~~~~~~~~~~~~~~~~~~~~~~~~~~~

~~~~~~~~~~~~~~~~~~~~~~~~~~~~~~~~~~~~~~~~~~~~~~~~~~~
This has spark a big viral debate. 'You Can Touch My Hair' exhibit and Instagram pic gets the Internet talking about privilege and permission. The Root: Touch Her Hair, But Stay Away From Mine.
~~~~~~~~~~~~~~~~~~~~~~~~~~~~~~~~~~~~~~~~~~~~~~~~~~~
If you're in New York City anytime Thursday or Friday, drop by Union Square to experience "You Can Touch My Hair," a public art exhibit sponsored by the website Un'ruly, "a place for black hair." As part of the exhibit, "strangers from all walks of life will have the welcomed opportunity to touch various textures of black hair." If you're cringing right now, please know that you aren't the only one.
So basically, three black women with three different hair types are standing in Union Square this weekend holding signs that say "You can touch my hair." Pictures of the event are all over Instagram and have sparked quite a debate on Twitter (tagged with #YouCanTouchMyHair). My initial thought is that this is some type of pervy, new age, postracial petting zoo. My second thought was that if this exercise doesn't come with a disclaimer that says, "Though you are allowed to touch the hair of these three women, please do not assume that you have the right to touch all women's hair," then they're setting someone up to get slapped later on in their hair-touching travels.
On a more serious note, this exhibit bothers me because it does absolutely nothing to battle the dehumanizing fascination with black hair and black bodies that has persisted in this country since its inception. We were once science experiments, put on display for nonblacks to point and gawk at how different we are. Now it's not enough that the fascination with our hair and requests to touch it makes us feel like exhibits -- we are exhibits. Literally.


Thinkstock
~~~~~~~~~~~~~~~~~~~~~~~~~~~~~~~~~~~~~~~~~~~~~~~~~~~~~~~~~~



Welcome to the Black Kos Community Front Porch