Now that Netroots Nation is over, it's back to business as usual.
But for too many of us, there's not much business at all right now. From all over the country, I keep hearing variations on a theme that we ourselves are living: The economy's still tanked; there's no tourism or foot traffic; customers aren't buying.
It makes circumstances especially difficult for those who undertook the effort and expense of traveling to Netroots Nation to staff a booth and support the movement. Netroots Nation may be fertile ground in which to sow support for progressive candidates and causes, but it's also a huge expense for those who make the commitment to participate.
It's all the more difficult for those who shouldered an added burden: seizing an opportunity to bring some love and light and hope to people very much in need of it. In this case, it delivered the fabric in which was sewn help, and hope, and healing, and even happiness for more than 40 vets wounded, in one way or another, in service to their country.
But it takes a toll. And those who did much of the sewing (to say nothing of the conceiving, organizing, and executing of the project) now need a little help of their own.
I'm speaking, of course, of the Sisters R: Sara and Ann.

Photo stolen (STOLEN!) shamelessly from smileycreek. Sorry, hon. You can spank me later.
As many of you already know, Sara and Ann have suffered some of the same setbacks as many of the rest of us, thanks to this economy. Both also have significant health issues, and while some things are already scheduled to be addressed, there are others that will need attention not too far down the road. To top it all off, they've just learned that Goldie, their beloved pootie and Quilt Inspector Extraordinaire, is incurring some hefty vet bills. Amidst all of these external pressures, both women still manage to give back to this community on a daily basis, whether it's through the Community Quilt Project or in other ways too numerous to count. It's why some of us suggested a small monthly commitment to keep them able to do their important work.
I also happen to know that the work they did at Netroots Nation wound up sucking up more financial resources than they could foresee.
So here's what I'd like to do: I'd like this community to show its appreciation for their continual support of and very personal investment in the progressive movement by sharing their talents with the world. They still have existing inventory of quilts, lavender quilts, lap throws, pootie pads, and pootie pads for pooches. They can also take commissions for new items. Maybe you can't afford to buy anything - or at least you can't buy anything now. But you can share this diary, and the items in it, with your network of family and friends. You can also share it via any social media outlets you use, to help them reach a wider audience for their beautiful work. And, if you're in the market for some truly inspired and inspirited fabric art, whether for yourself or as a gift for someone else, you can consider making a purchase from them.
Doing so will sew - and sow - support for this community, its candidates, and its causes in ways large and small.
Over the jump, examples of hope and healing and community values, all rendered in fabric and sewn with dedication and love:
NINE-PATCH LAP THROWS
These throws are a traditional nine-patch version of the smaller lap throws that were delivered to the Palo Alto VA Hospital during Netroots Nation. They're perfect for your lap, around your shoulders, snuggling on the couch, or accenting your bed.
One in espresso:
One in navy:
Each nine-patch lap throw is $250, plus $12.35 shipping and handling. You can place your order here.
LAVENDER LAP THROWS
Over the course of the last year, Sara and Ann have begun making lavender quilts and throws. These grew out of the success of the Pootie Pads (shown below), which were such a huge hit with the feline overlords that their human servants began agitating for a version all their own.
Lavender is known for having a relaxing effect; it's one reason why some indigenous cultures use it regularly. Several Kossacks have them already, and can no doubt testify to the efficacy in the comments. At the moment, two are available, but custom versions can be ordered.
Purple and green:
Red and beige:
Each lavender throw is $175, plus $12.35 shipping and handling. You can place your order here.
POOTIE PADS
These are Sara and Ann's famous invention: quilted cat-sized fabric pads filled with top-grade organic catnip. I'm not sure how many Kossack pooties are now in possession of such decadence - dozens, at least, perhaps more. I do know that they are popular in the extreme, both with the pootie overlords and their piddling human servants.
I will try to snag some photos of pooties on their pads to add to this; please feel free to add yours in the comments. In the meantime, specs are as follows:
Approximately 17″ x 23″, these little quilts quickly become favorite toys and/or sleeping mats. In fact, if yours is a multi-cat household, you may want more than one because these are so good the kitties do not like to share …..
You can see fabric samples and place your order
here
.
POOTIE PADS FOR POOCHES
After . . . what? more than a year? . . . of Kossack woozles barking, "Discrimination!" they now have equal access to heavenly bedding. They're dog-sized quilted pads - now available in three sizes! - filled with a blend of organic lavender and thyme.
I can also vouch personally for their effectiveness: Two people were kind enough to buy them for our dogs, and the four-leggeds love them. We actually like them a lot, too; we put them on top of their dog beds at night, and they make the dogs beds - and therefore the whole place - smell lovely (and distinctly un-doggish). Here's Griffin, our alpha, first sleeping on his large-sized one and then after he reverted to puppyhood and turned it into a pillow fort (bless you, MB):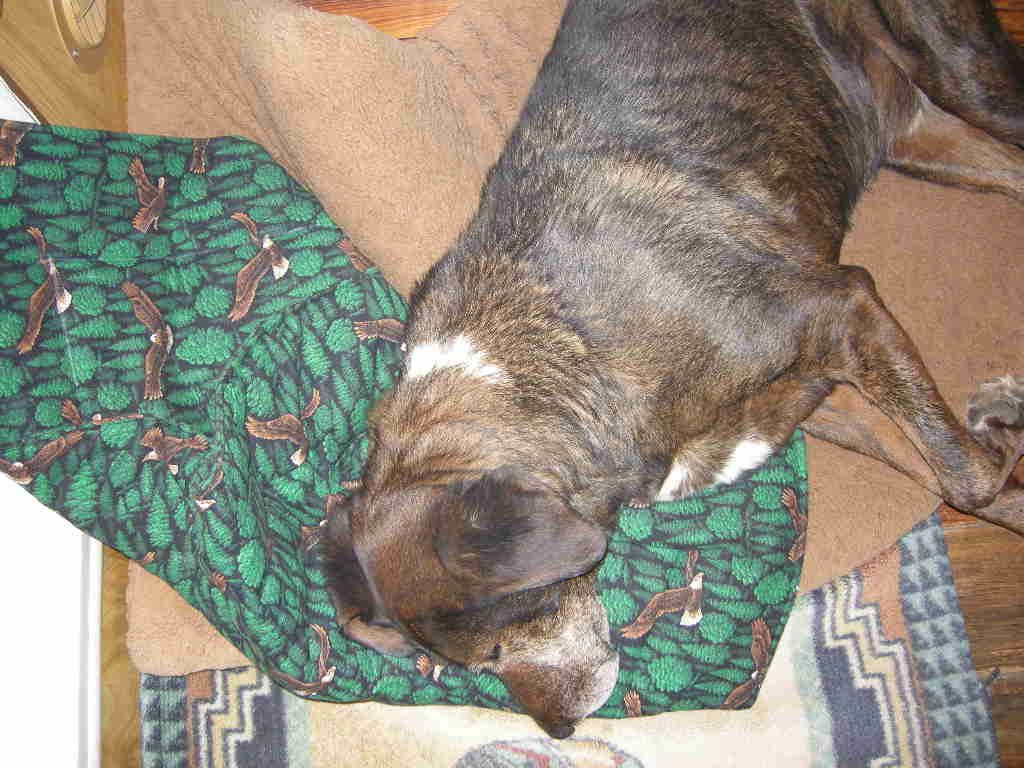 The pooch pads have an added benefit, so if you have an elder dog, or one that's injured, ill, or suffers from anxiety or other conditions, your might consider this. One of our dogs, Lilith, is terminal. We know that it's only a matter of time (it's tumors from pyrethrin toxicity from topical flea treatment, the same thing that killed her little sister more than two years ago). In the last two years, we have nearly lost her on eight separate occasions (most recently, just a few nights ago), but so far, her will to live has won out over the attacks on her body. Previously, when she was feeling terrible, she would often climb silently to our bed, where my own community quilt rests atop it; she'd lie right in the middle, on top of the "corn and beans" pattern Sara and Ann placed at its center. After a few hours, she'd come down on her own, and invariably, she'd be renewed. So we starting putting her up there whenever she had an episode. And now, she has her own quilt, and she uses it:
In fact, the other night, while trying everything we could think of, we wrapped her in several of them:
Today, she's running around to the extent her body will let her, and counter-surfing at every opportunity.
If you'd like one of these magical doggie quilts for your woozle, you can order here. Fabric samples are available at the link, and specs are as follows:
Available in Petite (13.5 x 9), Medium (23 x 17), and Large (35 x 24). Choose a focus fabric for Petite or Medium sizes or let us choose for you.
MISCELLANEOUS ITEMS AND COMMISSIONS
Sara and Ann also have a few items still available via their old etsy shop. They include a beautiful selection of child and adult quilts, ranging in price from $85 to $275 plus shipping and handling. The etsy site will be closed soon, so take advantage of these while you still can.
And last by by no means least, they do commissions - custom quilts. Samples of previous custom quilts are available at the link. Prices vary according to size, fabric, and the amount of labor involved.
The one thing that's not reflected in the price of these quilts (and every other item) is the vast amount of love and spirit that is put into every stitch. But how do you put a price on that?
And how do you put a price on what these two women have done, and continue to do, for this community and so many others? I couldn't begin to calculate the good they've done for others. So let's help magnify that good by helping them continue to do what they do.
They do it for all of us.
If you can't afford to buy one of these items, but would like to kick in a few dollars to help out, you can do so via PayPal at rainwoman [at] mac [dot] com. To donate toward a quilt for someone else, or to purchase an item, you can do so at hairbraider33 [at] yahoo [dot] com.
For any help you can give, you have my personal thanks.