Yesterday's diary ended with a link to information about transgender advocates one might try to emulate. Today's diary will continue in that vein.
The Transgender Law Center has a new campaign, called #morethanmarriage, which calls attention to the issues of youth, violence, racial justice, immigration, health care, and economic justice.
Sometimes we get accused of being narrowly focused when we write about transgender issues. But issues of gender affect us all and connect with an astounding number other issues.

Freedom to marry is important. Many people, including transgender people, are impacted by the legal recognition of our relationships and families. And, our community needs more than marriage to survive. #morethanmarriage is a community-based campaign to amplify the voices of our community and raise awareness of the critical issues we need to address in order to thrive - including marriage, immigration, bullying, health care access, family rights, employment, and more.
You can join the
campaign here
.
Come inside for more heroes.
Christopher Agyros, transgender rights organizer for Empire State Pride Agenda.

At 19, I was reading about transgender and it was like a light bulb went on. I knew the term woman didn't cover me. But I didn't identify as a man and I still don't. I identify as transgender and queer. I don't try too hard to parse the meanings. Transgender is an umbrella term. It's not one size fits all. Gender is all about custom fit.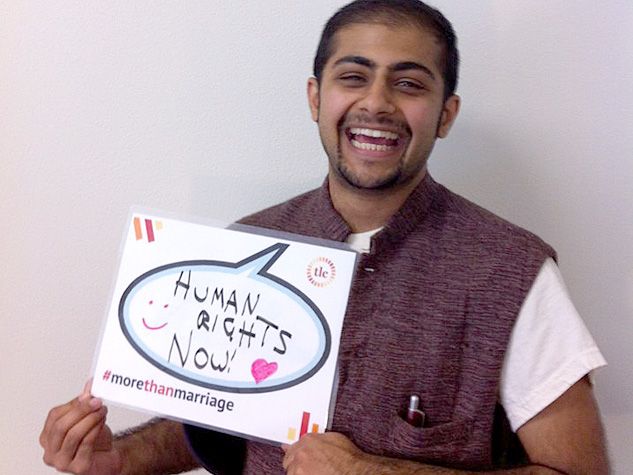 Anand Kalra
, Project Health Program Manager at TLC.
There's a whole system, a giant network of people and positions, with structural information gaps. So we (trans folks) have questions like, Is there a doctor in my area who can prescribe hormones? How can I convince a medical provider to provide transition-related care? How do I know if it's safe to go to the local ER? And on another side, medical providers have gaps in knowledge, from the basics of vocabulary and pronouns to, say, the arguments for and against prescribing progesterone along with estrogen and what the best dosage is based on a person's medical history. Then we've got case workers and lawmakers and judges and prison officials, we've got department heads and elected officials, and all of these people have information gaps, and sometimes they willfully refuse to fill in those gaps.

--Anand Kalra
Maceo Persson
is operations manager at TLC.
Celia Cheung, transgender health advocate, was appointed to the San Francisco Health Commission that oversees the Department of Public Health by Mayor Ed Lee. She pushed for the department to pay for gender reassignment surgeries for uninsured transgender patients, making San Francisco the first city to do so.

We want to make sure everyone is on the same page when it comes to cultural competency. This is really walking the walk in terms of cultural competency and inclusion and making sure all of our community feels safe.

--Celia Cheung
Celia
once went into a hospital with severe stomach pain. She was discharged because doctors were convinced she must be trying to get free drugs. After two week of intense pain and vomiting, she returned and it was discovered that she had severe bowel obstruction that had turned gangrenous. She ended up having to have emergency surgery which could have been avoided with prompt are.
Celia is a past deputy director at TLC. Celia is also HIV program coordinator for Asian Pacific Islander American Health Forum. Celia is a past Chair of the San Francisco Human Rights Commission.
Benji Delgadillo is now a graduate from San Juan Hills High School. As a student there he was secretrary of the California GSA Network. He is now Vice Chair of the Board of Directors.

In my history class that week, we were covering the 1960s and the civil rights movements. My textbook did, in fact, include a section about the Stonewall Riots, but former students told me that my teacher never mentioned anything about it in his lesson. It was important enough for my textbook, it was important enough for the California Senate, and it was important enough for me, so I decided to discuss it with my teacher.

I told my teacher about the FAIR Education Act and how I had testified for it just a few days prior. I explained to him that the bill would make sure LGBT people were fairly and accurately included in classroom instruction, and I told him my personal story, outing myself to him as a member of the queer community. By not hearing about LGBT history, a whole group of people that I identify with was being discounted. Finally, I explained that if he took the initiative to teach about LGBT history in the classroom, it would show students another side of LGBT people, contrary to the negative stereotypes often portrayed in the media and other places. This would in turn change the school climate to be a more safe and inclusive space for all students and reduce bullying.

--Benji Delgadillo
John Bare
is Chief Experimental Officer at
The Strategy Lab
in San Francisco.
←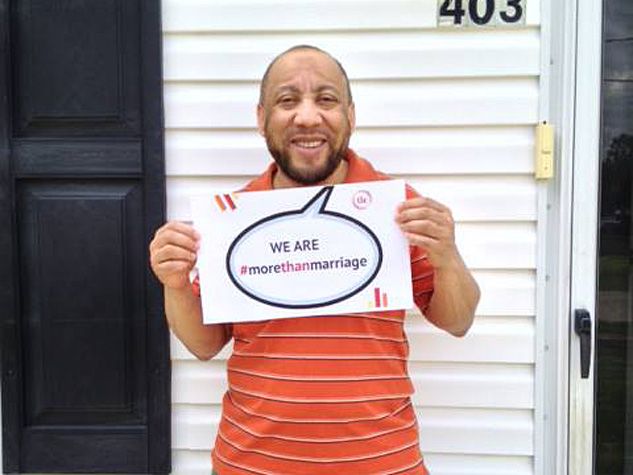 Kylar Broadus is founder of Trans People of Color Coalition. He is the first transperson to testify before the Senate, which he did about ENDA in 2012.
→
Robin McGehee, cofounder of GetEqual.

Marriage equality means little if you can't find work and therefore can't afford to live in a safe home because you're transgender. Marriage equality means little if the school you are attending is not required to have safe school options because federal legislation that protects LGBT students hasn't been passed. Marriage equality means little if you live in fear that the love of your life may soon be deported. Marriage equality means little if you are forbidden from adopting children. Do I need to go on? Our work is far from finished, because we are far from equal.

--Robin McGehee
Paige Harris, trans youth advocate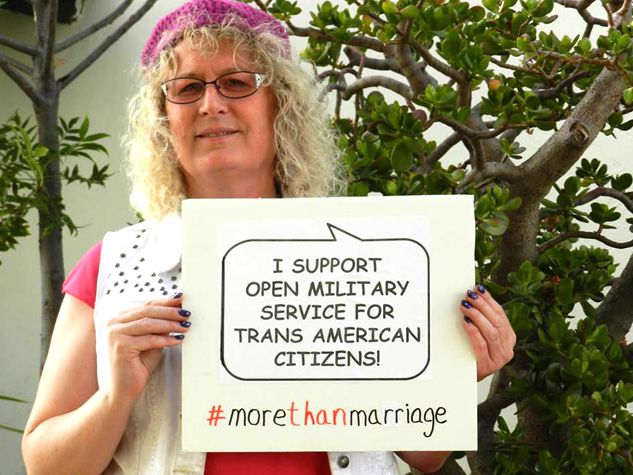 Autumn Sandeen, who most will be familiar with from Pam's House Blend
.