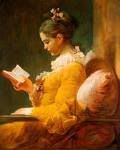 "Good grief!" if I may quote Charlie Brown, the reading year is half behind us. Time for a look back at the pages I've turned and the lines I've scanned to excavate the jewels among them so far. In thinking about what I was going to write since I'm breaking a long silence, I decided to cast back to my last diary to appear, A-N-T-I-C-I-P-A-T-I-O-N New Books in 2013 to see if I'd managed to tackle any of the tomes mentioned therein, or if I'm just a book slut who readily forgets her resolutions to live well and selectively and instead picks up any old thing that passes by and reads it for simple instant gratification.
Temptation is a most titillating emotion, second only to anticipation. I'm betting I'm a book slut.
Pick your head up and lift your eyes from the book you're reading. Wipe the bibliodrool off your chin and proceed with me down the path and into the garden of earthly delights where all the books in the world dwell and let's have a look at what I've picked from my corner of the litpatch. Then, not in a shy way, tell me some of the highlights from your reading life in 2013. What delicious novel or incredible work of nonfiction has led you astray from well intentioned reading goals? With so many primrose paths, let's consider only the best biblioblooms of the bunch.
Please turn the page.
Arbitrarily, just because I can, I've made choices in numerous categories. This way I can squeeze in more really goods than I'm probably entitled to if I only get to choose the best of the best from the bulk. I'll include a few words from my Book Journal about each.
Best New Book of 2013
TransAtlantic by Colum McCann
In the manner the title suggests, seemingly unrelated stories of Alcock and Brown, the first men to fly across the Atlantic from Newfoundland to Ireland in 1919; Frederick Douglas, the American freeman who visited Ireland in 1845 at the beginnings of the potato famine; and Senator George Mitchell, who in the 1990s conducted shuttle diplomacy between New York and Belfast, negotiating the Irish peace ebb and flow into a novel united by four generations of the women who connect them. McCann's prose style is lyric, poetic, and hypnotic echoing the movement of the sea, seducing us into hearing buried, seemingly disparate stories unfold and reveal themselves in an epic novel about risk, perseverance, human understanding, and reverence for language.
Best Series Fiction of 2013
The Illegal Gardener
by Sara Alexi (first volume)
At first, I thought this book would be a simple diverting read, but it turned out to offer much more than I expected. Juliet is an Englishwoman who, after her nuclear family has both disintegrated and moved on into its adult phase, has bought a rundown home on an island in Greece. Her need for a yardman leads her to employ Aaman, an illegal Pakistani worker who wants to earn his share of the funds his village needs to buy a tractor. To do this, he has left his wife behind and traveled at great risk to Greece where he lives in the demi-light of all illegal workers. This unlikely pair forms a close friendship that extends well beyond the traditional borders of worker and employer as Juliet struggles to "rescue" Amman from deportation and failure, instead, setting his feet on the path to success. In the process, she realizes that her own character needs reshaping as she overcomes her defensive mechanisms and learns to make herself a true friend of both Aaman and her childhood best buddy. Alexi writes simply but compellingly, and turns an "easy read" into a worthwhile and lasting experience. Intend to read all the books in this series.
Best Literary Fiction by a New (to me) Author
The Unlikely Pilgrimage of Harold Fry
by Rachel Joyce
Harold's hike reminds us of Christ's stations of the cross. Harold labors under the burden of his personal sins, the guilt of his inaction, the pain of facing his son's suicide, and his heartbreak over his withered marriage. The gentle beauty of the novel is in how Joyce brings Harold closer to Maureen as he walks further away from their home and how in facing the death of Queenie he is able to reconcile himself to his son, David's, loss years ago and to return to Maureen with hope.
Best Literary Fiction by an Old Friend Author
Benediction
by Kent Haruf
Haruf's novel is a portrait of a man, a town, and compassion, celebrating "the precious ordinary" of these people's lives that is regarded by all of them as a blessing. While not a Christian novel, it is a deeply religious one in the sense that it is about thankfulness for the gifts of kindness we show to one another, for life itself, and the ironic power of giving when receiving. Haruf's prose is spare and lean, much like the environment of Holt; it is direct and without embellishment, much like the people of Holt; and it is also respectful and objective, which lends the text the dignity that suffuses the book.
Best Experimental Fiction by an American Author
The Orphan Master's Son
by Adam Johnson
A tour de force that reminds me of Umberto Eco's Baudolino in its richness of adventure, political satire, philosophical tunneling, and sheer narrative power. This is a darkly humorous yet richly expressed satire of North Korea, the brutish tyranny, unspeakable torture, and unimaginable mass agony of a people oppressed by a tyrannical, mad, dictator. . .
. . .What Jun Do's character symbolizes is the essence of man's yearning for personal freedom that can not be obliterated even in the face of the most horrific suppression. Simultaneously tragic and uplifting.
Best Literary Fiction by an International Author
Daniel
by Henning Mankell
A dark and uncomfortable novel about racism, betrayal, abandonment, suppressed sexual desire, man's inhumanity to man, longing for home, and the impossibility of really knowing someone whether in your own family or from half a world away and another culture. In the 1870s, Hans Bengler leaves the dark and frigid land of his birth and sails from Sweden to South Africa. A man of meager abilities, he's determined to make his mark on the world by discovering a new insect that he intends to name after himself. But he encounters a native child, the boy he adopts and names Daniel, and along with him, a lucky find with 6 legs. Bengler takes them back to Sweden where he intends to display them both and earn fortune and fame.
Best Experimental Fiction by an Unknown to Me International Author
The Blue Book
by A. L. Kennedy
What an author! I think she's the reincarnation of Virginia Woolf. Prose like a dream that carries the reader along on waves of internal dialogue suited exactly to a building mystery that is revealed as Elizabeth, her current lover, Derek, and her past lover, Arthur Lockwood, sail to America. . .This is a novel about love's destruction by horrific events kept secret and the possibility for love's resurrection if enough determination, force, and will lies within the lover's heart. Elizabeth tells herself that ". . .loving the unlovable is stupid, is self harm – loving the reasonable is what I need and I can have that." But does she want that, does she even believe it?. . .
. . .Kennedy has written a book so fine yet harsh, so fragile yet strong, so repressed yet overflowing with emotion that the tension of the lovers' dance is unbearable and can only be broken by a painful confession that could destroy everything – the reason for the Blue Book. It's devastating.
Best Mainstream Fiction by Any Author
The Madonnas of Leningrad
by Debra Dean
Seldom do I read a page turner like this novel, so beautifully written and artfully constructed. Marina is a young Russian woman who is a guide in the Hermitage when WWII and the advancing Nazis threaten. She and her fellow workers must bundle all the hundreds of art-filled rooms' objects into cases to be shipped out of the city for safe-keeping, leaving the museum bare to serve as a bomb shelter to the workers and their families. In chapters that alternate between that past and Marina's American present, in which she is deteriorating from advanced Alzheimer's, we experience the beauty of the Hermitage through Marina's interior reminiscences as she builds a memory palace of the exhibition rooms and peoples the now empty walls and frames with the paintings – so many of them various Madonnas -- and furnishings that have been whisked away. Dean's novel is complete and satisfying, far-roving and domestic, a total examination of life, art, suffering, perseverance, and the meanings of love.
Best Genre Fiction by Any Author (Western)
The Whistling Season
by Ivan Doig
There is nothing wrong with an old-fashioned novelist. Always a pleasure to read a book by this author whose voice is so open and ingenuous, perfect for his characters who retain a certain innocence I've come to associate with many Western characters. In small town eastern Montana lives Oliver Milliron, a widower, with his three young boys who all attend a one-room school. Paul is the eldest and the pov character. His father is in need of a housekeeper and answers a unique ad for one that includes pertinent information: "Can't cook but doesn't bite." Thus Rose Llewellyn and her "brother" Morris arrive and become part of the family. . .
. . .All the characters are drawn with the sure but minimalist hand of Japanese watercolor, so alive and individual that you can hear their voices echo in your head as if from another room. This small, simple, and evocative novel reminds us of the wonder of childhood, and more the value of a free public education. Doig is the master of warmth and the word artist of Montana's landscapes and pioneers.
Best General Nonfiction by Any Author
What It is Like to Go to War by Karl Marlantes
Unable to finish Matterhorn, but recognizing the worth of this author's voice, I decided to try his nonfiction explication of what we fail to do as a country and society and what we should do to prepare our warriors to go into battle and then to reintegrate them into normal life once their tour of combat is over. In this collection of essays on aspects of warrior preparation and debriefing, Marlantes touches on subjects of loyalty, courage, spirituality, ethical killing, bonding, separating, and ceremony. He spends a lot of time struggling with the morality of war and how to justify that, drawing on religious books, mostly from non-Christian sources. His thoughtful approach to preparation and treatment of warriors is derived from personal experience on the battlefield, what happened to him upon his return home, and how he found his own path to "healing."
Best Nonfiction on My Favorite Hobby Subject -- Modern Physics
The Grand Design
by Stephen Hawking and Leonard Mlodinow
Probably the clearest most succinct explanation of the origin of the Universe from its quantum beginnings, the Big Bang and its inflationary instant, to its accelerating expansion. Hawking and Mladinow work their way from the understandable physics of Newton through the theory of electromagnetism and the beginnings of unifying theories, to Einstein's rethinking of space/time, to the discovery of the Cosmic Background Radiation that tells us so much about our origins. In the final two or three chapters, the authors champion M-Theory and address the why questions, affirming that we are but one of many possible universes and that the physical laws that we know derive from the fact that the original conditions allowed for perturbation rather than complete smoothness. The single topic they left uncovered that remains such a mystery is the dark matter/dark energy topic. [But that's all right because the second best book in this category that I read is The 4% Universe: Dark Matter, Dark Energy, and the Race to Discover the Rest of Reality by Richard Panek, which talks all about that.] Otherwise this is a solid short presentation of the state of modern physics and a cogent defense of the lack of need for first causes, hence a god "explanation," for our known world's beginnings.
I think I managed to get one of the anticipated books of 2013 in there. But did I reduce my tree-book-owned-by-me TBR stack in all this reading, something I'd resolved to do way back in 2011? Not by one volume. Sigh. This is why I am a book slut.
Get thee to a nunnery.